December 18, 2012 (By Frank Kollar)
Shares of Goldman Sachs (NYSE: GS) rallied on Monday, breaking out above the $120 level that has held shares in check since early November.
At the time this analysis was written, just before the close, GS was up 2.5% or $2.96 a share.
The Goldman Sachs Group, Inc. provides investment banking, securities, and investment management services, as well as a range of financial services to corporations, financial institutions, governments and high-net-worth individuals worldwide.
The financial sector far and away outperformed gains for the broader market, as investors appeared to take heart from the reported status of economic policy talks in Washington.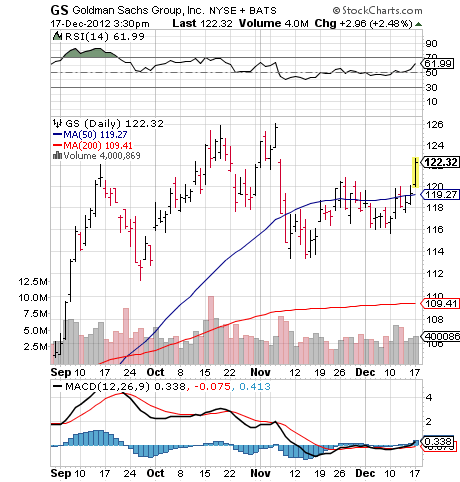 Chart Courtesy of StockCharts.com
We have been following this stock for several months and continue to look for considerably higher highs in coming months.
The next target is $126.00. Is the stock makes a decisive close above this level we should see a new leg up over coming weeks.
The Fibtimer.com (http://www.fibtimer.com) Stock Timing Strategy does have a position in Goldman Sachs.
Disclosure: I am long GS.