January 31, 2013 (by Frank Kollar)
Shares of Goldman Sachs (NYSE: GS) continue to rally with new highs being reached almost daily since early December 2012.
At the time this analysis was written, just before the close, GS was trading at $147.17 a share.
The Goldman Sachs Group, Inc. provides investment banking, securities, and investment management services, as well as a range of financial services to corporations, financial institutions, governments and high-net-worth individuals worldwide.
GS is approaching both a short term resistance level as well as a long term resistance level.
Short term resistance is at $152.30 and long term (based on 13 months) is at $151.83. The closeness of these two levels adds to the odds that there will be at minimum short-term profit taking or the potential of a correction beginning near these levels.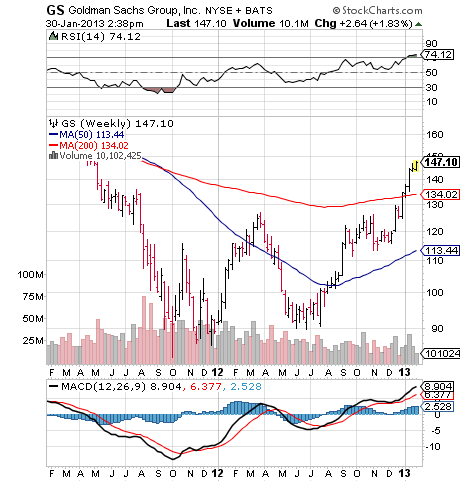 Chart Courtesy of StockCharts.com
We would tighten stops as GS closes in on the $152 range. Of course a decisive close above $152 could be signaling a continued run to the $170 level, the January 2011 highs. So do not exit this stock unless a correction is signaled.
The Fibtimer.com (http://www.fibtimer.com) Stock Timing Strategy does have a position in Goldman Sachs.
Disclosure: I am long GS.