February 21, 2013 (by Frank Kollar)
Back on January 8, 2013 we wrote that SPDR Gold Trust Shares (NYSE: GLD) had broken support on its daily chart.
Since that article share prices have continued to decline and today they have suffered a huge gap open sell off, closing at a new low for this decline.
Also, shares of Market Vector Gold Miners (NYSE: GDX) have broken below three year lows.
There is a great deal of talk of the bearish "death cross" which GLD is approaching. This occurs when the 50 day moving average breaks below and closes below the 200 day moving average.
We do not see this as bearish. Actually the entire sector is and has been bearish since September 2012.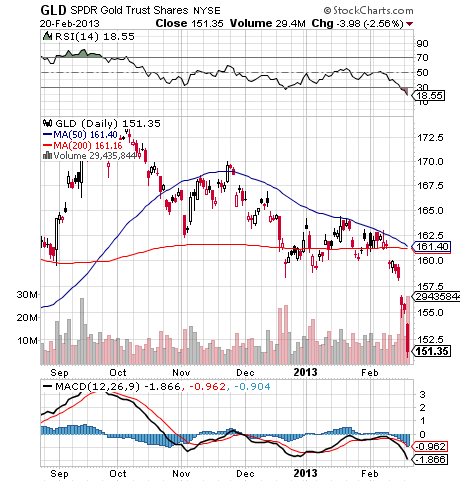 Chart Courtesy of StockCharts.com
Note that the 50 day average crossed above the 200 day average in mid-2012, a bullish indicator (the opposite of the death cross) and GLD has been in a steady downtrend ever since.
Also, GDX had a bearish "death cross" back in january 2013. Anyone who was watching should have left bullish positions in gold bullion or stocks at that time, if not several months before when the trend turned to the downside.
The Fibtimer.com (http://www.fibtimer.com) ETF Timing Strategy does not have a position in SPDR Gold Trust Shares.
Disclosure: I have no positions in any stocks mentioned, and no plans to initiate any positions within the next 72 hours.