March 7, 2013 (by Frank Kollar)
Since reaching rally highs near $132 a share back in July, 2012, long term bonds have been moving steadily lower. Two weeks ago, the ETF IShares 20+ Year Treasuries (NYSE: TLT) made a quick surge higher, closing above $119 a share.
Since that quick rally, TLT has been losing ground and over the past for trading sessions has dropped precipitously, erasing all the initial gains.
Now TLT is back at strong support near $116 a share. Support is at about $15.75 a share.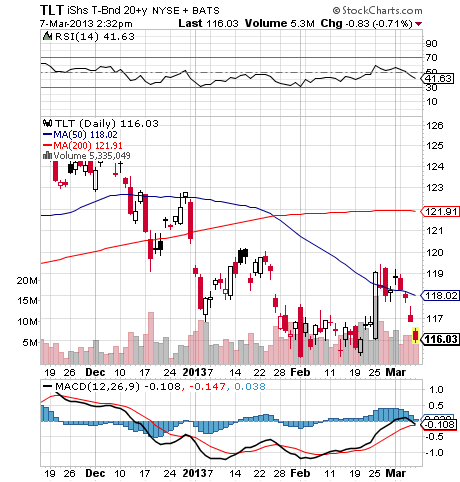 Chart Courtesy of StockCharts.com
This support level has held since back in early February and was tested several times during that month.
What happens if TLT breaks support at $15.75?
A decisive break of this level would likely result in steep losses in coming weeks that could reach the $14.50 level.
The Fibtimer.com (http://www.fibtimer.com) ETF Timing Strategy does not have a current position in the IShares 20+ Year Treasuries.
Disclosure: I have no positions in any stocks mentioned, and no plans to initiate any positions within the next 72 hours.