March 14, 2013 (by Frank Kollar)
It was exactly one month ago that we wrote about Archer Daniels Midland (NYSE: ADM). Shares had just broken above our first target at $30.54 and we were looking for higher highs ahead.
ADM did continue to rally, reaching $33.00 a share before succumbing to a round of profit-taking. Prices dipped to below $32 and share in late February but have been rising since, closing on Wednesday, March 13th at $32.93.
If shares make a decisive close above $33.00, look for a continued advance to $34.00 a share. That was where the last major rally stalled back in May, 2012.
But old highs are there to be tested and sometimes broken. If ADM can close above $34.00 a share, the next target is all the way up at $36.59 a share.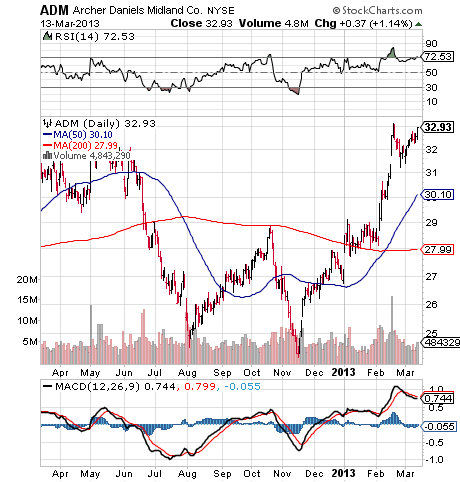 Chart Courtesy of StockCharts.com
This has been a strong advance for ADM and we are looking for resistance levels to continue to be broken as this bull market continues.
The Fibtimer.com (http://www.fibtimer.com) Stock Timing Strategy does have a position in Archer Daniels Midlands.
Disclosure: I am long ADM.