March 28, 2013 (by Frank Kollar)
Shares of the ETF IShares Silver Trust (NYSE: SLV) broke below important support on Monday, April 1st. They will reach lower lows in coming weeks.
In february, SLV made a precipitous decline, reaching a low of $27.35 before closing at $27.59 on February 20th.
Today, Monday April 1st, that low was broken and SLV closed at $27.09. Breaks of support are usually followed by lower lows.
At $25.66, there is very strong support that has been tested twice before on December 29, 2011 and then tested several times from the end of June 2012 through July 2012. The $25.66 level held.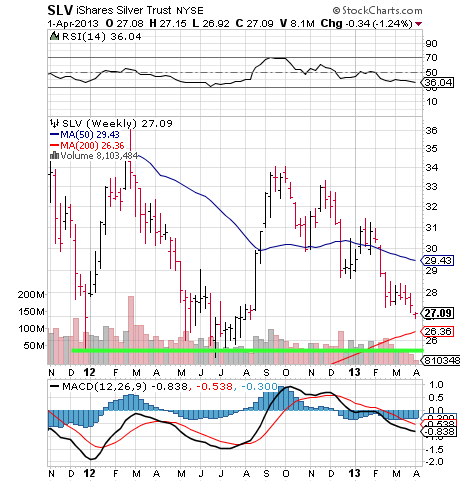 Chart Courtesy of StockCharts.com
This is likely the target for this decline. A test of $25.66 in coming weeks is probable. Will this support level hold? It has done so for two years. We will find out in the near future.
The Fibtimer.com (http://www.fibtimer.com) ETF Timing Strategy does not have a current position in IShares Silver Trust.