April 4, 2013 (by Frank Kollar)
Shares of SPDR Gold Shares (NYSE: GLD) have been the subject of bearish forecasts by us for several months now.
The metal is approaching critical support that will determine whether the bull market is ending or if a reversal is near.
Just a week ago we wrote: "We are looking for another test of the February 20th correction lows at $150.84 over coming days. But for the sake of those who like trying to do so, we will peg the bottom of this decline around the $145.00 level. With share prices holding just above the $150 level which acted as support back in June, 2012, we are looking for one more break lower, and then a quick selloff to the $145 level."
As this analysis is being written, GLD is trading at $150.22. This is a break of the correction support lows reached on February 20th at $150.84.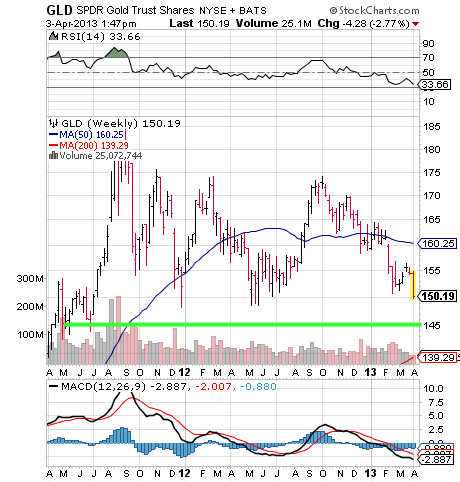 Chart Courtesy of StockCharts.com
The $145 level is now close and this is the do-or-die long term support level for GLD.
If GLD makes a decisive close below $145, look for the selloff to escalate. This long term support level goes back to May and July of 2011.
If we reverse at or above $145, and especially if we get a bullish reversal day, we could have a tradable rally ahead.
Even with a rally, the $145 remains a threat if broken in coming weeks. Only a new defined uptrend would cancel out the current downtrend in gold. That will take time, assuming $145 holds.
The Fibtimer.com (http://www.fibtimer.com) ETF Timing Strategy does not have a position in the SPDR Gold Shares.