April 15, 2013 (by Frank Kollar)
We have covered shares of SPDR Gold Shares (NYSE: GLD) in these reports several times over the past months. The last was on April 4th, only two weeks ago.
At that time we wrote: "We are looking for another test of the February 20th correction lows at $150.84 over coming days. But for the sake of those who like trying to do so, we will peg the bottom of this decline around the $145.00 level. With share prices holding just above the $150.00 level which acted as support back in June, 2012, we are looking for one more break lower, and then a quick selloff to the $145 level."
We certainly missed on that target, but we did not miss on the bearish trend. We have been in cash almost a year now. As we write this, GLD is trading at $132.70.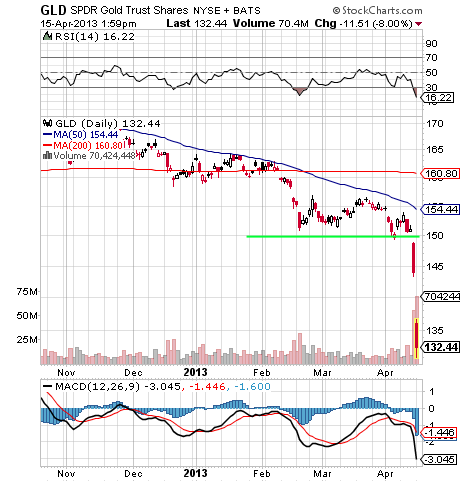 Chart Courtesy of StockCharts.com
There is a bottom ahead somewhere, but we are not going to try and predict it. After it is reached, there will be a reversal, and maybe even a second test of that bottom. Importantly, we will not try to enter a bullish trade until we have a confirmed uptrend in place.
That could take weeks or months. For now, we remain in cash and watch the carnage.
The Fibtimer.com (http://www.fibtimer.com) ETF Timing Strategy does not have a position at this time in the SPDR Gold Shares.