May 17, 2012
Shares of Family Dollar Stores Inc (NYSE: FDO) have declined along with most issues as the stock market in April and May corrects. But the decline has been very modest.
Family Dollar operates general merchandise retail discount stores. Its products are categorized under consumables, home products, apparel and accessories, and seasonal and electronic products.
Family Dollar has lost only about 2% from its highs on a closing basis, and is up some 1.3% on Wednesday, May 16 as the stock market is again lower.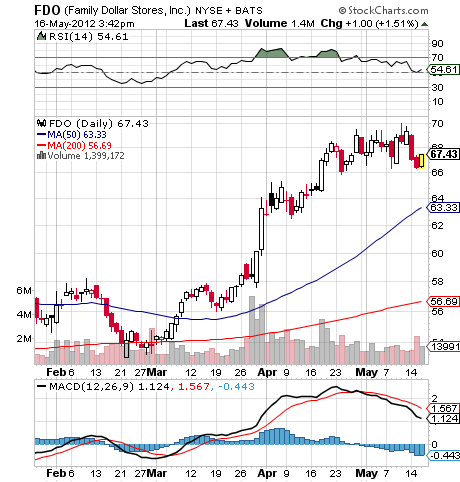 Chart Courtesy of
StockCharts.com
We recommend a bullish position in FDO and with a sell stop just below $65.00 would be a low risk trade.
If there is further downside ahead, FDO has a solid support level at $65.00.
The Fibtimer.com (http://www.fibtimer.com) Stock Timing Strategy does have a position in Family Dollar Stores.
Frank Kollar has been timing the financial markets since 1982, with online service since 1996. He is a dedicated trend timer and his strategies exited the markets before the crash in 1987 as well as the bear market in 2000 through 2002. During the 2000-2002 bear market and the 2008-2009 bear market his bearish positions resulted in substantial gains, all achieved by trading trends.
Disclosure: I am long FDO.