August 1, 2012 (By Frank Kollar)
Starbucks Corp (NASDAQ: SBUX) has pulled back over 27% from its prior April highs. Is this a good time to buy this popular company's stock, or are lower lows still ahead?
Starbucks is the leading fresh coffee and specialty coffee brewer plus sells high quality whole coffee beans and coffee related equipment.
The company's stock has had a good run but the last quarterly earnings report, with numbers reflecting the period ending on July 1, 2012, hit the stock hard.
When the report was released, at .43 cents per share (.03 cents lower than expected) plus a fiscal outlook well below Wall Street's expectations, the stock dropped 11% the following day after several analysts lowered their outlooks.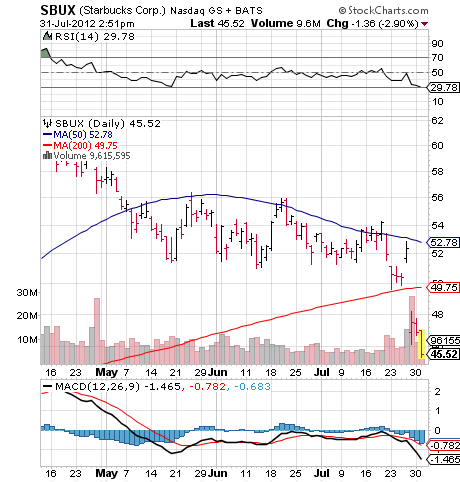 Chart Courtesy of
StockCharts.com
Technically, the stock is now at a critical support level. Should SBUX close decisively below $45.38, the 61.8% retracement support level for the entire October 2011 to April 2012 advance, we would expect to see the stock move lower still.
How low? The $38.72 level is the likely target if there is a break of support.
On the other hand, should SBUX reverse at the $45.38 level and move higher, there would be a case for a bullish trade, using a sell stop below the support level.
SBUX is trading at $45.51 near the close on July 31, 2012.
The Fibtimer.com (http://www.fibtimer.com) Stock Timing Strategy does not have a position in Starbucks.
Disclosure: I have no positions in any stocks mentioned, and no plans to initiate any positions within the next 72 hours.