Thursday's higher levels of the markets hardly mean that the downtrend is over. Certain stocks, however, have formed solid bottoming formations and are unlikely to make new lows, barring a "black swan" event. The downtrend may be over for these particular stocks, but that does not yet signify these are buying opportunities. Consider these stocks a watch list from which strong advancers may emerge in the next few weeks.

What makes a good bottoming formation. A downtrend is a series of lower highs and lower lows. How could a trader tell which low will be the last one ? After a while in a downtrend, a low will be seen where the volume of one day (or several consecutive days) and its price decline will be bigger than any other day's volume (and often price decline too) since the beginning of the downtrend. Traders call this "capitulation selling" and it is often observed at the very end of down trends. As the price declines day after day, some investors cut their losses and sell, while many others hold on hoping the stock price will rebound. Eventually, a price level is reached that is so low, that holders lose all hope and just dump their remaining stock. It is this final selloff that appears on charts with enormous volume and great single-day decline.

Stocks that have formed recent capitulation bottoms are: AerCap Holdings (AER), Fuel Tech (FTEK) and Inland Real Estate (IRC).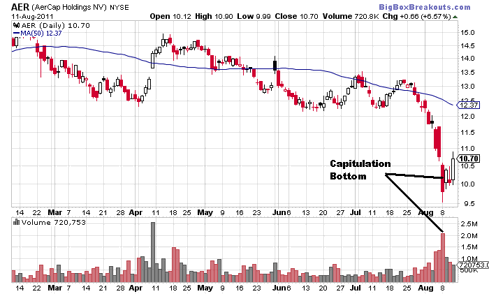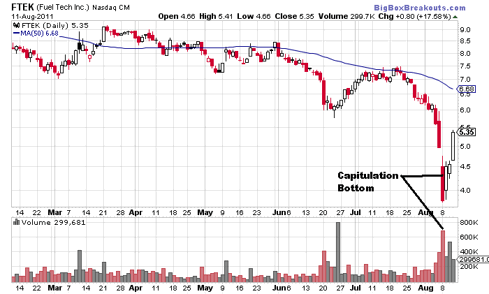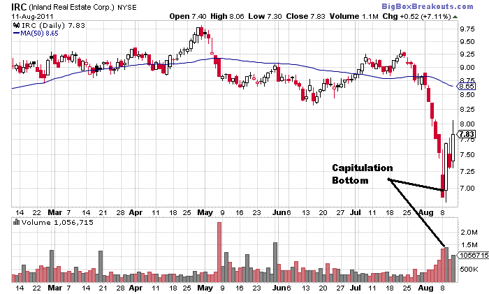 More examples of good capitulation bottoms are: ACM, MXIM, UBS, ORN, WTR and MVC. I have not included their charts as they are very similar to the charts above.

It may sound counterintuitive that the last buyers from higher levels need to capitulate for the downtrend to end. But it was in fact the losing long-side traders who provided the fuel for the downtrend all the way to the bottom. They did so by selling their stock and thus pushed the price ever lower. It was also the buyers from higher levels who would sell their stock into every rally during the downtrend, trying to recoup at least some of their paper losses. Think of them as "motivated sellers" - they bought the stock at $10 and they hate to sell it at $6 today, but if they wait they will only get $4 tomorrow.

In order to be sure that the motivated sellers are out of the way, a trader should look for a bottom where the volume traded was at least several times bigger than average. This would indicate that a large portion of the float has changed owners that day(s). The new buyers from these levels would need to see much lower levels still, for them to panic in turn and start selling. And since there is now almost no one left with a 10-20% paper loss and ready to capitulate at any sign of resumed weakness, the levels near this bottom will likely hold for a while.

The emerging of a new uptrend. After a capitulation selloff the supply of shares to sell has dried up, but in order for a new uptrend to begin increased demand is needed. We need to see new buyers come in and buy the stock heavily. During the downtrend most of the volume would be on down days. Up days and rallies are usually small-volume, weak and anemic. If after the capitulation bottom heavy volume is now observed on up days, it proves that the bias of traders has reversed and a new uptrend is truly emerging. Notice that in all 3 charts above, the rally after the last low shows heavy volume to the upside for the first time since the downtrend began. This heavy buying is a bullish sign and sometimes stocks that have bottomed will continue ever higher from here. Most however will make a high soon and start pulling back.

The retest of the lows. Most stocks that have bottomed and rallied a bit will soon return to retest the last low. This retest will hopefully be on small volume, confirming the bias is now to the upside. The retest may end well above the previous low (the capitulation low), thus forming a higher low. Or the decline may reach the previous low or even slightly lower before rebounding, forming a double-bottom formation. Once the stock begins rallying again, it is very important that the volume is heavier than during the retest.

When to buy. After the price has retested the old low and it has held a trader can be confident that the downtrend is in fact over and an uptrend is beginning. Wait for the price to clear the first rally's high (the rally following the capitulation). If that happens with a big range day and with big volume, you can buy here as you would any other breakout.

Disclosure: I have no positions in any stocks mentioned, and no plans to initiate any positions within the next 72 hours.