Wal-Mart reported earnings on February 22nd that continue to show US operations struggling to keep its head above water. Absent was the usual blame game management has stood on recently – the economy, high gas prices, and basically its customer base living paycheck to paycheck. Stating non-consumables such as apparel and electronics as the areas needing the most work Wal-Mart's 4Q numbers showed the seventh consecutive quarterly drop in same-store sales growth. 
 
Target on the other hand reported better-than-expected 4Q results on February 25, 2011 and raised its EPS outlook for the rest of fiscal 2011. Effective cost management and improved profitability at retail and credit card segments overshadowed lower-than-expected sales.
Target, said that comparable-store
sales for the quarter grew 2.4%, reflecting a sharp rise over an increase of
0.6% registered
in the prior-year same quarter. The number of transactions rose to
1.6%, whereas the average transaction amount climbed marginally by 0.8% in
the quarter. Despite a 3.4% increase in cost of sales, gross profit at the Retail segment
climbed
1.4% to
$5,819 million, aided by sales 
growth witnessed across the
segment; however, gross margin contracted slightly  to
28.7%. Segment operating income jumped 3.1% to $1,608 million, whereas
operating margin remained flat at 7.9%.

Targets results have assisted a recovery off of the decline from the highs seen at the beginning of the year. Taking a closer look "between the lines" though,  reveals that Target's Retail segment sales increase of 1.8%  is primarily due to its November 2010 launch of their 5% rewards program. 
 
As with Wal-Mart non-consumables sat on the shelves while food and consumables sales were robust. Of note the selling price per unit declined at Target and when combined with more volume in discounted food and consumables (by way of the rewards program) gross margins missed consensus and declined during 4Q. This was also seen at Wal-Mart. How does an investor sort through all the hype and spin to produce the correct investment strategy?
 
REVERE RESEARCH REVEALS

In a prior report Revere Research revealed that the Wal-Mart supply chain outperformed the retailer to the upside after the company reported favorable earnings. Target's supply chain also followed suit in the same fashion. Expectations would be for this trend to continue in the direction of the earnings report (positive = higher, negative = lower.)
Revere Relationship
™
data for Wal-Mart reveals 197 suppliers, included here are the top 25 suppliers and their respective percentage of revenue earned from Wal-Mart sales.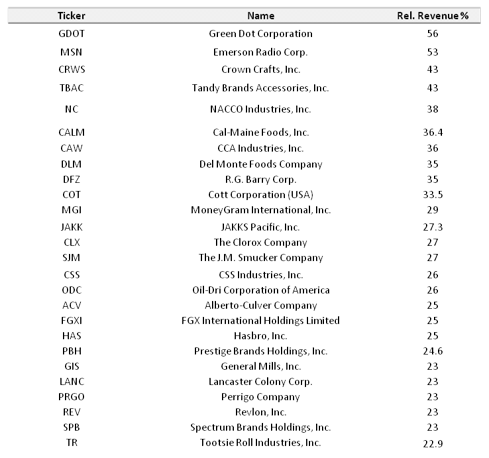 Further segregation by sector to reveal non-consumables (apparel and electronics) produced 42 companies that fall into the "non-performing areas that need the most work" of which 11 fall within the top 25 revenue % from Wal-Mart supply chain.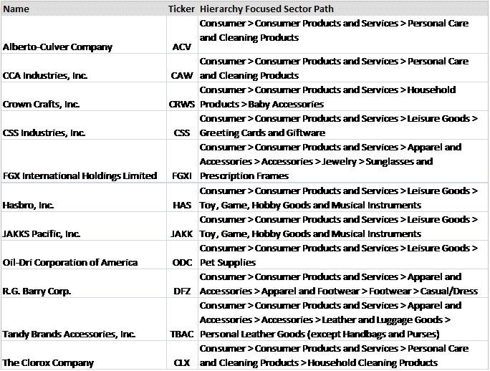 We also looked within the supply chain for both Wal-Mart and Target to reveal there are several suppliers in common. For example 8 companies fall within both Wal-Mart's and Target's larger non-consumables suppliers (supplier % of revenue derived from retailer):

1.

     
CSS Industries – (NYSE:CSS)
2.

     
Emerson Radio Corp. (NYSEMKT:MSN)
3.

     
Hasbro (NASDAQ:HAS)
4.

     
JAKKS Pacific Inc. (NASDAQ:JAKK)
5.

     
LeapFrog Enterprises (NYSE:LF)
6.

     
Physicians Formula (NASDAQ:FACE)
7.

     
Mattel (NASDAQ:MAT)

Take a look at the combined revenue numbers:
 

Emerson Radio Corp. (MSN) – receives 25% of revenue from Target sales and 53% of revenue from Wal-Mart.
Hasbro (HAS)– receives 13% of revenue from Target sales and 25% of revenue from Wal-Mart
LeapFrog Enterprises (LF) – receives 16% of revenue from Target sales and 22% from Wal-Mart.
It would appear that investors are faced with a "good cop/bad cop" type of situation. In other words expectations would be for WMT suppliers to decline proportionately to their revenue % while TGT suppliers should benefit by their revenue %.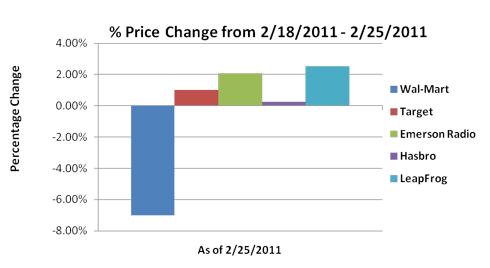 REVERE RELATIONSHIPS
™
CONSUMER SUPPLIER MOMENTUM

Using the Revere Relationships
™
database, which contains information on a company's suppliers and customers, as well as supplier revenue to each customer we are able to construct a portfolio that is based on the monthly performances of these customers.  Studies have shown that there remains a strong correlation between stock performances of customers and their suppliers, where customer's results (good or bad) are followed by their suppliers by approximately a 30 day time lag.   Over a seven period using a long/short neutral strategy produced results that improved risk management and increased risk-adjusted returns by 8.5%. 

From the list of top 25 revenue % from Wal-Mart suppliers,  11 companies fall into the "non-performing area that need the most work"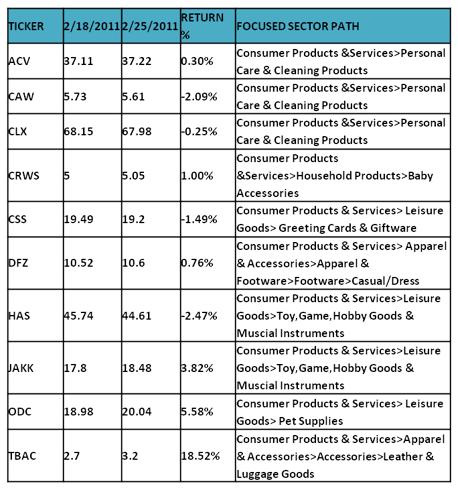 By applying the same methodology to the suppliers in common between Wal-Mart and Target we were able to provide returns for 8 suppliers in common.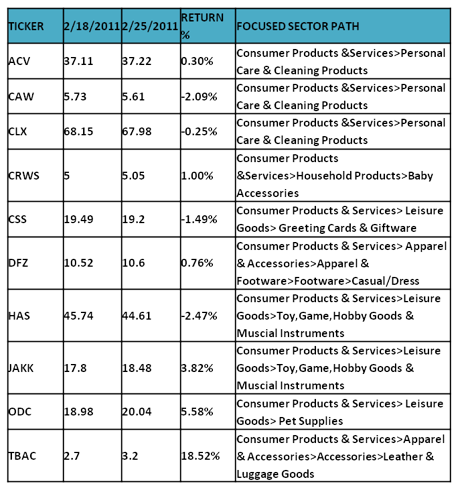 CONCLUSION
Companies do not operate in isolation, and by knowing their positions along the supply-chain, investors can more reliably predict their stock performances. As the global economy becomes more integrated, this supply-chain knowledge will be essential for managing risk exposure and improving portfolio returns. By segregating and "decoding" Wal-Mart and Targets key suppliers by revenue reliance % and underperforming/over performing product lines an investor can construct and implement a long/short market neutral strategy.

Research, analysis, tables and graphs were contributed by Jun Zhu, Michael Filighera and Jeremy Zhou of Revere Data. 
Disclosure:
I have no positions in any stocks mentioned, and no plans to initiate any positions within the next 72 hours.