Rallies Run Out of Steam - Correction Updates - Patterns More Clear - Support Levels Raised
The markets returned from the long weekend picking up where the Asian and Euro markets left off - moving higher. The momentum quickly waned and the lack of anything to credit the rally to, the sellers moved in and began to take things lower. The DJIA still managed to ring in another new high though.
I still get a chuckle from reading how last weeks fears of the FED may begin to scale back on its bond buying program sent the markets lower, but how the release of the S&P/ Case-Shiller home price index for March showed the highest year over year growth rate since 2006 (in 2006 the numbers were pumped up on sub-prime loans) coupled with "strong" consumer confidence numbers brought back the buyers. Yeah right - how about the shorts running for cover was the more likely reason and once they realized the error of their ways the scramble began to re-short.
In any case, the pattern of the correction(s) is clearer with today's run for the highs. There is a strong possibility that the next leg down will find support in the area of the lows seen last week. This would substantially raise support levels given (restated below) and strongly suggest another round or two of new highs to be followed by what I would anticipate being a deeper correction. Index futures were trading lower after hours but that does not guarantee much in the way of tomorrow's trade.
For the most part two-way trade continued today and that remains a strong positive for day trading. I am including updated charts to keep some perspective on things for this week.
Restated and updated from Thursday's Blog - (Charts updated)
They say a picture is worth a thousand words -- Take a look at the charts below to see how a 350 point drop in the DJIA, a 53 point drop in the S&P 500, a 39 point drop in the Russell 2000 and an 87 point drop in the NASDAQ 100 fit into the mid to long-term picture. Barely a scratch! The arrows indicate the support area (that) likely (will not) be reached during this corrective round. All zones are (now - well) above common Fibonacci support at the .382 levels. (Click on the chart to enlarge)
DJIA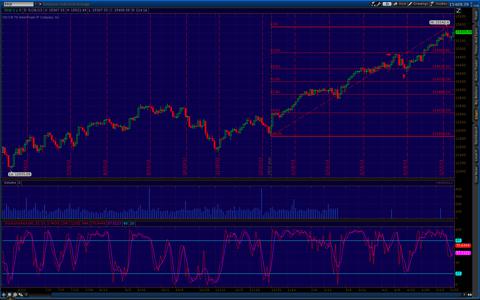 S&P 500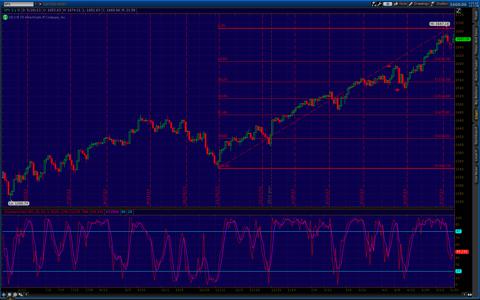 Russell 2000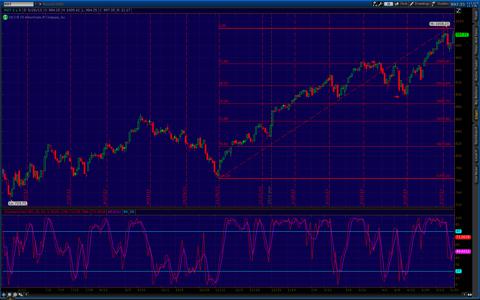 NASDAQ 100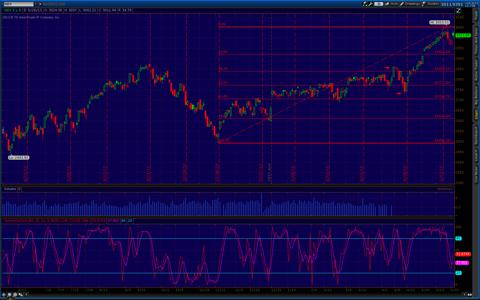 I continue to extol the benefits of day trading versus position trading during these finishing moves of the much longer-term bull market. It may well take another year or another 5 years before all is said and done. Missing opportunities in either direction should not be a part of your trading strategy.
Day trading has increasingly become my first choice as the markets become more stubborn and push to extremes.
I use the stochastic overbought/oversold indicator and RSI momentum oscillators to indicate where money is flowing, where an imbalance of buyers or sellers occurs and a "bull trap" or "bear trap" forms. Both oscillators are very useful whether on a tick chart or a monthly chart. Keep in mind that there are many indicators available and when used properly do produce solid tradable signals. Unfortunately, many fall prey to the inexperienced that don't take the time to learn how to use them and therefore get "tossed" into the garbage pile.
I continue to believe and implement several "core" longer-term positions in, but the near to mid-term market gyrations have produced far more profitable day trading opportunities without overnight risk.
Diversified Trading System
I continue to recommend as the best trading platform available to a broader range of traders from novice to expert. The Diversified Trading System offers a cost effective product that allows a trader to enter into the "chaos" and trade more effectively.
Trade Manager from Indicator Warehouse automatically calculates the correct amount of contracts or shares based on your account size or market volatility. Automated stop-loss management and position sizing eliminates most of the problems most individual traders have. Day trading and position trading both require (actually demand) good risk management. Trade Manager does the job across the board and is an essential trading tool that ensures that you take the maximum profit from all your trades.
(Updated 5/28/2013)
Here are the updated levels for the:
DJIA - With it appearing that the correction will take a more "flat" pattern (all three legs being equal in size) support would come in at the area of last weeks lows - Stronger Elliott support begins at 14865 to 14424 - additional support zones are below at 14369, 14006 to 13644. I would not be looking for a drop into the second or third zone, but rather for the top end to the middle of the first support zone to contain the move and set the stage for the rally to pick up again and take the DJIA to additional new highs.
S&P 500 - Support should now begin at the 1635 to 1625 area. Stronger Elliott support begins at 1600 to 1535.55 - additional support zones are below at 1526 to 1508 and 1479 to 1427. Again, I am not looking for a more serious drop, which would take prices into the second or third zone, but the top to middle of the first zone to contain the move. Here as well expectations would be for the rally to pick up again and move the S&P to new all time highs.
Russell 2000 - Support should now begin at the 969 - 960 area. Stronger Elliott support begins at 953 to 896 - additional support zones are below at 868 and then 836. While a stronger drop can not be ruled out as the Russell has tended to be the weak link previously - but the Russell along with the QQQ's are more tech laden and that has added stronger upside momentum with the Russell 2000 breaking above the all important 1000 level on Monday.
The Diversified Trading System used together with Trade Manager should continue to produce numerous trading signals in the DJIA, YM (mini), S&P 500, ES (mini), RUT, TF (Russell 2000 mini), AAPL, AMZN, GOOG, NFLX, and LNKD, GS, and Tesla Motors (NASDAQ:TSLA).
Here is an updated list of the markets where I have found that DTS (all three birds) are producing numerous signals:
DJIA future (e-mini available) - Highly recommended
S&P-500 future (e-mini available) - highly recommended
Russell 2000 future (e-mini available) - highly recommended
NASDAQ 100 future (e-mini available) very highly recommended
US$/Euro futures (e-mini available) - very highly recommended
GS (Goldman Sachs) - good two way volume -
AAPL (Apple Computer) - very highly recommended
GOOG (Google) - very highly recommended
LNKD (LinkedIn) - solid intraday range
NFLX (Netflix) - solid intraday range
TSLA (Tesla Motors) - highly recommended (new all time highs on Tuesday)
30-yr Treasury Bond future - did not get quiet - opposite took place
10-yr Treasury Note future
TLT (Treasury Bond Long ETF)
TBT (Treasury Bond Short ETF)
Gold (futures and ETF - GLD)
Silver (futures and ETF - SLV)
Disclosure: I am long FAZ.
Additional disclosure: I am short IWM, QQQ, JPM