Investing with collars might be a good idea in this volatile market, and today looks like a good day to get in with the market bleeding red.  

A collar is selling a call option against a stock and purchasing a put option for insurance or protection.  The income from selling the call option pays for the insurance protection of the put option.

A candidate investment you might consider is a collar for WellPoint (WLP) which was found using PowerOptions collar search tool. Currenlty, WellPoint stock can be purchased for $64.49, a 2011 Oct 65 call option can be sold for $2.68 and a 2011 Oct 60 put option can be purchased for $1.49.  The collar has a potential assigned return of 2.7% and a maximum loss of 5.2% with only 30 days until expiration for realizing the potential profit.

WellPoint oparates as a health benefits company.  The company has over 30 million medical members.  In its most recent conference call, the company indicated the commercial segment and the capital management areas of the company are doing well, but the Senior business was not performing as well as hoped.   The reason for the poor performance of the Senior business is a higher than expected Senior medical costs in Northern California.  The company had a lot of new Senior members as a result of competion leaving the market segment. 

This problem should only be a temporary road bump, as WellPoint will take care to get costs in line with revenue for the Norther California area.

In the conference call, the company anticipates their business model will continue to realize 10% annualized growth over the next few years.

WellPoint's stock price is shown below: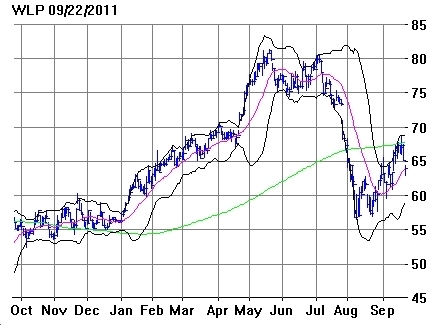 WellPoint's stock has a nice support level around $55 and has recently taking a dip from its recent resistance level around $68.

A profit loss for the WellPoint collar is shown below: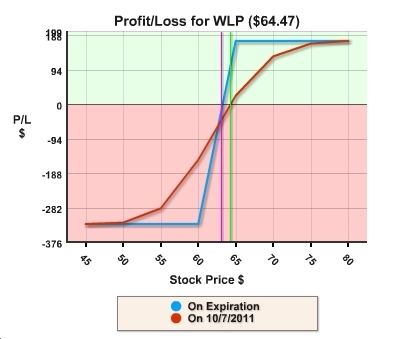 As a bonus WellPoint pays a quarterly dividend of $0.25.