Baidu.com (NASDAQ:BIDU) is the Google of China providing Internet search, map, news, etc.  Baidu.com has the largest market share for internet-search in China with 63%.  In 2007, Baidu.com became the first Chinese company to be included in the NASDAQ-100 index.

Even with the price of Baidu.com's stock price retreating over the last couple of months, the company's stock is very pricey with a trailing P/E of 52 and a forward P/E of 26.  Purchasing an expensive stock like this can have very negative results if there were to be some bad news associated with the company.

But, there is a way to take advantage of an investment in Baidu.com without having to also take on a large amount of risk by using stock options.  A Collar position is basically a Covered Call investment where a portion of the income generated from selling the call option for the Covered Call position is used to purchase insurance in the form of put options. 

Using PowerOptions Collar search we were able to find a Collar position for Baidu.com with a potential return of 2.3% and a maximum risk of 9.5%, and best of all, the potential return may be realized in only four days!

To enter the position, the BIDU stock is purchased at $118.73, a 2011 sep 120 call option is sold for $3.90 and a 2011 sep 105 put is purchased for $1.20.

A profit/loss diagram for the Baidu.com Collar position is shown below: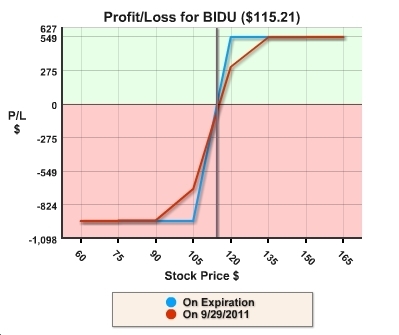 With Baidu.com's stock price having taking a recent dip and near its previous support level around $119, the Collar position looks attractive as shown below: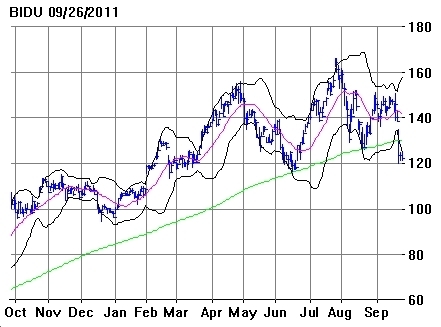 As long as BIDU is at 118.73 at expiration in four days, the position returns 2.3%.  If BIDU drops, the maximum loss is 9.5%.