Gilead Sciences (NASDAQ:GILD) is a biopharmaceutical company involved in developing and commercializing pharmaceuticals.  Gilead's products include Atripla, Truvada, Viread, Emtriva for treating HIV.  Gilead also makets products in other areas such as for hepatitis, for example.

In its most recent conference call, the company indicated one of its partners, Tibotec Pharmaceuticals, announced approval of Rilpivirine for treating HIV.

The company also indicated its drug Elvitegravir currently in Phase III clinical trials had some positive news.

The company recorded record revenues in the most recent quarter, has been repurchasing stock and plans to continue to repurchase shares of stock.

Using PowerOptions collar search tool, an attractive postion was found for Gilead with a potential return of 2% and a maximum risk of 9%, and the potential return may be realized on only 25 days.

A Collar involves selling a call option against a purchased stock or an existing stock and using some of the proceeds from selling the call option to purchase a put option for protection or insurance.

The Collar for Gilead involves selling an October 39 call option and purchaseing an October 35 put option.

Gilead's stock price is in an attractive position, as it has taken a dip, as most stock of late, as shown below: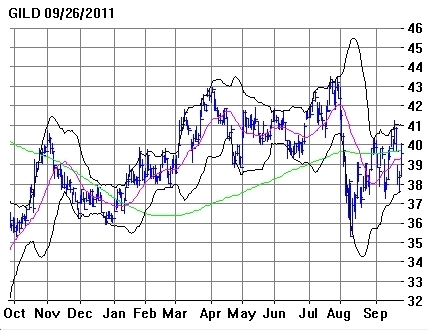 A profit/loss diagram, courtesy of PowerOptions, is shown below: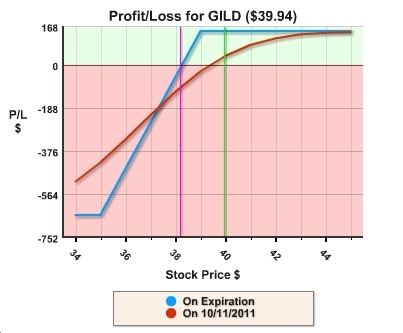 In addition, Gilead has a very attractive P/E of around 12.