21st Century Stocks & Sectors page highlights undiscovered micro-cap companies - typically low-priced companies with market caps of 500 million or less in three key sectors we believe are headed for substantial growth over the next decade: (1) Healthcare; (2) Internet and IT; and (3) energy and environmentally clean technology. Micro-cap companies typically lack Wall Street analyst coverage, and are inefficiently priced and/or often thinly trading the proverbial "tree in the forest."
ADDITIONS
We are adding VasoMedical, Inc (VASO: Pink Sheets) to our watch list and have added a landing page for VASO on our website's Stocks & Sectors section under Health Care. VASO at the current levels could potentially provide extraordinary returns for all kind of investors. For traders the stock could easily pop 50-100% in the next few weeks, and for investors with a long term orientation of 18-36 months, the stock has the potential to be a 10 bagger.
Vasomedical, Inc. designs, manufactures, markets, leases, and supports enhanced external counter pulsation (EECP) systems. The EECP therapy system is a non-invasive outpatient therapy for the treatment of diseases of the cardiovascular system. This therapy serves to increase circulation in areas of the heart with less than adequate blood supply and helps to restore systemic vascular function; increases blood flow and oxygen supply to the heart muscle and other organs, and decreases the heart's workload and reduces oxygen demand; and enhances function of the endothelium, the lining of blood vessels throughout the body, and lessening resistance to blood flow.
There is a strong fundamental story underway at VasoMedical. The Company has been publicly traded since mid 1995. The stocks all time high occurred in early 2000 when it hit $12 per share. VASO has basically been a stagnant one product company, selling exclusively the EECP product. In mid 2007 VASO acquired Living Data Technologies. The acquisition provided VASO with addition EECP products, and came with a visionary CEO, Dr. Jun Ma, with new ideas on how to expand the Company, including developing new markets for the Company's flag ship EECP product.
The results are starting to bear fruit, as evidenced by its June 29, 2011 announcement that the Company had received FDA approval to market two Ambulatory ECG and blood pressure devices. Each device has a potential market potential estimated to be in the 150 million +.
VASO on August 23, 2011, that its wholly-owned subsidiary, Vasomedical Healthcare, has signed an agreement to purchase Life Enhancement Technology Limited and Biox Instruments Co., Ltd., both of which are based in the People's Republic of China. The purchase agreement for these accretive acquisitions provides for a cash payment at closing of $1,000,000 and the issuance of up to 7,400,000 restricted shares of the Company's common stock, as well as warrants, part of which issuance is performance based.
VASO yesterday, August 30, 2011, reported financial results for the fiscal year ended May 31, 2011.  The Company's total revenues were $16.37 million, an increase of $12.17 million, or 289% as compared to revenues of $4.21 million for the last fiscal year.
While the Company reported an operating loss of approximately $3.93 million for the year, compared to an operating loss of $1.98 million for the prior fiscal year, these losses were largely attributed to the revenue recognition rules applicable to the Company's VasoHealthcare subsidiary, wherein a part of revenues were deferred.
As of May 31, 2011, total deferred revenues for the Company were $11.92 million, including $10.81 million for the VasoHealthcare subsidiary, an increase of $10.89 million from $1.03 million for fiscal 2010. The substantial part of this deferred revenue should be recognized as revenue in fiscal 2012.
The huge backlog bodes well for the next few quarters and could serve as a catalyst to propel the stock substantially higher, especially as the stock potentially approaches profitability in the current fiscal year. The stock closed on Tuesday, August 30, 2011, at $.41 up $.08 or 24.5%for the day. On a technical basis, the stock appears to have broken its downward consolidation pattern, with the stock closing above both its 50 day and 200 day moving average for the first time in almost 4 months, an extremely bullish indicator. We would expect to see new 52 week highs on the stock over the next 1-3 months:
Updates
Mitek Systems, Inc (MITK: Nasdaq)— MITK the leader in mobile-imaging applications using smartphone and tablet cameras for check deposits, the stock is up 37.2% from its interday low last Friday August 26, 2011. On Monday August 29, 2011, William Blair, initiated coverage of MITK with an outperform rating. On Wednesday August 31, 2011, the Company announced that CEO James Debello will present at the Blair Conference at the Intercontinental New York Barclay Hotel at 8:00 a.m. EDT on Sept. 8.
Mitek is a long term core holding and a pure play on the mobile smart phone growth but we would express caution for anyone looking to establish new positions at these levels. The stock is currently being bid up by traders ahead of the William Blair conference and could see some profit taking on the event. We would "back the truck up" on any pullbacks towards its 50 day moving average of $8.44 MITK. The stock closed yesterday at $10.95 up 88.14% since we added it to our watch list on March 7, 2011.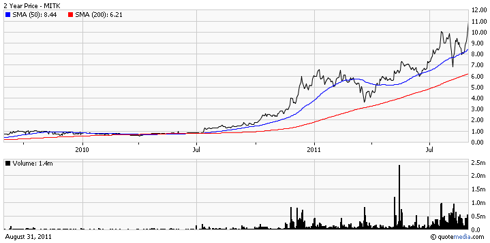 Click to enlarge

TechPrecision Corporation (TPCS: OTCBB)--an industry leading manufacturer of precision, large-scale fabricated and machined metal components and systems with customers in the alternative energy , cleantech , medical ,  nuclear, defense, aerospace and other commercial industries, announced on Tuesday August 30, 2011, that it has received a purchase order from a new, European Tier-1 customer for its Wuxi Critical Mechanical Components Co., Ltd., subsidiary to produce high temperature vacuum chambers using advanced mono-crystalline cast technology.
Initial units from the purchase order will ship from the WCMC division in China during the fourth calendar quarter of 2011. High-volume production is forecasted to begin in first-half calendar 2012. The Company stated on its recent conference call following the 1st quarter earnings release, that they expect at least 4 new Tier-1 customers in the current fiscal year and that they were looking to diversify their customer concentration. Wunderlich securities recently reiterated their buy rating on TPCS with a $4 price target, and they expect Chinese solar demand to return in 2012 following a down year in 2011.
A close above $1.66 on increasing volume would be confirmation of the continued uptrend and potential for new highs over the next 1-3 months. The stock closed yesterday at $1.60 down 13.51% since we added it to our watch list on June 13, 2011.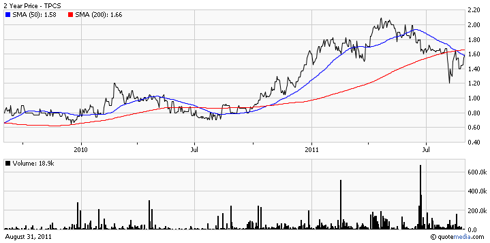 Click to enlarge
To get profiles on undiscovered companies before they take off, subscribe now to our free newsletter at http://www.stocksnsectors.com/wp-login.php?action=register
www.stocksnsectors.com is not registered as a securities broker-dealer or an investment advisor with either with the SEC or any state securities regulatory authority. We are neither licensed nor qualified to provide investment advice.
The company itself or our website - http://www.stocksnsectors.com - make no recommendation that purchases of securities of companies profiled on this website or in this email are suitable or advisable for any person or that an investment in such securities will be profitable.
For our disclosure and disclaimer details visit: http://www.stocksnsectors.com/disclaimer