Being the largest natural and organic foods grocery store the country WFMI has grown amazingly over the last few years. Company operates over 280 stores in 38 US states, District of Columbia, Canada and UK. Company is revamping its pricing strategy and concentrating more on value offerings, while maintaining healthy margins.This strategy is best suited in present economic climate where consumers are trying to spend more smartly, gain more value on every dollar they spend. Even though WFMI targets affluent people as their potential customers, company's focus on putting value in perspective is helping it gain more customers then expected and is dynamically expanding its customer base. Improved same store level performance, controlled inventory management are key factors driving earnings growth for this company. There is ample room for new store openings in future, as company management has clearly  expressed interest in accelerating the pace of its store openings in coming years driven by the fact that more people are going to adapt to healthier lifestyles. . Buoyed by healthy financial position and robust financial outlook, board re-established the quarterly dividend $0.10/share after a gap of more than two years. Over the last year stock has been up 65% whereas S&P up 10%. Question remains for people who have missed the ride so far ! Is it too late to get on this train to enjoy the potential price potential and small dividend yield .
From a intrinsic valuation perspective, factoring in 16.35% projected earnings growth for next 5 years, healthy operating margins, WFMI will be fairly valued at $66/share.  Stock is presently trading at 0.93 times revenue and has the potential of expanding Price/Sales ratio to 1.26.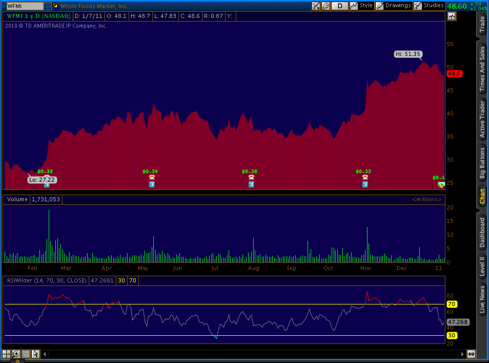 Disclosure: I have no positions in any stocks mentioned, but may initiate a long position in WFMI over the next 72 hours.