Last week, Goldman Sachs downgraded its outlook on gold (NYSEARCA:GLD)for 2014 and their view essentially rests on "US economy reaching escape velocity". Beneath the surface lies, an important driver that certainly needs to happen if, the economy picks up in the later part of this year. Extra return demanded by investors (equity risk premium) will start declining as the economy picks up momentum. Earlier this year, I presented my long-term bearish argument on the gold, highlighting the relationships gold has preserved with equity risk premium as well as the structural shifts currently underway globally. Shortly after, I recognized and shared with the readers the shift in volatility markets that signaled an upside move in gold for the short term.
Before discussing and putting the current macro environment into the context for gold prices, let us re-summarize the key drivers, which effect gold prices in the marketplace.
Equity Risk Premium
Corporate Profits & Corporate Equities Multiple
Risk premium investors demand vary as a function of uncertainty in the economy as well as the risk aversion of the investors. To put it more intuitively, risk premium should decline as volatility in economic variables such as expected inflation, economic growth and interest rates diminishes. During the financial crisis of 2008, equity risk premium rose to levels last seen during late 70's.
This year's gain in gold prices came on the backdrop of rising risk premium-, which reflects investors rush to seek the safety of safe haven assets. As the short-term regime of rising premium shifted, so did the gold price. With the economic recovery in progress, risk premium has declined from its highs but still is at extremely elevated levels. One can argue about this deviation from long-term mean as a possible long lasting shift. I welcome this argument but my only strife would be that applying this argument alone distorts the reality.
This brings us to my second driver - Corporate Profits and Equities Multiple, which affects gold prices in the marketplaces. Corporate profits and the S&P500 (NYSEARCA:SPY) earnings have tracked each other closely since 1947. Historically, corporate profits have peaked out before the S&P500 earnings, which is because of the time lag with reporting of corporate profits. However, acceleration in rise in earnings for S&P500 relative to corporate profits underlines the surge in optimism among the market participants. In addition, when the stock returns outpace earnings growth, earnings multiple expands. Phases of earnings multiple expansion and contraction coincide with the bull and bear markets in the gold prices. Chart below displays the relationship between the gold prices and corporate equity multiple (drawn from ratio of Federal Reserve's Account of Corporate Equities to corporate profits after-tax).
(click to enlarge)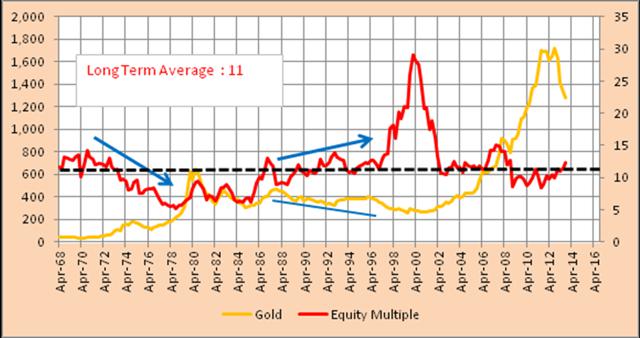 Click to enlarge
Multiple contractions witnessed from 2000 to 2012, and the rise in equity risk premium explains the rise in gold prices from $300/ ounce to $1900/ ounce during the same time.
Long-term median for corporate equities multiple since 1950's is 11, putting current multiple of 12.25 in a slightly overvalued category. Current market valuation is no way near to the valuation levels we noticed during tech and the housing boom. Valuation bears have been pointing towards the high, unsustainable levels of profit margins and are calling out for the "normalization of profit margins in future". In applying the argument over a long lasting shift in the economy, we should accept the current valuation levels as representing current economic reality and respect the change, which US economy has undergone. This will infer current market as fairly valued with a strong likelihood of multiple expansion. Earnings multiple expansion in equity markets will exert strong downside thrust on the gold prices.
Such a scenario in combination with low inflationary pressures will create tailwinds for equity markets, thus money will continue to rotate out of safe heaven assets such as gold and treasury bonds.
Disclosure: I have no positions in any stocks mentioned, but may initiate a short position in GLD over the next 72 hours.