JASO is presenting a rare oppurtunity for great gains with a clear stop. Looking at those long bars and increasing volume the last few weeks its going to break one way or another very hard and very fast.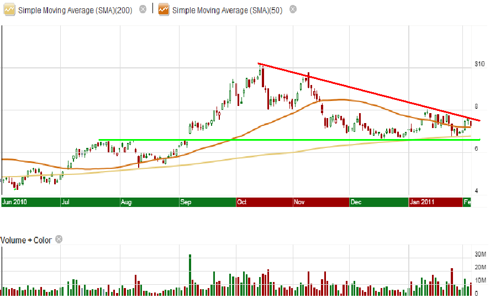 Click to enlarge

The Case for Breaking Out to the Upside


Good valuation for earnings - 7x trailing earnings, 5x forward earnings
Reasonable valuation for assets - 1.38x book (no goodwill included)
Long term uptrend is intact - holding the 200 day M.A. nicely.
Peers continue to report strong revenue and earnings growth.
Huge short positions need to be convered in the event of a breakout - roughly 25% of outstanding shares are short.
Just broke above the 50 day M.A.
Several significant long term contracts were signed during the past quarter.
New product that represents a significant technical achievement announced this quarter (Secium Cells).
They are hiring. Growing companies hire. The careers section of a company's website is the best non-financial information about future prospects. Look at the website - it looks very nice - careers section and otherwise.
The

Case

for

Breaking

Out

to

the

Downside


US markets are overbought. If they fall JASO may follow, there isn't a lot of wiggle room between the current price and major support (in green and at the 200 day M.A.)
China crash. JASO will follow if China has a hard landing (Lots of talk but watched pots rarely boil over. I'd say Japan is a bigger crash risk.)
Fraud. Any hint of it and this falls below support and doesn't stop for a while.
Subsidies are cut off across the board. (Europe is already priced in.)
Enjoy the trade. It should be resolved one way or another very soon.
Disclosure:
I am long
JASO
.