FLOWERS.COM FLWS
Overview
1-800-FLOWERS.COM, Inc. is a global leading florist and gift shop. 1-800-FLOWERS deliver smiles to customers with gifts for every occasion, which includes fresh flowers and the premium selection of plants, gift baskets, gourmet foods, confections, candles, balloons and plush stuffed animals, for more than 30 years now. The company boasts its 100% Smile Guarantee in every gift. Mobile Shopping Summit's "Best Mobile Site of 2011" named 1-800-FLOWERS.COM's Mobile Flower & Gift Center of the 1-800-FLOWERS.COM as 2011's winner. The company was also rated as number one for customer satisfaction by STELLA Service. The E-Tailing Group recognized FLWS as one of the 9 online retailers out of 100 to meet the criteria for Excellence in Online Customer Service, and was honored in Internet Retailer's "Hot 100: America's Best Retail Web Sites" for 2011.
FLOWERS Chain of Online Services includes;
BloomNet is FLWS international floral wire service that offers wide variety of quality products and value-added services intended to help professional florists grow their businesses.
The 1-800-FLOWERS.COM "Gift Shop" also includes gourmet gifts such as popcorn and specialty treats from The Popcorn Factory cookies and baked gifts from Cheryl's premium chocolates and confections from Fannie May confections brands gift baskets and towers from 1-800-Baskets.com delicious cut-fruit arrangements from FruitBouquets.com; wine gifts fromWinetasting.com ;ultra- premium meats from Stockyards.com as well as exquisite, customizable invitations and personal stationery from FineStationery.com
The Company's Celebrations brand is a new leader online for party ideas and planning information.
Revenue Reported Continued Positive Trends for its Fiscal 2012 Q4 and Full Year
FLWS reported results for its fiscal 2012 fourth quarter and full year's total revenue from continuing operations increased 7.6 percent to $716.3M in 2012 and a 4.0% to $179.6M in the fiscal fourth quarter ended July 1, 2012 on a comparable, non-GAAP basis reflecting results for fiscal 2012 full year. It includes a 52-week comparison with fiscal 2011's 53 weeks and fiscal 2012 Q4 results including a 13-week comparison with 14 weeks till the Easter holiday. Based on the report, there was a 6.6% growth in fiscal 2012 revenues and fourth quarter revenues declined 1.4%.
The company's segmented revenue as categorized in the reported results shows;
Consumer Floral: Revenue grew $29M, which is 7.9% to $398.2M. Q4 revenue grew approximately $300,000 or 0.3 percent to $124.0M, compared with $369.2M and $123.7M in the prior year periods. Due to product mix, logistics and reduced marketing costs, an obvious improvement in gross profit margin increased 90 basis points to 38.9% for the year and 90 basis points to 39.2% for Q4, compared with 38.0% and 38.3% from last year.
BloomNet Wire Service: Revenue increased $9.3M, or 12.7% to $82.6M, fourth quarter revenues increased approximately $400,000, or 1.9% to $21.7 M, compared with $73.3 M and $21.3 M in the same quarter a year ago.
Gourmet Food and Gift Baskets: Revenue increased 3.2% to $236.7 M while Q4 revenues declined 8.8% to $33.9M hightailing the Easter holiday, compared with $229.4M and $37.2M in the same quarter a year ago.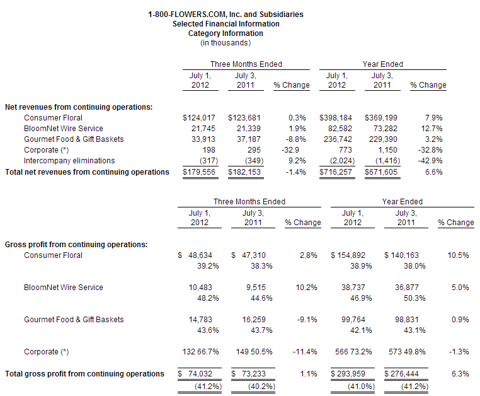 Segmented revenue margin for the year was brought about by the sale of 17 company-owned Fannie May retail stores as well as weaker performance in wholesale gift baskets, while fourth quarter contribution margin was influenced by the shift of the Easter holiday.
FLWS CEO Jim McCann stated, "The strong top and bottom-line results achieved in Fiscal 2012, coming on top of similarly strong results last year, reflect continued positive trends in all three of our business segments. We are particularly pleased with the growth in revenues, gross margin and contribution margin in our core Consumer Floral business where we see customers reacting positively to our enhanced marketing efforts - including our industry leading initiatives in the fast evolving Social and Mobile channels - as they embrace our truly original product designs to help them deliver smiles."
He also added that BloomNet wire service continued to grow its market position during fiscal 2012, achieving double-digit revenue growth on its second consecutive year with more than 10% growth in contribution margin. The CEO concluded and summarized:
"BloomNet has established itself as the growth leader in the wire service category with unsurpassed innovation in the expanded suite of products and services it offers to help professional florists grow their businesses. In our Gourmet Food and Gift Baskets, we achieved revenue growth for the year reflecting strong ecommerce growth in our Cheryl's, Baskets.com and The Popcorn Factory brands, combined with wholesale channel growth in our Fannie May Fine Chocolates business, which more than offset the loss of revenues associated with the sale of 17 Fannie May Fine Chocolate retail stores, which we completed during the second quarter of the year. The strategic store sale was part of a 62-store franchise deal that includes an additional 45 new stores to be opened over the next three years, significantly accelerating our franchising program for Fannie May. We believe these franchise stores, in addition to other franchise agreements already signed or in development, will provide significant growth opportunities in the future across ecommerce, retail and wholesale channels for the iconic Fannie May brand."
McCann emphasized that sales and profit margins in the Company's Gourmet Food and Gift Basket segments were affected by decreased orders in wholesale gift baskets and stated, "Fortunately, based on the improved demand we are now seeing from the key mass market accounts, we expect to achieve renewed growth in both revenues and contribution margin in this area in fiscal 2013."
Management Statements on Future and Growth
In an interview with Christopher G. McCann, President, 1-800-FLOWERS.COM, he responded on certain aspects that can shape the company's future.
On Social Media and e-Commerce
How critical is it and what management sees as growth opportunities?
"There have been four waves that have affected how our business has grown: the first was brick-and-mortar retail. We take the lessons learned from that and constantly apply them to other channels of growth.
Jim (Chairman and CEO) and I still talk about what we learned from customers starting with that first flower shop in New York City and how we were part of the community - members of the community would come in to chat with us even if they weren't making a purchase.
The second wave of growth was telephonic commerce and the emergence of the 1-800 service. We tried to make our customer interaction personal to recreate the local flower shop experience. The third wave was online/e-commerce, where we applied what we had learned from the retail and telephone business to our e-commerce channel, always with the goal of developing that one-to-one relationship with our customers. The fourth wave is social commerce and mobile is playing a critical role in that.
As we've interacted with our consumers in this area over the past several years, we've learned that "local" is a critical component of this wave as well. So we see the web is being re-architected around people. This is giving us some great capabilities to continue to do what we do best, which is engage with our customers and help them create smiles. We're proud that we got involved in SoLoMo early on. We didn't know what would emerge from it but knew that we had to be involved to learn along with the consumer.
We're now a recognized leader in social and mobile commerce. As the local aspect becomes more important, we're well positioned because we still have our retail flower shops through our franchise organization and BloomNet wire service. Local florists have increasingly recognized the need to be part of a brand that is on the forefront of technology and behavior changing technologies for the consumer, so more flower shops are becoming franchises of ours. That enhances our ability to be local."
On Sustainability and Brand Opportunities
How have you been so effective at providing a consistently high level of service?
"Our team focuses on making sure that we never forget what made us successful to begin with.
In addition to our wonderful products, what make this company successful are the caring people who are obsessed with service. Getting them here starts with the hiring and training, but it's constantly reinforced. I do monthly video conferences with our sales and service specialists. In each of those sessions, I celebrate the stories I hear from our customers about our people who go above and beyond to deliver excellent service. Our job is to deliver smiles on behalf of our customers and that is what our people take pride in."
On a follow up question about other opportunities to extend the brand, he stated;
"We are always in dialogue with our customers to determine what would help them in their celebratory lives. We then look to extend into product categories that our customers tell us they're utilizing as well as to extend our content and information offerings, which are so important in this world of SoLoMo. So our Celebrations.com brand, for example, is all about how to celebrate and throw a party. It offers recipes and information, and fosters our customer base sharing information with each other. That is another level of engagement that we're developing with our customers."
The 2013 company initiatives are focused in achieving management expectations, continue the positive trends in business, build and improve customer relationship and satisfaction level, as well as build shareholder value. The management will look into;
Merchandising and Marketing that provides original products, which helped the company drive increased average order value and gross profit margins.
Manufacturing, Sourcing and Shipping improvements and efforts that have helped absorb rising commodity and fuel costs and enhanced operating cost leverage.
Investments in innovation for the future, including industry leading SoLoMo, BloomNet and franchising programs in consumer floral and Fannie May.
Ratio
Company price to earnings is $13.90, with a P/S of 0.34. P/B is 1.50 and price per cash flow of 6.40.