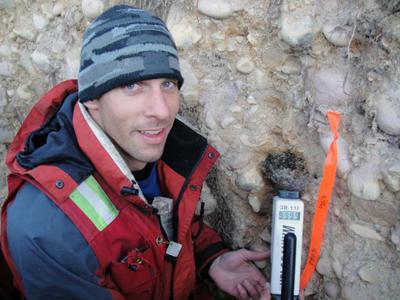 A unique geological legacy has given northern Saskatchewan's Athabasca Basin a pivotal role in the world's energy future. Currently about a fifth of global uranium supply comes from two mines in the basin's eastern section. But west side drilling has two companies excited about a new discovery. Joint venture partners Fission Energy (FSSIF.PK) and Alpha Minerals (V.AMW) first announced their Patterson Lake South find on November 5, with results for four holes released over the subsequent 10 days.
As Fission president/COO/director Ross McElroy explains, "We stretched an eight-hole program into nine holes. On the sixth hole we hit mineralization. The next three holes also hit the same zone. Each of them were 10-metre step-outs. They're all looking very strong."
At this point the core has been tested by a hand-held scintillometer prior to assays, when actual grades will be determined. The device assesses radioactivity by measuring gamma ray particles in counts per second. The discovery hole featured a 21-metre interval with readings from below 300 cps to over 9,999 cps, the highest measurable reading. The best hole, one of two announced November 12, showed similar readings for a 24-metre interval. A fourth hole, announced November 15, gave similar numbers for a 22.5-metre interval.
All this bodes well for grades, the JV partners believe. So does the visible mineralization. "We can actually see the pitchblende, which is the uranium oxide mineral, when it's high grade," adds Ben Ainsworth, Alpha's president/CEO/director. "The biggest we've seen so far is 21 centimetres, which gives you an off-scale reading on the scintillometer."
Jody Dahrouge, Fission director and president of Dahrouge Geological Consulting, adds, "There aren't many one-off holes in the basin. These discoveries tend to have size to them. If you're looking for gold you can often drill 10 metres of gold, then drill 50 more holes and never hit it again. We know that we've hit significant uranium in these holes."
But impressed as they find this discovery, it wasn't their objective. "The target we're looking for is basement rocks, the old, old, Archean rocks that underlie the Athabasca Basin, with no Athabasca rocks on top," Ainsworth points out. "We're looking for that because the boulder field we found had uranium that was associated only with basement-type rocks."
That boulder field includes surface rocks as small as pebbles that have drifted with glacial till. High radioactivity seems to indicate a high-grade motherlode somewhere, probably within kilometres. According to Dahrouge, "In terms of area, magnitude and size, it's probably the largest-known boulder field in the basin." That's what prompted the drilling which found mineralization, but not its source.
"We hit a snag with the drilling, but it's a very nice snag," says Ainsworth. "The mineralization didn't come from the basement rocks we're looking for, it came from another piece of basement. So we got a discovery of mineralization that we wouldn't have otherwise anticipated."
McElroy adds, "This boulder field shows high-grade mineralization with assays of up to almost 40% U3O8, which is terrific by any measure."
So what's all this you-three-oh-eight stuff?
Dahrouge replies, "It's kind of a grab-bag of pitchblende and a whole bunch of uranium minerals that average out at U3O8. Uranium can occur as UO2, UO3, U2O5. So what the industry's done is taken this term U3O8 because in a very general sense it's the average."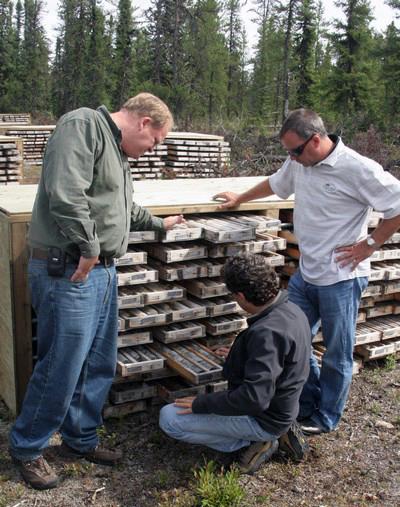 McElroy says the boulder field shows "massive pitchblende. We knew the boulders had been transported by the last glaciation so we spent last year trying to figure out the ice direction, tightening up our geophysical targets and drill-testing, looking for what we believe to be a still-undiscovered deposit in situ. With our success this winter, we think our model's been validated."
Dahrouge puts the grade in context. "If you took away the Athabasca uranium deposits, which in the case of Cigar Lake and McArthur River are up to 20% U3O8, the highest deposits in the world would be in the 1% or 1.5% range."
McArthur River, the world's largest uranium mine, is operated by Cameco Corp (NYSE:CCJ) through a JV in which AREVA Resources holds a 30.2% interest. Cigar Lake, slated for operation in mid-2013, is the world's largest undeveloped high-grade uranium deposit. Cameco holds a 50% interest, AREVA 37% and two other companies a total of 13%. Cameco holds a 100% interest in the Rabbit Lake mine, currently Canada's other uranium producer.
Dahrouge emphasizes, "To me, absolutely the most exciting thing about Patterson Lake is it's 50 to 60 metres deep. And it's overlain with sand that you can move without blasting. This is one of the shallowest discoveries in the basin to date. Drilling costs a fraction of other projects. If it turns out to be a deposit, mining costs would be a fraction of other projects too. That's what makes it so exciting-number one, you have the potential for an absolutely fantastic high-grade deposit. Number two, it's literally within 50 metres of the surface. And it's in Saskatchewan, which is a wonderful place to do business."
Fission now operates the 50/50 JV, but swaps the duty with Alpha every two years. "It's been a huge team effort, a very pleasant joint venture," says Ainsworth. "I've worked on some where it was hard to keep everyone working towards the same goal."
Despite its remote location, the project has an all-weather highway running right through it, connecting the historic Cluff Lake mine 80 kilometres north with civilization to the south. With surprisingly shallow water of only five or six metres' depth, Patterson Lake allows drilling from barge or ice.
So work will resume in mid-January after solid ice settles in. "We plan an aggressive program for winter, at least two drills," McElroy says. "There's always a lot of excitement going into a new season, particularly for us with this target."
On the east side of the basin, Fission holds a 60% interest in the 40,256-hectare Waterbury Lake uranium project. The remainder is held by a consortium headed by Kepco, the Korean power utility. Fission retains a 2% net smelter return, after which the 60/40 split would take effect.
The property's J-Zone has a May 2012 resource estimate showing an indicated category of 163,335 tonnes grading an average 1.99% U3O8 for 7.37 million pounds U3O8. The inferred category shows 149,626 tonnes grading 0.46% for 1.51 million pounds.
The J-Zone sits on a trend that includes Cameco's McArthur River and Rabbit Lake mines, as well as its Millennium deposit, McElroy says. "The J-Zone is an extension of the Roughrider deposit of Hathor Exploration, which was bought out by Rio Tinto earlier this year for $654 million. Hathor outlined 58 million pounds. We're still in an earlier stage of building up the resource." McElroy hopes to release an updated estimate by year-end, possibly followed by a PEA.
The neighbourhood includes an airstrip, a power grid up to the property boundary and two mills within five kilometres of Waterbury Lake.
"Between Patterson Lake South and Waterbury we have the two most exciting plays in the basin," he says. "We're in a part of the world where significant discoveries are made about every 10 years and we've made two major discoveries in only two and a half years. We've put together a technical team that's second to none and it's showing its merit."
On uranium supply and demand
In Western countries many people look on nuclear energy with fear. But it has the support of some prominent environmentalists including Greenpeace co-founder Patrick Moore.
Now responsible for roughly 15% of global electricity generation, nuclear power continues to expand. After the earthquakes and tsunami that caused Japan's Fukushima nuclear disaster, uranium prices fell from a 2011 high of $72.63 a pound to a November 12, 2012, level of $41.25. But countries like China, Korea and India plan to add significantly more nuclear generation, while even Japan is re-starting some of its reactors.
Cameco's October 31 Q3 report acknowledged uncertainty which "led us to review and adjust our outlook." The company says 64 reactors are now under construction and it now predicts 80 new reactors by 2021, down from a previous projection of 95 reactors.
"Most of this change is due to the retirement of some reactors and new reactor builds being pushed out beyond the 10-year period," the company stated. "As a result, we have revised our cumulative world uranium demand forecast to 2.1 billion pounds for that period, down 50 million pounds from our previous expectation. As always, we will continue to evaluate the effects on demand as the nuclear market evolves."
The following week the federal government announced a tentative agreement in which Canada would export uranium and nuclear reactors to India for the first time since 1976. India plans to expand its nuclear-generated electricity from 4,780 MW to 63,000 MW by adding nearly 30 reactors over 20 years, according to Reuters.
Current mining operations can't keep up with current demand. A shortfall of at least 20% is made up by the megatons-to-megawatts program, in which Russia supplies the U.S. with very high-grade uranium from warheads dating back to the Soviet Union. The program ends next year.
Price vagaries would normally affect low-grade deposits the most. "Athabasca Basin deposit grades are 10 to 20 times better than any other deposits around the world," says McElroy.
Disclosure: I have no positions in any stocks mentioned, and no plans to initiate any positions within the next 72 hours.