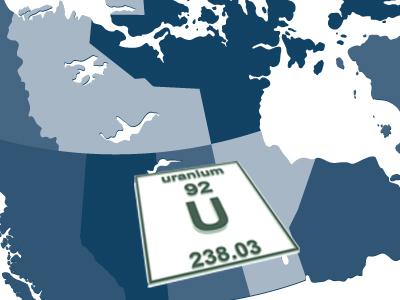 Denison gets Fission Energy, spinco Fission Uranium gets Patterson Lake South
It's a done deal, both companies announced April 26. Denison Mines (NYSEMKT:DNN) closed its acquisition of Fission Energy (FSSIF.PK). The latter company stops trading at the close of April 29 but a new outfit, Fission Uranium Corp., is expected to begin trading on May 1. Fission Uranium will retain the Fission Energy team and their most celebrated asset, a 50% interest in Patterson Lake South.
For each Fission Energy share, holders get 0.355 of a Denison share, a full Fission Uranium share and, for good measure, one ten-thousandth of a penny. The new company also gets about $17 million from Denison, a handy sum to continue its share of PLS drilling while shopping for other properties.
The acquisition went much as planned except for a late decision to change the new company's stock ticker to FCU.
Patterson Lake South rolls out the results
Patterson Lake South, meanwhile, continues to shock and awe the market with near-surface results showing off-scale scintillometer readings and high-grade assays about every week-at least.
Just a couple of examples: An April 22 announcement reported assays of 6.57% triuranium octoxide (U3O8) over 53 metres, including 29.26% over 10.5 metres. The intercept started at a downhole depth of 95 metres. Only two days later came assays of 6.26% over 49.5 metres, including 35% over 6 metres, starting at 66 metres in downhole depth.
A 50/50 joint venture between Fission Energy and Alpha Minerals (ESOFD.PK), the PLS discovery sparked the current staking rush around the Athabasca Basin's southwestern rim. Alpha filed an NI 43-101 technical report for the property on April 14.
Alpha private placement closes at $12.28 million
While Fission Uranium starts off with about $17 million from Denison, its JV partner-to-be, Alpha Minerals, has just picked up $12.28 million. On April 25 the company announced completion of 1.2 million flow-through shares at $4.40 each and 1.75 million units at $4. Each unit consists of one non-flow-through share and half of a warrant. Each whole warrant will be exercisable at $5 for 24 months.
The private placement was originally offered up to $7.28 million, but was increased by $5 million on April 9.
NexGen now on the TSXV
Its reverse takeover with Clermont Capital complete, NexGen Energy Ltd. made its Venture debut on April 23. NexGen interprets its flagship Radio property to be on the same structural trend as Rio Tinto's Roughrider deposit and Denison's Waterbury Lake J-zone. NexGen holds an option to acquire an initial 70%, then the remaining 30% subject to a 2% NSR.
Another NexGen standout is Rook 1, immediately northeast of Patterson Lake South.
Under a JV within a JV, NexGen and Forum Uranium (OTC:FDCFF) have an option to earn 30% each of the Northwest Athabasca project, currently held 87.5% by Cameco Corp (NYSE:CCJ) and 12.5% by AREVA Resources. On April 10 project operator Forum announced completion of a 3,500-metre program that hit uranium mineralization in eight of 17 holes.
Last November NexGen picked up 10 Canadian uranium properties from Mega Uranium (OTCPK:MGAFF). On April 22 Mega acquired an approximately 25.2% interest in NexGen, which currently has about $6 million on hand.
As for Waterbury and the J-zone …
In the eastside Basin neighbourhood of Radio and Roughrider, Waterbury Lake is now held 60% by Denison, a result of its Fission Energy acquisition. A consortium headed by the Korean power utility Kepco holds the remaining 40%.
Last winter Fission Energy sunk 68 holes totalling over 21,000 metres to define and expand the project's J-zone. Scintillometer results announced April 5 showed mineralization in 35 holes. Assays are pending for this final stage of a three-year, $30-million campaign.
Forum to fly Clearwater
In addition to its NexGen collaboration, Forum plans an airborne magnetic and electromagnetic survey over its 100%-held, 9,910-hectare Clearwater property immediately southwest of Patterson Lake South. Funding comes from a $500,000 private placement that closed April 23.
Denison drills turn Wheeler River
On the Basin's east side, winter drilling at Denison's 60% Wheeler River project completed 14,577 metres in 27 holes. On April 24 the company announced it had extended the new 489 zone along strike by 65 metres. The zone lies 2.1 kilometres from the project's Phoenix deposits, which Denison calls "the most significant new uranium discovery in the Athabasca Basin in many years."
Denison acts as project operator for partners Cameco, which holds a 30% interest, and JCU (Japan-Canada Uranium) Exploration, which holds 10%.
Lakeland stakes more land
Now a "pure play uranium exploration company focused on the Athabasca Basin," Lakeland Resources (OTCQX:LRESF) announced on April 25 it had staked three more properties. The Small Lake, Hawkrock Rapids and Circle Lake properties total 54,745 hectares in the northern and northeastern Basin.
The news followed an April 2 announcement that Lakeland staked two other northern Basin properties, the 9,645-hectare Otherside and 35,429-hectare Riou Lake. All five properties, totalling nearly 100,000 hectares, were chosen on the basis of previous work by former operators. Lakeland intends to study historic data prior to planning a work program.
The company has also signed a non-binding letter of intent for eight other Basin properties totalling about 190,000 hectares.
Ashburton shifts focus to the southwestern Basin
The same day Lakeland reported its three most recent acquisitions, Ashburton Ventures (OTC:ASHXF) announced 50% options on two others. The 2,999-hectare Patterson West property borders Patterson Lake South and is eight kilometres northwest of the PLS discovery. The 2,537-hectare Patterson North sits eight kilometres north of the PLS property. CanAlaska Uranium (OTCQB:CVVUF) staked the two properties last January.
Ashburton may earn a 50% interest in both projects by paying CanAlaska $25,000, issuing the company 2.5 million shares and a million warrants exercisable at $0.10 and spending $1.4 million over three years.
The options increase Ashburton's PLS presence. On March 14 the company announced the purchase of a 147-hectare claim bordering a Fission Energy property north of the Patterson Lake South JV and a 1,090-hectare property about 25 kilometres southwest of PLS. That deal cost Ashburton $10,000 and 1.5 million shares.
In order to focus on the PLS region, Ashburton cancelled a 100% option on the eastern Basin's Bernick Lake project that was announced March 21.
More PLS expansion with Skyharbour
A 115,300-hectare acquisition announced April 11 brings Skyharbour Resources' (OTCQB:SYHBF) PLS-proximate package up to six properties totalling 157,000 hectares. Skyharbour is now one of the region's largest landholders.
The most recent deal cost the company $50,000, a million shares, a 2% NSR and a 2% gross revenue royalty.
CIN stakes out a JV, increases PLS holdings
A joint staking operation by Canadian International Minerals and Tyko Resources Inc gives each a 50% interest in eight claims totalling more than 34,700 hectares. The April 2 announcement boosts CIN's presence to nearly 60,000 hectares, all in the vicinity of Patterson Lake South. CIN will act as project operator on the Tyko JV.
Uranium, diamonds, whatever
Another company with a "strategic resource direction," Aldrin Resource (OTCPK:AOUFF) announced an option on the 12,001-hectare Triple M uranium property nine kilometres south and 11 kilometres west of the PLS discovery. Under the agreement announced April 15, Aldrin may earn 70% by paying $1.5 million, issuing 12.5 million shares and spending $4 million over four years. The vendors get a 3% NSR and 3% gross overriding royalty for, um, "any diamonds found on the property."
A tad contrite
Saying it "plans to mobilize crews shortly," TAD Mineral Exploration announced on April 11 it had staked 4,000 hectares in the PLS region. "Management of TAD has let its shareholders down in the past with a lack of focus," stated company director Jason Gigliotti. "We plan on becoming much more active to enhance shareholder value and this is the first step in that direction."
Alberta as well as Athabasca
Zadar Ventures announced on April 22 that the TSXV approved its purchase of the Upper Poulton Lake project for $100,000, 900,000 shares and another $2 million to explore the 2,730-hectare property over four years.
Zadar first announced the agreement on April 9, one week after the company reported completion of its 60% earn-in on the 17,300-hectare Whiskey Gap uranium project in southwestern Alberta.
Nuinsco begins radon survey
Sediment and water sampling has begun on the Diabase Peninsula project in the south-central Basin, Nuinsco Resources (OTCPK:NWIFF) reported on April 19. The company will measure radon gas to map the presence of radium on the Rowan Grid area of the 21,959-hectare property.
Purepoint completes winter work
Purepoint Uranium Group (OTC:PUMGF) finished a winter campaign on Hook Lake, a 28,683-hectare property five kilometres northeast of the PLS discovery, the company reported on April 4. Work included a ground electromagnetic survey and 925 metres of drilling. Purepoint holds a 21% interest in the JV with Cameco holding 39.5% and AREVA 39.5%.
Purepoint has 11 uranium projects in the Basin, where the company's been established "well before the initial resurgence in uranium earlier last decade."
Shea Creek proud to be #3
Shea Creek remains the Basin's largest undeveloped resource and third-largest overall, after McArthur River and Cigar Lake. That's according to an April 17 resource update from UEX Corp (OTCPK:UEXCF). Using a 0.3% U3O8 cutoff, totals for the four deposits show:
an indicated category of 2.07 million tonnes averaging 1.48% for 67.66 million pounds U3O8
an inferred category of 1.27 million tonnes averaging 1.01% for 28.19 million pounds U3O8.
The indicated category grew 6% since the 2010 resource, while the inferred category rose 15%. Mineralization "is still largely open," UEX stated. The company holds 49% of the project, with operator AREVA holding the balance. Shea Creek's located in the western Basin, just south of the former Cluff Lake mine.
On April 10 UEX announced AREVA granted the company an option to increase its interest to 49.9% by funding another $18 million of exploration. The previous month UEX completed its 25% interest in Beatty River, a 6,688-hectare project about 30 kilometres south of Shea Creek and 25 kilometres north of Patterson Lake South. Project operator AREVA holds 50.7%, while JCU Exploration holds 24.3%.
AREVA also holds part of the Basin's top two resources-a 30% interest in the McArthur River mine (with Cameco holding the rest) and 37% in the Cigar Lake project (Cameco 50%, Idemitsu Canada Resources 8%, TEPCO Resources 5%). Cigar Lake could begin production later this year.