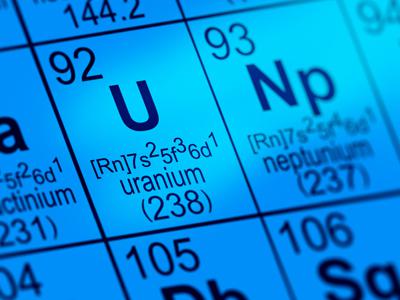 Final assays wrap up rewarding winter at Patterson Lake South
In a sense, the project's been making history all along. But Patterson Lake South's winter drill program is now history in another sense, with assays reported for 17 final holes. Alpha Minerals (ESOFD.PK) and Fission Uranium (FSSIF.PK) released the results June 5, with the latter company's president/CEO Ross McElroy calling the campaign "one of the most impressive uranium exploration programs I've ever seen or been a part of," citing "huge intersections and high grades." He forgot to mention near-surface depths.
Fifteen holes represent closely spaced infill drilling in the project's three zones. Here are some highlights.
R00E zone
4.63% uranium oxide (U3O8) over 6 metres, starting at 61.5 metres in downhole depth (including 6.86% over 4 metres)
0.12% over 2.5 metres, starting at 51 metres
0.36% over 1.5 metres, starting at 52 metres.
R390E zone
1.15% over 63.5 metres, starting at 82 metres (including 9.51% over 2 metres)
1.39% over 23.5 metres, starting at 110 metres (including 4.34% over 6 metres)
0.26% over 21 metres, starting at 77 metres (including 0.75% over 5 metres)
0.43% over 10.5 metres, starting at 125.5 metres (including 1.37% over 2 metres).
R780E zone
1.22% over 7 metres, starting at 144 metres (including 3% over 2.5 metres)
0.57% over 10 metres, starting at 166 metres (including 1.87% over 2.5 metres)
0.2% over 15.5 metres, starting at 159.5 metres
0.4% over 4.5 metres, starting at 109.5 metres.
True widths weren't provided. Two additional holes tested regional targets but failed to find significant mineralization. The 50/50 joint venture partners claim an 82% drill strike rate that discovered two new zones as well as expanding the R00E zone.
Drilling's scheduled to resume in early July, fuelled by a $6.95-million budget. Fission remains project operator until April 2014, when Alpha resumes the role.
Fission stakes new ground, says "still many underexplored areas" in Basin
Having helped bring fame to the area in and around the Athabasca Basin's southwestern rim, Fission's also looking at the Basin's northwest and northeast. That's where the company staked three properties announced in a June 3 news release.
On the Basin's north-central edge, the 15,373-hectare Beaver River property "includes most of the known electro-magnetic conductors in the area," the company stated. Surface samples have shown grades of 3.66%, 3.37% and 2.93% U3O8.
Fifteen kilometres west of Uranium City, in an area steeped in mining history, the 1,188-hectare Thompson Lake has provided grab samples of 2.23% and 0.11% U3O8.
At 2,941 hectares, Manitou Falls has six radiometric anomalies and multiple conductors identified in historic data.
Fission has Beaver River slated for summer fieldwork to determine winter drill targets.
Forum, NexGen hit 39.5 metres of 0.152% at NW Athabasca
Another JV with drill results, Forum Uranium (OTC:FDCFF) and NexGen Energy released more assays from their Northwest Athabasca project on June 5. The holes tested the Otis West zone, immediately south of historic Maurice Bay, which has a non-43-101 deposit of 680 tonnes averaging 0.6% U3O8.
Assay highlights show:
0.152% U3O8 over 39.5 metres, starting at 131 metres in downhole depth (including 0.211% over 24.5 metres)
0.166% over 3.5 metres, starting at 125.5 metres
0.243% over 0.5 metres, starting at 96.8 metres
0.185% over 0.5 metres, starting at 101.5 metres.
True widths weren't available. Mineralization remains open at depth and to the east, with future drilling planned to follow the Otis fault, parallel to the Maurice Bay fault, eastward. The companies added, "This is the fourth target drilled on the property that has intersected basement-hosted uranium mineralization typical of uranium deposits in the western Athabasca Basin such as Patterson Lake South, Cluff Lake and Shea Creek."
The partners are earning 30% each of the project from Cameco Corp's (NYSE:CCJ) 87.5%. AREVA Resources Canada holds the remaining 12.5%. Forum acts as project operator.
Forum issues options
The same day Forum also reported that it granted insiders options on a total of 800,000 shares at $0.40 for five years.
Skyharbour appoints Jordan Trimble president/CEO/director, looks for fourth JV partner
A June 5 dispatch from Skyharbour Resources (OTCQB:SYHBF) announced Jordan Trimble's appointment as president, CEO and board member. James Pettit is now board chairman. Donald Huston has resigned as president/CEO but remains a director.
Trimble holds a bachelor of science with a minor in commerce, is a 2013 Level II CFA candidate and has completed the Canadian Securities Course and Technical Analysis Course offered through the Canadian Securities Institute, as well as several courses in geology, exploration and mining. In his work with numerous TSXV-listed companies he has specialized in corporate finance and strategy, shareholder communications, marketing, structuring deals and raising capital.
Trimble was heavily involved in Skyharbour's decision to move into the Basin after considering other properties around the world. "The strategy was quite simple," he says. "It was to go in there as early and as cheaply as we could, accumulate a large land position and employ this joint venture model to fund exploration and also create synergies with the partner companies. With our geological team I staked the first 100,000-acre land package and thereafter we acquired the other 300,000 acres that culminated in the total package."
Having brought on Lucky Strike Resources (OTCPK:LKYSF) and Noka Resources to earn 25% each of the properties, Skyharbour is now looking for a fourth company. "With risk spread across four companies, four very capable technical teams, some really bright geologists, a methodology similar to what worked for Fission and Alpha, and this large land package, we can improve the chances of finding the next big discovery," Trimble says. "We're still working towards a final syndicate and JV structure and should have everything done within the next month or two."
Skyharbour is currently taking part in a group airborne geophysical survey of PLS-area properties with Forum, Aldrin Resource (OTCPK:AOUFF) and Athabasca Nuclear.
Lakeland picks up four properties, drops eight others
Reinforcing its reputation as a "pure play uranium exploration company" focused on the Basin, Lakeland Resources (OTCQX:LRESF) announced four more acquisitions on June 5.
Among the company's first priorities are two optioned properties untested by modern exploration techniques. The 211-hectare South Pine project sits adjacent to Lakeland's Riou Lake property in the northern Basin. Pre-1982 work found a 2.5-kilometre basement conductor and non-43-101 drill results up to 0.15% U3O8 over 0.13 metres immediately above the unconformity. In the northeastern Basin, the 1,681-hectare Perch Lake property hosts a four-kilometre basement conductive trend and an unexplained uranium radiometric anomaly, the company stated.
Lakeland may earn a 100% interest in these two properties by paying $70,000 and issuing 1.5 million shares over three years. The vendor retains a 2% NSR, half of which Lakeland may buy for $1 million, and the right to royalty payments of $10,000 after Lakeland has earned its interest.
The two staked properties total 1,892 hectares along the Basin's eastern margin. Richmond Lake features a moderate-strength conductor and a geological setting similar to eastern Basin deposits like McClean Lake, the company stated. Jasper Lake also contains a moderate-strength conductor but has seen little exploration.
At the same time the company announced it's pulling out of a February 26 letter of intent to pick up eight other Basin properties due to "risk associated with a third-party claim."
Mega and Rockgate propose merger
A marriage of Mega Uranium (OTCPK:MGAFF) and Rockgate Capital (OTC:RCKGF) would combine their respective teams, bank accounts, investments and assets, the companies stated on June 6.
Their LOI proposes a 10-for-1 consolidation of Mega shares prior to the merger. The deal would then swap 2.2 consolidated Mega shares for 10 Rockgate shares, representing a 36% premium over Rockgate's 20-day volume-weighted average. As a result, Rockgate and Mega shareholders would hold about 49% and 51% respectively of the combined company. Consummation is expected by September.
Rockgate hopes to finish a pre-feasibility study for its Falea uranium-silver-copper deposit in southwestern Mali by year-end. Work resumed in April after staff waited out insurgent violence in the country's northeast. A December resource update shows:
measured and indicated categories totalling 15.67 million tonnes averaging 0.086% U3O8, 55 grams per tonne silver and 0.22% copper
an inferred category of 15.35 million tonnes averaging 0.05% U3O8, 18 g/t silver and 0.24% copper.
Mega brings to the merger three Australian projects with resources, as well as earlier-stage properties. Now undergoing feasibility, Lake Maitland's resource shows an indicated category of 18.9 million tonnes averaging 0.049% and an inferred category of 1.92 million tonnes averaging 0.037% U3O8.
Undergoing pre-feas, Ben Lomond hosts 1.33 million tonnes averaging 0.27% indicated and 600,000 tonnes averaging 0.21% inferred. Considering grade and a "substantial molybdenum credit," Mega calls this "one of the highest value-per-tonne uranium resources outside the Athabasca Basin."
The Georgetown project's Maureen deposit shows 3.12 million tonnes averaging 0.09% indicated and 150,000 tonnes averaging 0.11% inferred. Mega holds other properties in Australia, Canada and Cameroon.
The companies say the merger will leave the new entity with about $22 million in cash and a uranium-focused investment portfolio worth around $12 million.
Kivalliq discovers new zone at Angilak
Nunavut explorer Kivalliq Energy (OTC:KVLQF) reported scintillometer readings from the newly discovered ML zone at its Angilak property on June 4. Gamma ray particles for one interval measured between 200 and 30,000 counts per second over 1.3 metres in true width at 60 metres in vertical depth. Three other holes drilled in the same conductor, however, found no radioactivity. Nevertheless the company stated "closer-spaced drilling is warranted on this mineralized structure."
CEO Jim Paterson called the ML zone "Kivalliq's second drilling discovery this season and the twelfth such discovery within the highly prospective Lac 50 trend since 2010."
Located 225 kilometres south of Baker Lake, Angilak has a March 2013 inferred resource of 2.83 million tonnes averaging 0.69% U3O8, Canada's highest-grade deposit outside the Athabasca Basin. Kivalliq operates the project in partnership with Nunavut Tunngavik Inc.
UEX pumps up Shea Creek budget, closes $3.17-million private placement
Within hours of filing its Shea Creek resource update on June 4, UEX Corp (OTCPK:UEXCF) announced a $2-million increase to the project's summer budget. Now a $5.1-million campaign, the extra cash will fund some 4,000 metres of drilling in the Kianna East zone and the northern part of the Kianna deposit. Previously budgeted was 5,000 metres south of the Anne deposit and, already underway, geophysics in the northern Colette and southern Anne areas. Two drills begin turning this month.
UEX pays $3.52 million of the $5.1 million, with operator AREVA Resources Canada paying the rest. UEX currently holds 49% of the JV, with an option to increase that to 49.9% by spending an additional $18 million over six years.
One day after announcing the $2-million increase, UEX announced completion of a $3.175-million private placement that opened May 24. Cameco waived its right to take part.
Uranerz gets $6-million bridge loan for Wyoming mine
A short-term financing of US$6 million will help Uranerz Energy (NYSEMKT:URZ) continue building its Nichols Ranch uranium mine in Wyoming. The company plans to repay the money on receiving a $20-million loan that's been approved in principle by the state's Industrial Development Revenue Bond program, Uranerz reported on June 7.
The $6 million comes with 6% interest, increasing to 10% if it's not repaid by August 15, 2013. The lenders also get 1.6 million warrants exercisable for 30 months at US$1.60 and 400,000 additional warrants exercisable if the loan remains outstanding after August 15. The company may accelerate the expiry date if its stock closes over $2.75 for 20 consecutive trading days.
Uranerz plans to begin in-situ recovery mining in Wyoming's Powder River Basin this year. The company has a processing agreement with Cameco and off-take contracts with two American nuclear energy producers.
Athabasca Nuclear closes second tranche of $138,000
On June 6, the same day the former Yellowjacket Resources began trading as Athabasca Nuclear (OTC:YWRLF), the company announced a fresh influx of money. A private placement's second tranche brought in $138,000, in addition to the first-tranche $310,160 announced May 30. The company hopes to rake in a total of $600,000 by closing a third and final tranche in the coming week.
The dough goes into Saskatchewan uranium exploration and general working capital.
Uranium Participation NAV up 2.3%
On June 4 Uranium Participation Corp announced its May 31 estimated net asset value was $595.9 million or $5.60 a share, up from $582.3 million and $5.48 a share the previous month.
The company's portfolio consisted of 7.25 million pounds U3O8 and 2.37 million kilograms of uranium hexafluoride (UF6).
The U3O8 cost the company $342.5 million but had a May 31 market value of $303.58 million. The UF6 cost $390 million, with a market value of $283.52 million.
The company provides "an investment alternative for investors interested in holding uranium. Denison Mines Inc, a wholly owned subsidiary of Denison Mines Corp (NYSEMKT:DNN), is the manager of Uranium Participation Corporation."
AREVA agreements reaffirm Japanese commitment
In Tokyo French giant AREVA announced a number of agreements demonstrating Japan's ongoing commitment to nuclear energy. On June 7 AREVA pledged to work with Japan Nuclear Fuel Ltd on the commercial start-up of the Rokkasho-Mura used fuel recycling plant. AREVA will also contribute expertise to the construction of a Japanese fuel fabrication plant based on AREVA's technology.
Additionally the company signed an agreement with ATOX Co Ltd to pursue "innovative solutions primarily destined for the rehabilitation of the Fukushima site and region," AREVA stated.
On June 4 the company signed an accord with Hitachi-GE Nuclear Energy to improve nuclear power plant safety.
Present at the June 7 ceremony were Japanese Prime Minister Shinzo Abe and French President Francois Hollande. Among other subjects, they discussed continued co-operation to export nuclear technology. The talks followed last month's $22-billion deal in which AREVA and Mitsubishi Heavy Industries won the right to build Turkey's second nuclear energy plant.
Disclosure: I have no positions in any stocks mentioned, and no plans to initiate any positions within the next 72 hours.