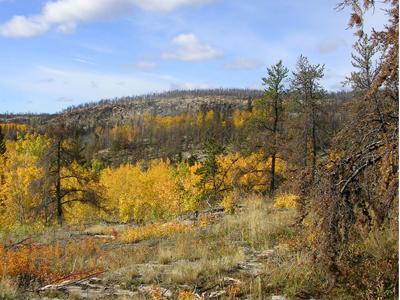 NexGen drills Radio, prepares for Rook 1 geophysics
No longer virgin territory, NexGen Energy's eastside Athabasca Basin Radio property is now undergoing its first-ever drill program. In a June 20 release, the company said a 4,000-metre campaign had begun on its flagship project adjacent to and about two kilometres on trend from Rio Tinto's Roughrider deposit, which hosts 17.2 million pounds uranium oxide (U3O8) indicated and 40.7 million pounds inferred.
The program will test interpreted geophysical anomalies along strike with the Roughrider deposits through the interpreted shear zone towards Radio's centre, NexGen stated. Drilling began three weeks ahead of schedule and, depending on ground conditions, could continue to late July. NexGen holds a 70% earn-in on the 847-hectare property, with an option to earn the other 30% subject to a 2% NSR.
Also on NexGen's agenda is a soon-to-begin DC resistivity survey on the southern part of Rook 1, adjacent to the northeast of, and along strike with, the Patterson Lake South project of Alpha Minerals (ESOFD.PK) and Fission Uranium. Repeated high-grade, near-surface results from the 50/50 joint venture drew other explorers into the PLS area near the Basin's southwestern rim. NexGen's survey is intended to identify targets for a 1,500-metre program planned to begin in August.
Two conductive anomalies found on Aldrin Resource's Triple M
At another project adjacent to PLS, ongoing airborne geophysics have so far found two conductive anomalies on Aldrin Resource's (OTCPK:AOUFF) Triple M property. In a June 18 announcement, the company interpreted the anomalies as "parallel basement conductive trends analogous to conductors associated with" the Fission/Alpha discovery.
Triple M's conductive trends are two kilometres and 3.5 kilometres long. The latter "closely parallels a magnetic linear suggesting a basement fault and has localized anomalous conductivity along the entire trend. The two-kilometre conductor trend has sharp magnetic contacts flanking the strong conductive centre," Aldrin stated. Similar features are found at PLS and most of the Basin's high-grade uranium mineralization, the company added.
The VTEM magnetic and electromagnetic survey continues, a joint operation that's flying contiguous PLS-area properties held by Aldrin, Athabasca Nuclear, Forum Uranium (OTC:FDCFF) and Skyharbour Resources (OTCQB:SYHBF). Lucky Strike Resources (OTC:LCKY) and Noka Resources each hold a 25% earn-in option on Skyharbour's properties.
On June 12 Aldrin announced it was adding infill lines to increase the resolution of its survey from 200-metre to 100-metre spacing. The company holds a 70% option on the 12,001-hectare Triple M property.
Fission plans summer program for North Shore property in Alberta
Saying "there are still many underexplored areas of the Athabasca Basin," Fission announced plans for its North Shore property on June 17. Located in Alberta on the Basin's northwestern edge, the project was waiting completion of the Lower Athabasca Regional Plan, a provincial environmental and land use study. This summer's program now includes a high-resolution airborne radiometric survey as well as ground prospecting, geophysics and radon surveys.
The 55,160-hectare property features several anomalous uranium showings in boulders and outcrop, including sandstone boulders grading up to 1.39% U3O8, the company stated.
Lakeland appoints David Hodge and Ryan Fletcher directors
Lakeland Resources (OTCQX:LRESF) announced two appointments to its board of directors June 21. With over 17 years' experience managing and financing publicly traded companies, David Hodge is president of project generator Zimtu Capital (OTC:ZTMUF) and a director of Western Potash (OTC:WPSHF), Commerce Resources (OTC:SMRZF) and Pasinex Resources. His approach emphasizes team-building, consultation and leadership, as well as a reliance on expert advice.
Ryan Fletcher serves as president/CEO/director of Montan Capital and as a director of Zimtu. He's been responsible for identifying and sourcing projects, structuring companies and investments, raising capital, business development and marketing.
The newcomers replace Robert Duess and Daniel Wilson, whom Lakeland thanked for their contributions. The company holds nine Basin properties totalling over 100,000 hectares.
Purepoint reports winter drill results from Hook Lake
Five kilometres northeast of the PLS discovery Purepoint Uranium's (OTC:PUMGF) Hook Lake project underwent a four-hole, 925-metre winter campaign, with results announced June 20. One hole on the D1 conductor found weakly radioactive graphitic pelite of 138 ppm over 2.3 metres starting at 301.7 metres in vertical depth. Another hole 800 metres south found no significant radioactivity. Two others on the D2 conductor were lost due to loose subsurface conditions. The drilling does provide "further evidence of widespread hydrothermal alteration and structural disruption," said Scott Frostad, Purepoint's VP of exploration.
Following up on an airborne study, a 24-line-kilometre ground EM survey has identified targets for a winter program on the 28,683-hectare project, one of the company's 11 Basin properties. Purepoint holds a 21% interest in Hook Lake, a JV with Cameco Corp (NYSE:CCJ) and AREVA Resources Canada each holding 39.5%.
Azincourt closes $1.5-million private placement to fund PLN work, revises appointments, plans name change
Azincourt Resources announced June 19 the closing of a $1.5-million private placement, one of the requirements of its previously announced 50% option on Fission's Patterson Lake North property. The earn-in agreement has since received TSXV approval. The Venture also gave the go-ahead to an April 29 agreement in which Azincourt will pay a finder's fee in stages as it acquires incremental interests in PLN. On paying Fission $500,000 and funding $1.5 million of first-year work to earn an initial 10%, the company will pay Pure Capital Holdings $136,250 in shares.
This year's campaign will include 2,500 metres of drilling and an airborne EM survey over selected areas. Radon and helium surveys might also take place. Fission has already spent about $4.7 million exploring the 27,408-hectare property north of PLS. Azincourt also announced it had filed a May 5 PLN technical report on SEDAR.
Additionally the company revised the appointments announced May 15. As previously reported, Dev Randhawa, Ian Stalker and Ted O'Connor join the BOD, which Stalker will head as chairman while O'Connor becomes CEO. But now O'Connor, not Stalker, becomes president.
Darren Devine and Latika Prasad have resigned as directors. Prasad also resigned as CFO, to be replaced by Vivien Chuang.
Lastly, a name change. Pending TSXV approval Azincourt Resources becomes Azincourt Uranium Inc. Same old ticker, though.
Uravan heads geochem research team with Cameco and others
In the south-central Basin, four groups are collaborating on a study to improve geochemical techniques. They hope to better understand whether surface elements originate from a deposit at depth or from the natural geochemical composition at surface, and how elements move from depth to surface. Scheduled for completion this month, the study is managed by Uravan Minerals (OTC:URVNF), which made the June 18 announcement. Soil and tree core samples will be taken initially from a 600-by-950-metre grid over Centennial, an 800-metre-deep deposit currently being drilled by Cameco.
Partnering on the study with Uravan and Cameco are the Queen's University Facility for Isotope Research and Environmental BioTechnologies Inc. The Centennial deposit forms part of the Virgin River property, a JV in which Cameco and AREVA Resources Canada each hold 59%, with Formation Capital holding the other 2%.
UEX announces AGM results
On June 19 UEX Corp TSX:UEX announced its AGM and special meeting re-elected, re-appointed and approved the entire agenda, including an advance notice policy for the election of directors.
Niger mine re-opens after terror attack
Partial production resumed at AREVA's Somair mine in Niger on June 18, according to a Reuters story posted in Mining Weekly. One of two Niger mines that total 7.5% of world uranium supply, Somair had been shut down following a May 23 terrorist bombing.
Another June 20 Reuters story recounted the lawlessness and terror around the porous borders connecting Libya with Niger and other countries.
Disclosure: I have no positions in any stocks mentioned, and no plans to initiate any positions within the next 72 hours.
Additional disclosure: Disclaimer: Skyharbour Resources is a client of OnPage Media Corp, the publisher of ResourceClips.com. Neither OnPage Media nor its owner hold a stock position or options in Skyharbour Resources. Zimtu Capital Corp is a client of OnPage Media Corp, the publisher of ResourceClips.com. The principals of OnPage Media may hold shares in Zimtu Capital.