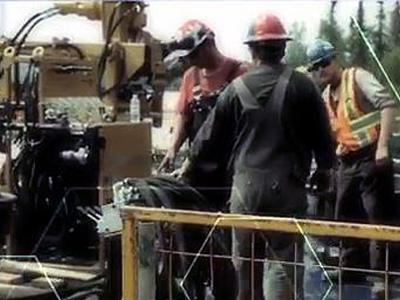 Step-out hole extends PLS zone by 15 metres
The first hole of Patterson Lake South's summer program found 85.5 metres of "the most abundant off-scale mineralization of any hole drilled on the property," stated Fission Uranium (FSSIF.PK) president/COO Ross McElroy. In dual announcements made July 18, Fission and 50/50 joint venture partner Alpha Minerals (ESOFD.PK) said scintillometer readings show the step-out extends the R390E zone 15 metres grid west. R390E is the middle of three zones along an 850-metre northeast-southwest trend.
Although its readings aren't substitutes for assays, the scintillometer determines radioactivity by measuring gamma ray particles in counts per second, up to an off-scale reading of more than 9,999 cps. Results for PLS13-072 show:
<300 to >9,999 cps over 85.5 metres, starting at 62 metres in downhole depth
(including 1,100 to >9,999 cps over 16.5 metres)
(and including 5,000 to >9,999 cps over 6.9 metres)
(and including <300 to 8,600 cps over 5 metres)
(and including <300 to 720 cps over 2.5 metres).
Assays are pending. True widths weren't available. Drilling on the hole was suspended due to mechanical failure. All PLS holes will get a radiometric probe to assess radioactivity more accurately.
Interestingly, the drill found no Devonian sandstone between the overburden and the basement bedrock, which started at 55.7 metres' depth. "This may be a result of the RC rig casing past the overburden and bedrock contact, and so the presence or absence of Devonian sandstone is inconclusive," stated Alpha's news release. "Alternatively, the lack of Devonian sandstone and presence of shallower mineralization may indicate that the bedrock source of the high-grade uranium boulders is possibly approaching further to the west of PLS13-072. Other step-out drill holes may resolve this."
The program uses two diamond rigs in addition to the reverse circulation drill. With a $6.95-million budget, the 44-hole, 11,000-metre drill campaign and ground geophysics surveys continue on the 31,000-hectare property two kilometres from Highway 955.
Fission applies for boulder-finding patent
Along with collaborator Special Projects Inc, Fission wants to patent the system used to discover the PLS high-grade uranium boulder field. Calling it "an invention entitled System and Method for Aerial Surveying or Mapping of Radioactive Deposits," Fission announced the application on July 16.
The company explained that radiometric surveys can be affected by a number of variables including weather, topography and cosmic activity, as well as more controllable factors such as sensor height and aircraft speed. The invention "is particularly sensitive to addressing these variables," Fission stated.
The news release didn't specify the invention of new technology.
Forum extends Key Lake-area holdings
Towards the Athabasca Basin's southeast corner, Forum Uranium (OTC:FDCFF) picked up the Highrock South property, adding another 1,381 hectares to its Key Lake area holdings. The company's July 17 announcement states the property "is a continuation of the prospective Key Lake/Black Forest conductive trend" that hosted Cameco Corp's (NYSE:CCJ) former deposits and the geology "compares favourably" with PLS. Highrock South lies about 15 kilometres south of the world's largest high-grade uranium mill.
Forum pays $2,500, issues 25,000 shares and grants a 2% NSR. The company holds six other projects totalling over 90,000 hectares in the area, as well as other projects in Saskatchewan and Nunavut's Thelon Basin.
Brades moves into Athabasca Basin
Brades Resource (V.BRA) marked its Saskatchewan entry with the Lorne Lake acquisition announced July 16. The approximately 39,450-hectare property shows "extensive regional faulting and lineaments and covers one of only three identified cross-cutting major fault structures located in the western Athabasca Basin," as well as "favourable magnetic geophysical data," the company stated.
In return, Brades will issue a total of 3.5 million shares to two vendors including Ryan Kalt, who will also get a 2% NSR. On closing the deal, Kalt becomes a company insider.
On July 19 Brades announced the appointment of Evany Hung as CFO, replacing Christopher Cherry. The company also holds the 14,133-hectare BRC porphyry copper-gold property in northwestern British Columbia.
Noka retains Dahrouge Geological Consulting
On July 18 Noka Resources (V.NX) announced it retained Dahrouge Geological Consulting to manage and explore Noka's Athabasca Basin properties. Dahrouge and its predecessor, Halferdahl & Associates, have over 40 years' experience with mineral projects, including over 30 years in uranium, Noka stated. The announcement credited Jody Dahrouge and his team with "the conceptualization and acquisition of several uranium properties within the Athabasca Basin, most notably these include such projects as Waterbury Lake (J zone), Patterson Lake and in part Patterson Lake South."
Noka's properties include Clearwater and Athabasca North, as well as a 25% earn-in on the Western Athabasca Syndicate Project, a four-company strategic alliance with Skyharbour Resources (OTCQB:SYHBF), Athabasca Nuclear and Lucky Strike Resources (OTCPK:LKYSF) that's exploring the PLS-area's largest land package.
Paladin reports quarterly revenue of $107.4 million, record production
Paladin Energy's (OTCPK:PALAF) quarterly report, released July 16, showed sales revenue for three months ending June 30 of US$107.4 million. The company sold 2.32 million pounds of uranium oxide (U3O8) at an average price of $46.22 a pound.
Both of the company's mines achieved quarterly production records. Langer Heinrich in Namibia produced 1.35 million pounds U3O8 while Kayelekera in Malawi gave up 789,430 pounds for a combined 2.14 million pounds, up 8% from the previous quarter. Fiscal 2013 production met guidance with 8.25 million pounds. The fiscal 2014 forecast ranges from 8.3 million to 8.7 million pounds.
The company also stated it had cut production costs by 9% at Langer Heinrich and 24% at Kayelekera, compared with June 2012. Paladin has been negotiating the sale of a minority interest in Langer Heinrich.
As for the company's other projects, its Michelin property in Labrador has more exploration planned for summer and a resource update scheduled for next quarter. At Western Australia's Manyingee project, work continues on an updated resource and hydrogeological modelling. Exploration on its Agadez property in Niger, however, has been suspended following the May 23 terrorist attacks that hit a military barracks and a uranium mine operated by AREVA.
In April Paladin became sole owner of the Angela project in Northern Territory, with an inferred resource of 30.8 million pounds, after buying Cameco's 50% interest. Paladin also holds other Australian properties.
Cameco wants Canada to allow foreign ownership, Paladin concurs
Cameco "has broken ranks with the Canadian government by taking the position that Australian companies should be able to wholly own uranium mines in the country," reported Australia's Financial Review on July 15. Not surprisingly the journal added that John Borshoff, managing director/CEO of Australia's Paladin, "says Canada must heed the words of one of its biggest companies and prioritize lifting restrictions on foreign ownership."
Mawson offers $4.2-million private placement
Mawson Resources (OTCPK:MWSNF) announced a non-brokered private placement of up to 9.33 million units at $0.45 for proceeds of up to $4.2 million. Each unit will consist of one share and one-half warrant, with each whole warrant exercisable for one share at $0.65 for two years. The proposed financing would allow an insider to gain over 10% of Mawson's stock. Shareholders may vote on the insider placement at an August 30 meeting.
Proceeds will go to exploration on the company's Rompas gold-uranium project in northwestern Finland and general working capital. This summer Rompas is slated for airborne geophysics, prospecting, mapping and sampling, to be followed by an autumn drill campaign.
Ashburton announces appointment, begins Phase I exploration
Ashburton Ventures announced the appointment of Robert Meister to its advisory board on July 17. Also head of corporate development and communications for Alpha, Meister has nearly 20 years' experience in marketing and corporate communications at institutional and retail levels, community relations, and assisting in raising capital for private and public companies.
Ashburton also announced the beginning of Phase I exploration at its Sienna North and Sienna West properties in the PLS area. Plans call for geological reconnaissance, grid-based scintillometer surveys, soil and water radon sampling and float prospecting for uraninite.
Aldrin closes $957,880 private placement and Triple M acquisition
Aldrin Resource announced July 19 the closing of a $957,880 private placement. The money will go to exploration on the company's Triple M project, option payments on the property and general working capital. Closing of the 70% Triple M acquisition coincided with the fundraising.
As part of the option, the company will issue 12.5 million shares and 588,680 warrants exercisable for one year at $0.18, as well as 1.05 million shares as a finder's fee.
Aldrin previously stated that an airborne survey over the 12,000-hectare property bordering PLS has found "parallel basement conductive trends analogous to conductors associated with" the Alpha/Fission discovery.
Athabasca Uranium releases geophysical interpretations, AGM results
Athabasca Uranium reported preliminary results of airborne geophysics over parts of three projects on the Athabasca Basin's southeastern edge. The 736-line-kilometre VTEM survey found subtle conductive anomalies confirming two drill targets in the Keefe Lake property's D zone. The data will be further analysed to identify other targets for the flagship's Phase III program scheduled for autumn.
At Fisher River the survey found a single conductive zone about 4,500 metres by 1,500 metres, starting about 200 metres in depth. The company considers it prospective for uranium as it's located within a magnetic low at the edge of a magnetic feature. Another conductor starting about 200 metres' depth was found at McGregor Lake. Fisher River and McGregor Lake will be considered for this year's drill campaign.
The company also reported AGM and special meeting results which re-elected directors, re-appointed the auditor, re-approved a 10% rolling stock option and allowed for an advance notice bylaw to be adopted.
B.C. court allows Strathmore vote on acquisition by Energy Fuels
Strathmore Minerals (OTC:STHJF) announced July 19 it received a court order allowing the company to hold a special meeting for shareholders to vote on its proposed acquisition by Energy Fuels (EFRFF.PK). If approved at the August 20 meeting, each Strathmore share will fetch 1.47 Energy Fuels shares, giving Strathmore shareholders about 21% of Energy Fuels' stock.
With two mines in operation, Energy Fuels supplies about 25% of the uranium produced in the United States. Additionally the company operates the country's only conventional uranium mill, among several other projects. Strathmore also holds properties in the western U.S.
Mesa closes $110,000 private placement
Mesa Exploration (OTC:MSAJF) closed a $110,000 private placement, the company reported July 16. In addition to potash, silver, gold and lithium properties, the company holds two uranium projects, Lisbon Valley in Utah and Moonshine Springs in Arizona.
Under MCTO, Majescor to file financials by July 26
In a default status report released July 18, Majescor Resources (OTC:MJXFF) stated it expects to file the company's 2013 annual financial statements by July 26. At the company's request, a management cease trade order had been issued by the Quebec regulator, l'Autorité des Marchés Financiers, after Majescor encountered delays compiling the statements.
The company's projects include a 40%/60% JV with Strateco Resources (OTCPK:SRSIF)) on the Mistassini uranium project in Quebec, as well as a gold, base metals and graphite JV in Madagascar, and gold and porphyry copper-gold projects in Haiti.
Lions Gate announces new directors
On July 18 Lions Gate Metals announced the election of William Filtness and Murray Oliver to its board. Filtness is a chartered accountant who spent 14 years with Aurizon Mines and served as CFO for a number of Toronto-listed companies. Oliver has spent over 19 years as a consultant providing corporate finance, restructuring and communication services.
In March Lions Gate announced an option to acquire the 67-hectare Whitford Lake property on the Athabasca Basin's east side.
Cancelled Chinese project attributed to lack of communication, education
Following protests that caused the cancellation of a uranium processing plant in Guangdong province, two Chinese companies are struggling to find an alternative site, Reuters stated on July 16. After Fukushima, China slashed its 2020 nuclear energy capacity goal to 58 gigawatts, down from a previous target of 80 to 90 GW. But the 2030 target of 200 GW remains. "Analysts expect annual primary uranium demand to rise tenfold over the period to around 40,000 tonnes," the news agency reported. "To meet that demand, CNNC and CGNPC [two state-owned reactor manufacturers] have been exploring domestic uranium deposits, but a surge in imports is inevitable and is expected to put pressure on global supplies."
A July 18 Reuters dispatch said industry insiders attribute the Guangdong protests to "poor communication and a lack of public education. They say if things do not improve, more protests could spring up elsewhere, threatening those plans to build new reactors." An industry executive told the press agency, "The public consultation [lasts] only 10 days, which is way too short. The materials it provided about the project are also woefully inadequate."
The World Nuclear News said the cancelled $7.32-billion facility would have been a "one-stop complex for nuclear fuel, featuring facilities for conversion and uranium enrichment as well as manufacturing of fuel pellets, rods and finished assemblies."
Disclosure: I have no positions in any stocks mentioned, and no plans to initiate any positions within the next 72 hours.