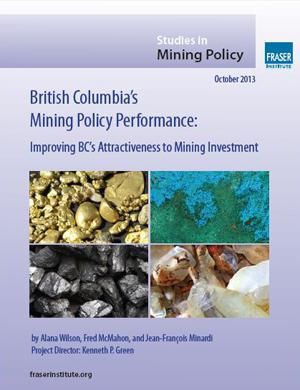 Mining and exploration companies headquartered in British Columbia operate all over the world. But what's it actually like to work in their home province? With coincidental timing, two recent events brought that question to mind. On October 3 the Fraser Institute released a report on B.C.'s mining policies. The next day the province's minister of energy and mines touted his government's work to a gathering of 180 industry professionals.
The Fraser Institute based its report, British Columbia's Mining Policy Performance: Improving B.C.'s Attractiveness to Mining Investment, on past results from an annual international survey of industry executives. The 75-page B.C. study addresses "four barriers to investment"-unresolved land claims, regions declared off limits to mining, environmental uncertainty and regulatory hurdles.
Alana Wilson, one of the report's three authors, tells ResourceClips.com the provincial mining study is the first of its kind for the Fraser Institute. A Quebec report is scheduled for release late this year or early next.
The organization's annual mining surveys, she says, "get a tremendous amount of media interest. We also get a lot of calls and inquiries from government ministries around the world asking about our survey methodology, how specific factors are calculated. We know that governments are cognizant of the survey results and pay attention to them. But in terms of translating that into tangible policy changes, I can't give any specific examples."
As expected, the report finds B.C.'s unresolved land claims "the single greatest factor deterring mining investment" over the last five years. The authors call on the province to expedite the treaty process, find ways to deal with bands not participating in the process, "develop clearer guidance for third parties to facilitate meeting the Crown's duty to consult" and discuss policy changes with industry.
Second on the list of concerns is the threat that exploration and mining will be banned from certain regions. Indeed, the Windy Craggy "horror story" continues to haunt the industry. That 1993 New Democratic Party decision saw something of a BC Liberal reprise in 2010, when the government suddenly declared the Flathead Valley off limits to exploration.
Addressing the third barrier, the authors question the credibility of B.C.'s environmental regulations. "Where regulations are opaque and unpredictable, the perception can arise that the process has been politicized, allowing special interest groups or politics, rather than scientific evidence, to guide policy decisions." In that context the report calls on the province to reconsider its ban on uranium and thorium mining.
Duplication, inconsistencies and federal/provincial overlap make up the fourth barrier. The institute recommends Ottawa "provide greater clarity and consistent application of expenses eligible for Canadian exploration expenses," and that both levels of government gradually remove "distortionary tax incentives in favour of a single, lower rate of corporate income tax." Both parties should continue working "towards a single, clear and predictable one project/one process" regimen, the report urges. And, surprisingly given the public backlash that defeated the B.C./federal harmonized sales tax, the authors want the province to re-examine the HST.
Yet they give B.C. credit too. The golden years of 2003 to 2007 were "also facilitated by improvements to the permitting process, including a new online mineral tenure system." Royalty sharing offers natives "a more active role in benefiting from mining and resource development." Reporting comments from surveys of previous years, the report quotes unnamed exploration executives who praised B.C. policies.
Several other respondents differed, however, with remarks that are almost beyond the pale. Some examples include "aboriginal land grabs and shaking companies down for handouts and royalties" and "uncertainty related to the first nations 'veto' over mining projects."
But native involvement is an opportunity, not an impediment, the province's minister of energy and mines said in his October 4 remarks to the Association for Mineral Exploration B.C. Bill Bennett had little else to say about the industry's greatest concern, even though he repeatedly described his talk as a report, not a speech. Nevertheless his feel-good generalities were warmly received by the lunchtime audience.
He did have some specifics, though. "We're not going to raise your taxes," he said to applause.
"We have no plans to change the Mineral Tenures Act with respect to notice or adding to the obligation to consult."
Referring to his government's revenue sharing program as "ground-breaking stuff," he said, "I think that within the next five years the rest of Canada is going to realize that we're ahead of them" on native issues.
On permitting, "notices of work have gone down to a 64-day average. Our target is to get them down by the end of this year to 60 days."
The province will continue working with Ottawa to reduce duplication in environmental assessments, he promised. "We worked a long, long time on that and it's an improvement," Bennett said. "I think we can do better if we can get to substitution, personally, and we're going to keep working towards that goal."
Flow-through tax credits will be reassessed for next spring's provincial budget, he pointed out. "I was told that the mining flow-through tax credit is expected to cost the province about $10 million in 2012-13. That to me is not a cost, it's an investment. That's the way I see it and that's the way I'll represent it."
But the extent to which a mere cabinet minister can influence this government remains to be seen. Under Premier Christy Clark's BC Liberal predecessor Gordon Campbell, policies were determined by the premier and his unelected inner circle, who sometimes kept ministers in the dark until major decisions involving their departments had already been made. Clark, who trades largely on her personality, has yet to show how she'll govern.
It was under her leadership that the government rejected Pacific Booker Minerals' TSXV:BKM proposed Morrison copper-gold-molybdenum mine despite a favourable environmental assessment. Speaking to ResourceClips.com following his speech, Bennett declined to discuss it. "I'm not going to get into the dissection of the decision," he said. "It's in court and clearly a minister would be far better off to let the courts figure that out."
The company has asked the B.C. Supreme Court to order the government to reconsider the mine.
Bennett told ResourceClips.com he's not aware of additional proposals similar to HD Mining International's plan to hire exclusively Mandarin-speaking Chinese for underground operations at its Murray River coal project.
In October 2012 a spokesperson for Canadian Dehua, which holds a 40% interest in HD Mining (another 55% is held by Chinese coal miner Huiyong Holdings) said his company had three more coal mines proposed for B.C., which would all follow the same hiring policy. The BC Liberals overwhelmingly supported HD Mining's plan despite widespread public concern about Canadian jobs and the Chinese mining industry's notorious fatality record.
But when asked by ResourceClips.com, Bennett played down his government's enthusiasm. "The only way that our government will support temporary foreign workers is if we are absolutely certain that they can't find workers here in B.C. first of all, or in Canada, to do the work and we know that's the threshold for the federal government…. We don't have a categorical support or opposition to it, we just take it case by case."
Isn't he concerned that the imported workers are exclusively the same ethnic and linguistic group as the owners?
"I haven't really thought about it," Bennett replied. "It's not relevant to me where somebody comes from or what language they speak."
In an article about Chinese-owned mines in Tibet published last April, the Economist wrote, "Managers at big state-owned firms are usually Han Chinese, who in turn tend to regard their own ethnic kin as easier to control and communicate with than Tibetans."
While HD Mining now says it will transfer 10% of its underground jobs to Canadians each year, those jobs might actually go to "temporary" foreign workers who become Canadian citizens. Under such a scenario, Chinese companies could maintain ethnic and linguistic exclusivity in their B.C. operations indefinitely.
But that might apply only to actual mining positions. HD Mining does hire Canadians for other jobs, including a former deputy minister and former BC Liberal minister of mines.
Regardless, Bennett's AME BC speech went over well. No doubt some of the audience remembered the industry-wide trepidation that suddenly ended with last May's unexpected BC Liberal re-election. Referring to the rival NDP's decade in office, Bennett couldn't resist reminding his listeners that "more mines closed in the 1990s than opened." Now B.C. has "20 major mines and major mine expansions moving through the environmental assessment office," he said.