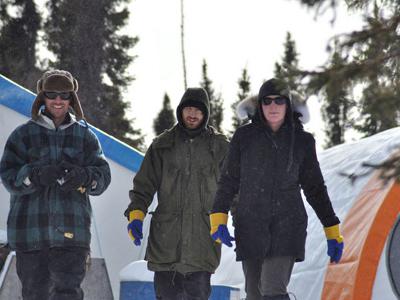 On schedule and under budget, winter-spring drilling at Commerce Resources' (OTCPK:CMRZF) Ashram deposit in northern Quebec wrapped up last week, bringing one of the world's largest rare earth projects closer to pre-feasibility. Ashram advances at a time when China's "costs of producing 'cheap' rare earths are becoming increasingly unsustainable in terms of the environment, the availability of reserves, the health of its communities and the political ramifications," according to a 28-page report by Secutor Capital Management. The study adds that China "is beginning to worry about its own domestic supply, as China is its own biggest customer."
That puts an interesting perspective on Commerce, "one of the most advanced REE juniors in regards to metallurgy which, in the REE space, is everything," Secutor analysts Arie Papernick and Lilliana Paoletti stated. "The Ashram project hosts a substantial resource with a well-balanced rare earth oxide (REO) distribution. The deposit is enriched in light and heavy rare earths, including all five of the critical elements. The mineralogy is simple due to the presence of the minerals monazite, bastnaesite and xenotime, which currently dominate commercial processing. Unlike many of its competitors, Commerce is able to produce a 43.6% total rare earth oxide (TREO) mineral concentrate due to the deposit's simple mineralogy, allowing significant cost reductions."
According to Ashram's 2012 preliminary economic assessment, the extent of those critical elements-neodymium, europium, terbium, dysprosium and yttrium-is "unusual in carbonatite deposits and especially those of such tonnage and grade."
That resource used a cutoff of 1.25% total rare earth oxide to estimate a measured and indicated 29.3 million tonnes averaging 1.9% TREO, and an inferred 219.8 million tonnes averaging 1.88% TREO.
As the Secutor report emphasized, "REE mineralization is virtually completely contained within the minerals monazite, bastnaesite and xenotime, allowing Commerce Resources to use standard processing techniques. In the REE industry, the ability to use conventional metallurgy and processing is rather unique. Only four REE-bearing minerals out of over 200 have ever supplied the market in a material fashion. These four minerals currently, and historically, dominate commercial REE processing and are host to the REEs at Ashram."
The 43.6% TREO concentrate, at a recovery of 70.7%, comprises "one of the highest-grade REE mineral concentrates which we are aware of produced by a junior mining company globally."
It's considerably higher than that of Ashram's 2012 PEA, which anticipated reaching a target of 20% TREO at a recovery of 60% to 70% "through an established and commercially proven technology." Yet the PEA's base case considered a concentrate grading 10% TREO at 70% recovery.
The study used a 10% discount rate to project Ashram's pre-tax, pre-finance net present value at $2.32 billion and a 44% internal rate of return. The capex, including contingency, came to $763 million with payback in 2.25 years. The PEA envisioned a 4,000-tonne-per-day open pit operating for 25 years-based on just 15% of the total resource.
And although rare earth prices have dropped since 2012, "the project remains robust," Secutor maintains.
The higher-grade concentrate, with its capex and opex ramifications, is just one of the reasons analysts Papernick and Paoletti see a potentially more impressive pre-feas. Ashram's infrastructure costs might benefit from proximity to the Lac Otelnuk iron project, 80 kilometres south. A joint venture of Adriana Resources (OTC:ANARF) and WISCO International Resources Development & Investment, it's the "largest iron ore deposit in Canada with the potential of becoming one of the largest in the world," according to Adriana. The project's 2011 PEA calculated a $12.9-billion capex which included power and, via the link at Schefferville 165 kilometres southeast, railway to the deep sea port of Sept-Iles. Since then the Quebec government has indicated it will only permit a multi-user rail service.
Lac Otelnuk has full feasibility scheduled for completion by year-end.
Plan Nord might offer additional potential. Stalled for nearly two years by Quebec's former Parti Quebecois government, the northern infrastructure program formed an important part of the new Liberal government's election platform.
Another possibility not considered in the PEA was a potential byproduct in fluorite, which "comprises the tailings of the final REE mineral concentrate and therefore follows the exact same flow sheet, requiring no additional processing to produce," the Secutor study noted.
While the PEA considered an on-site hydrometallurgical plant, "a recently completed trade-off study indicated that a location off-site will be more economic due to better access to skilled personnel and consumables," Papernick and Paoletti stated. Commerce's pre-feas will consider a more convenient location along the St. Lawrence seaway, they added.
The pre-feas will also evaluate a lower-cost road-building plan. "The optimized route is easier to build, reducing construction costs, and requires shorter water crossings," the analysts stated.
Additionally, Commerce states that infill drilling since 2012 shows potential for a lower strip ratio than considered by the PEA. Nearly 2,700 metres were sunk this year and last, finding impressive grades and widths almost at surface. Some of the best results from 2013 showed:
- 1.94% TREO over 144.57 metres, starting at 7.98 metres in downhole depth (including 2.15% over 61.4 metres) (and including 1.62% over 20.55 metres)
- 2.28% over 57.36 metres, starting at 4.39 metres
- 2.06% over 92.3 metres, starting at 5.18 metres
- 1.86% over 153.63 metres, starting at 7 metres (including 1.51% over 30.64 metres)
- 2% over 129.05 metres, starting at 4.15 metres
True widths weren't provided. The results expanded the deposit to the northwest and showed surface mineralization within the pit, where waste rock had been modelled in the PEA, Commerce stated.
Assays are pending for the most recent program but the company said all nine holes found mineralization over their entire length, with each ending in mineralization below the base of the currently proposed pit. Initial interpretation of several holes strongly indicates they intersected the deposit's MHREO (middle and heavy rare earth element oxide) zone over significant widths, Commerce added.
Although Ashram's obviously the focal point of the company's 19,006-hectare Eldor property, a boulder sampling program over the Miranna area last year found some of the world's highest tantalum grades, Commerce reported. The assays surpassed those of mining operations where grades above 300 parts per million tantalum pentoxide (Ta2O5) are considered high. The samples also showed niobium pentoxide (Nb2O5) and phosphorus pentoxide (P2O5), as well as rare earths.
Starting at locations roughly 775 metres east of the Ashram pit, selected results showed:
- 1,220 ppm Ta2O5, 15,700 ppm Nb2O5, 10.6% P2O5 and 0.46% TREO
- 580 ppm Ta2O5, 6,160 ppm Nb2O5, 9.1% P2O5 and 0.4% TREO
- 790 ppm Ta2O5, 9,640 ppm Nb2O5, 9.9% P2O5 and 0.45% TREO
- 380 ppm Ta2O5, 19,390 ppm Nb2O5, 9.9% P2O5 and 0.4% TREO
But as Ashram progresses towards pre-feasibility, "its main focus will be to continue to advance the metallurgy and to secure a joint venture partner," the Secutor analysts stated. "Commerce is almost at the stage where it can begin to focus on the hydrometallurgy and on the evaluation of end products."
Commerce also holds the Blue River project in southeastern British Columbia. Its Upper Fir deposit reached PEA in 2011, which the company said made it "a potential large-scale, low-cost producer of conflict-free tantalum, as well as significant niobium." A June 2013 resource update marked a 33% jump in the indicated and an 18% boost in the inferred categories. Metallurgical advances, meanwhile, continue the project's progress.
Disclosure: I have no positions in any stocks mentioned, and no plans to initiate any positions within the next 72 hours.
Additional disclosure: Commerce Resources Corp is a client of OnPage Media Corp, the publisher of ResourceClips.com.