Priceline.com PCLN has a buy signal, and has recently broken out of resistance levels. The stock could trend to 1300 on the breakout. Initial stop of $1133.
(click to enlarge)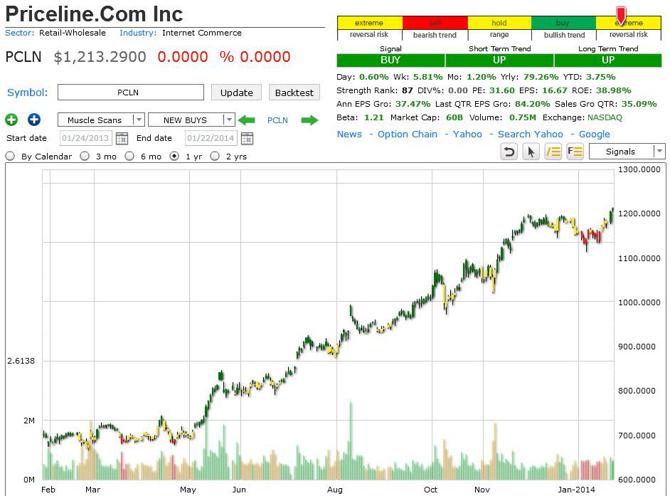 Click to enlarge
(click to enlarge)
Market Trend Signal Priceline.com Trade History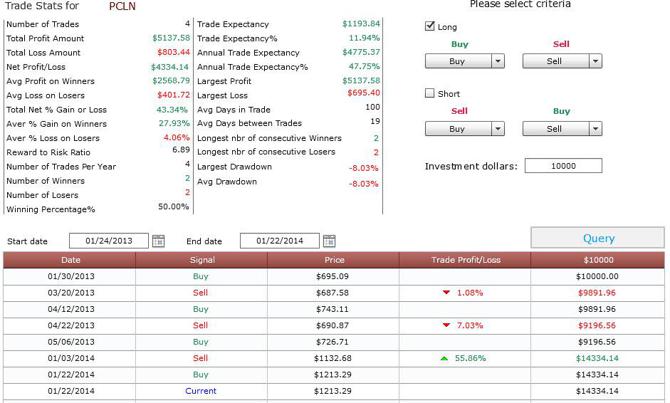 Click to enlarge
priceline.com Incorporated operates as a online travel company. It provides hotel reservation services on a worldwide basis with approximately 275,000 properties in 175 countries and territories under the Booking.com and Agoda.com brands; and car rental services in approximately 6,000 locations worldwide through rentalcars.com name. The company also offers reservation services for hotel rooms, airline tickets, rental cars, vacation packages, and cruise trips under the priceline.com brand through its Name Your Own Price demand-collection system, as well as for destination services, including parking, event tickets, ground transfers, and tours in the United States; and travel insurance services. priceline.com Incorporated was founded in 1997 and is headquartered in Norwalk, Connecticut.
Market Trend Signal
Stock Analysis Software and Trading System