Read: 12 Reasons Your Currency Trading Account Is About To Be Banned
Gary Gensler, the head of the CFTC wants to limit retail currency accounts to just 10x leverage.
As we noted this weekend, that takes a lot of the "fun" and excitement out of the market (where retail leverage can go as high as 100x), and it means the industry could go the way of online poker.
As we poked more into the story, we realized the comparison is startlingly apt.
Forex is basically online poker all over again, and as such its future is dim.


1.The Forex industry is specifically going after poker players.

After regulators clamped down on online poker, many punters switched over to Forex. In fact, as seen by articles like "11 readers poker players make good Forex traders," the industry is actively trying to recruit displaced players.

2.Twenty-four hour market
Both Forex and poker offer round-the-clock action for adrenaline junkies big and small. Well, technically Forex is closed for a few hours on the weekend, when the wholesale currency market isn't operating.
But Forex reopens Sunday evening, which happens to be when the online poker sites have their huge tournaments of the week.


3.They're both popular offshore

Just like with online poker, Forex bucketshops are frequently located in the world's unregulated nether-regions, like Antigua or Gibraltar!


4.Both offer rakeback schemes

The online poker world aggressively employs so-called "rakebacks" as a way to give dedicated players a rebate on the house take. It's the same with Forex
Here's how it works:
Third party marketers get paid to deliver users to the houses/trading sites.
Those third parties collect a permanent stream from the commissions of the users they deliver.
To entice new players to sign up through them, those third parties then deliver to new users a share of their own commission.
5.Forex merchandise/gear
Just like online poker shops, Forex shops offer merchandise based on points you accumulate.
Here's FXPro.com's shop. Here's FullTiltPoker.com's shop.
 
6.Teens who make a fortune
Just like with online poker, there are teenagers making money doing it from home. And they're glorified.
Meet Annie Casaro from Kentucky
!
7.Most lose
Just like with online poker. Most bettors lose money, according to the
CFTC
. In both cases, only a few export sharks and bots really profit with any frequency.

8.Fake-money practice accounts
Just like with online poker, the Forex brokers lure you in with practice, play-money accounts (as if anything could replicate live, real-money action). Here's an ad from Forex.com. Check out a site like
PokerStarts.net
for the poker fake-money equivalent.
Image: Forex.com
9.It's the house that wins

Just like with a casino, it's the house that wins. With online poker, the house wins by taking a substantial rake from every pot.
Forex shops, meanwhile, are literally trading against their cutomers. They actually consider their customers "counterparties" and make most of their money from their losses.
As FT Alphaville explained, their profits come in two ways: One by taking advantage of the spread between the wholesale (read: the big boys) market and the prices they offer, while also taking advantage of stop-loss trades that guarantee their customers are liquidated at the first moment of volatility.
10.Some sites literally advertise Forex and gambling services side by side.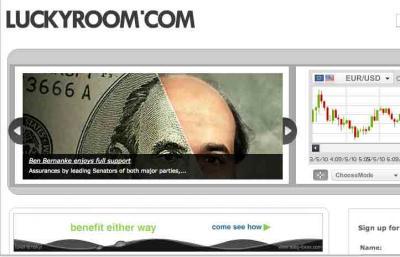 Image: Luckyroom.com


11.Here you can see they're literally promoted side by side.
Look, the Forex trading even has a big button that says: "Play Now"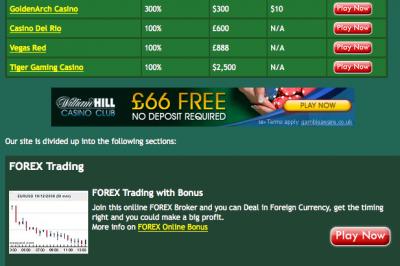 12.Just look at the marketing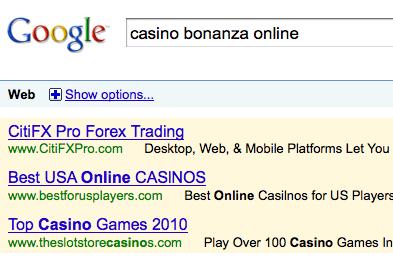 Bottom line:
The Forex industry more than quacks like a duck. It's basically the online poker model with the cards changed.
Literally banning it may be tough (because it is legitimately a financial market), so here's what's going to happen. Any institution in the US offering retail services will be forced to severely curtail leverage, basically making them worthless to investors who expect 50x-100x leverage on their trades.
That will leave a huge hole open for foreign-based shops, to which regulators will respond by making it illegal (or very difficult) for banks/credit card companies to offer money transfers.
As with online poker, it will still exist, and there will be a lot of traders, but it will be a major pain to get into and far smaller than the peak.
Read: 12 Reasons Your Currency Trading Account Is About To Be Banned
Disclosure:
No positions.