The following is an excerpt from a recent article at Money Morning!
The chart below tells a story - a big story. In fact, I encourage you to forward this to anyone you know who is serious about their money.
What I found here, with the help of Frank Holmes from U.S. Global and one of the smartest people on earth on the potent combination of Asian markets and commodities, is a chart that shows a truly astounding fact about gold.
Let me walk you through it, and what it could mean to your money, your gold, and your financial future.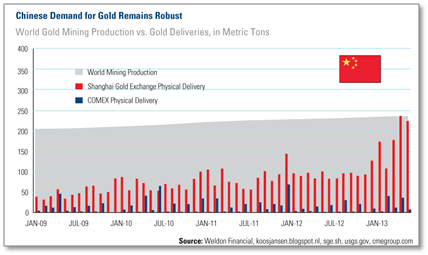 Courtesy U.S. Global Advisors - click to enlarge
The grey backdrop is total world mining production. The blue vertical lines represent COMEX gold deliveries. And the big long vertical red lines? That's physical gold delivery on the Shanghai gold exchange.
The takeaway? - Chinese demand for physical delivery all by itself is nearly equal to total worldwide gold production.
That's not a misprint.....More