10 reasons to own Rodinia Lithium stock as the lithium market begins to heat up into 2014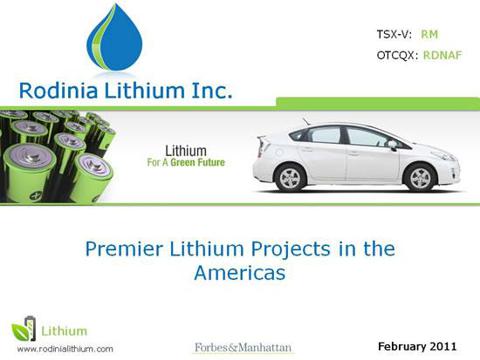 Rodinia Lithium (TSX RM)
Today .04c
There are always reasons to buy or sell a stock. Here are some solid reasons why Rodinia Lithium, currently a penny stock, is a good bet in the "second leg" of the lithium race.
1. Insiders are buying this stock.
2. Rodinia owns three of the top 25 lithium properties in the world.
3. Shan Shan Corp., one of the largest lithium battery suppliers in China, purchased their entire bought deal in Nov 2010, above the asking price, to ensure they are flush with cash to advance their properties.
4. Rodinia's top three properties are all brine properties, with low development costs, in two of the best mining districts in the world, Clayton Valley, Nevada and Salta Argentina (Diabillos). They are also listed in the top 25 lithium properties in the world today.
5. Byron Capital Markets Dr. Jon Hykaway, rated it a strong buy with a target of $2.25
6. Ubika Research issued a valuation report with a Price of $1.12 for Rodinia Lithium.
7. The top electric car company in the world today, Tesla Motors, has seen it's stock rise over 500% in 2013.
8. All major auto companies are either now producing electric cars, or have them on the drawing board.
9. Electric storage for power grids as well as wind and solar power projects is becoming a hot sector at this writing and lithium use in the batteries used in mobile devices is growing worldwide.
10. Rodinia's flagship property, diabillos, is advancing at a time and place where major players are already established and consolidation is only a matter of time.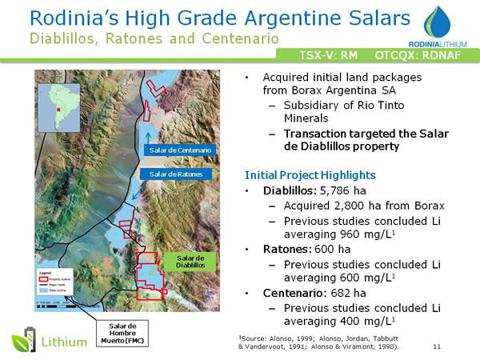 Rodinia was trading recently at only .04 cents. RM.v or in the U.S. as OTC:RDNAF
It's market cap today is listed at $4M with 100M shares outstanding.
The book value is .23c and beta is at 2.75
Although this is a highly speculative stock, that is a ridiculously low valuation for Rodinia's lithium properties!
This does'nt even address the large potash concentrations which will be a secondary product for this small company.
Clayton Valley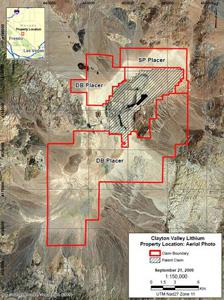 Besides the Argentinian properties, Rodinia also has its lithium brine project in Clayton Valley, Nevada which is ajacent to the only lithium brine operation in the continental United States.
For these reasons, I have been buying more Rodinia stock since summer 2013.
Maybe you should consider adding Rodinia Lithium to your speculative value portfolio.
Wishing you great success with your Retirefund.
HP
Analysis from
The Energy Report
Technical report on Clayton Valley, Nevada lithium property
Ray Goldie, Salman Partners (8/22/11) "We expect Rodinia Lithium Inc. to be able to surf on the strong, stable pricing structure of lithium that has been established and maintained by existing producers-beginning in 2016, Rodinia could be producing from Argentina about 2,000 tpa lithium (about 6% of the world's supply), with by-product potash. . .because both the revenues and costs in the lithium industry are not readily available, and because our evaluation of the company is based on educated guesswork rather than on sober engineering studies, we initiate coverage of Rodinia Lithium with a Speculative Buy recommendation rather than an outright Buy."
The Energy Report Interview with David Talbot (7/21/11) "Our top pick in the lithium sector is Rodinia Lithium, despite its $30M market cap. We've got a buy with a CAD$1 target price on this stock. RM continues to be one of the most undervalued stocks on our lithium coverage list. Rodinia is developing a brine project at its flagship Salar de Diablillos site in the Province of Salta, Argentina, about 11 km. from the world's second-largest producer, FMC's Salar del Hombre Muerto. It just reported a couple of pit samples that were about three times the average lithium grade of the deposit. Rodinia also has its Clayton Valley Project in Nevada adjacent to Chemetall's Silver Peak brine operation and the only U.S. producer of lithium. Given the company's significant resource in Argentina, good brine chemistry, lack of competition on the Salar and its three aquifers, we think now is a good entry point for investors looking to share in Rodinia's growth. Our target price suggests a triple from here."
David Talbot, Dundee Securities (7/13/11) "Rodinia released pit results from a sampling program at its flagship Salar de Diablillos project in Argentina. Results show grades that were, on average, substantially higher than previous estimates for the shallow aquifer number one. This is especially encouraging because two of the samples were taken from an area where close spaced auger sampling was not possible, and opens up a much larger area that might exhibit potentially higher grade lithium and potassium brine, and this has positive implications for resource growth and production potential. . .Rodinia's peer discount is unjustified. . .conservative lithium brine operation is compelling. . .it has an experienced management team, large brine resource, multiple projects in good jurisdictions and our valuation ignores potash or boron production upside potential."
David Talbot, Dundee Securities (6/9/11) "Rodinia Lithium is an emerging brine developer flying under the radar-it has several features going for it: its main project, Salar de Diablillos in Argentina, hosts one of the largest lithium-potash brine resources in the world, and it lies in close proximity to the third-largest brine producer in the world (FMC Lithium); its second project is underexplored and adjacent to the only lithium producer in the U.S. (Chemetall); it also has strategic investment from one of China's largest lithium-ion battery materials provider. . .our modest CAD$1 target price for RM suggests a triple-it is showing more upside potential than the more well-known brine developers."
The Energy Report Interview with Jonathan Lee (4/19/11) "Rodinia Lithium also has a brine deposit at its Salar de Diablillos project in Argentina. We have a Speculative Buy rating on it with a $2.25 target price. It's another example of fairly good chemistry and good, effective porosity levels. And the project is another that, potentially, could be a low-cost producer. It has a decent level of lithium grade, reasonable magnesium:lithium ratio and very attractive sulfate levels-that's another key. It has a lot of positive qualities. Rodinia has a strategic investor in Shanshan Resources, a wholly owned subsidiary of the largest battery manufacturer in China- Ningbo Shanshan. Some of Shanshan's partners have extensive experience doing brine chemistry in the Tibetan salars. Shanshan is a value-add for that company."
More Articles:
The resource of the 21st century
Disclosure: I am long OTC:RDNAF.
Additional disclosure: I own several other lithium juniors.