The future is Lithium, and Salares is well positioned!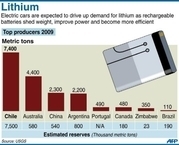 Chile: "The country's salars are estimated to contain the largest reserves of lithium in the world"
....
The United States Geological Survey

Salares Lithium Corp (LIT-TSX)
Location
Atacama Desert
, Region III,
Chile

Highest producing lithium country in the world
Project Size 39,404 Hectares (
Largest pure lithium package in peer group
)
Mineralization Sample grades up to
1,080 parts per million
(non NI43-101)
Lithium - Potassium sampled in all 7 Salares
Proximity -
5 Salares clustered within 155 km. (see location map) 100% owned by the company.

Deposit Type Continental brines. (Lithium is most easily and cheaply recovered from Continental brines than from any other source) Chilean brines account for 50% of the world's lithium production according to the United States Geological Survey

Area Success- Major mining companies in the area include Kinross, Barrick, BHP Billiton and Freeport McMoRan.as well as SQM, the largest lithium producer in the world.

Infrastructure Project location is easily accessible by road.

All services required for a major exploration and mining program are available in Copiapó which is a major mining centre.

Progress NI 43-101 Technical report (Complete) and exploration program initiated.

Advantages

Located in the highest lithium producing country in the world
Largest land package of any company in peer group
5 Salares clustered within 155 km
Grades up to 1,080 ppm lithium
Chile is one of the most mining friendly countries in the world
Rising demand for lithium is expected from the increased use of laptops, mobile phones and hybrid/electric vehicles
"Salares Lithium (LIT-TSX) may be a takeover target of SQM, the largest lithium producer in the world, as SQM recently expressed a working interest in the Salars held by Salares Lithium".
LIT trading at .65 today. Three month Target price of $1.40
Photos
Location
More Lithium Stocks to consider.
Search Engine Submission - AddMe
Disclosure:
long LIT