2011: 10.8 years vs. 10.6 years in 2010
Average car in US 11.1 years old vs. 11.0 in 2010
Average truck in US is 10.4 years old vs. 10.1 in 2010
There are now 240.5 million vehicles in the US - up nearly 500,000 from 2010
These numbers should not come as a surprise. The average age of cars and trucks has been steadily rising over the last decade due a combination of factors. These factors include the higher prices on new cars, economic downturn with high unemployment and the mindset of the consumer. It may be two years or more before new car sales start to pickup.
From an investing perspective, this means that auto parts supply companies and used car sales will benefit from the older age of cars in the U.S. You have the do-it-yourself group that will purchase from the retail auto suppliers, auto repair shops that purchase from wholesale parts suppliers and the full service dealers who service existing cars with warranties, etc. The table below shows stocks from each of these sectors.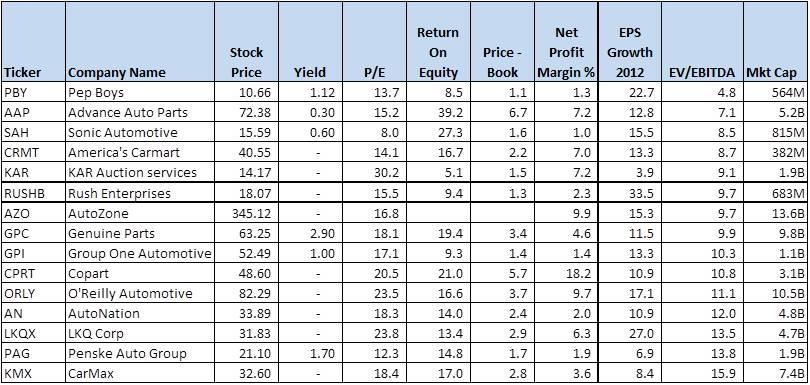 Disclosure: I have no positions in any stocks mentioned, and no plans to initiate any positions within the next 72 hours.