Daily State of the Markets
Tuesday, May 21, 2013
Good Morning. One thing I've learned over the last 25+ years in this business is that when everyone in the game is looking for same thing to occur, it rarely does. You see, Ms. Market seems to enjoy making a mockery of the term "market logic" by oftentimes doing whatever it takes to frustrate as many market players as possible. And from my perch this may be exactly what is occurring right now.
In short, I'm not aware of anyone currently playing the game that isn't looking for some sort of pullback to begin momentarily. Sure, the bulls are on a roll. Yes, the central bankers of the world are printing money on a daily basis. And today is indeed Tuesday - so, as has been the trend of late, another joyride to the upside may be on tap for today. Oh, and the economy does seem to be in Goldilocks mode at the present time. But the bottom line is this market has gone a long way in a short period of time. As such, a pullback, a correction, or at the very least, a period of consolidation would seem to be the logical next step in this market's journey.
While I make it a habit to never, ever talk about what "ought" to be happening in the market. Exhibit A in my argument that a sloppy period might be coming - and soon - is that the current rate of ascent has been accelerating over the past month. Take a peek at the chart below and you'll see what I mean.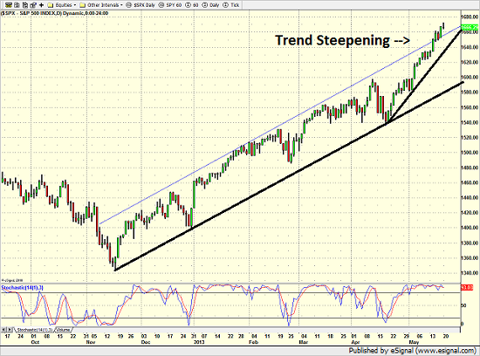 First, note that four days ago the S&P broke out of the uptrend channel that had been intact for about six months. Next, take a gander at the uptrend line I've painted in that began in mid-April. Can you say "curve steepening?"

If my handy dandy paint skills aren't enough to convince you, I've also got some actual statistics to back up my thesis. However, before we go to the video tape, let's revisit my opening remark in today's missive; markets rarely do what everyone is expecting them to do!

Long time readers will recall that I like to keep tabs on momentum surge indicators. History shows that when the bulls completely overwhelm their opponents in a convincing fashion over a short period of time, a reliable buy signal occurs. We look for such surges in the 10-day totals of advances vs. declines as well as the percentage of stocks that exceed their 50-day moving averages. In short, when either of these two indicators gives the signal that a surge has occurred, the bulls tend to be large and in charge for the foreseeable future (one indicator has a perfect record since 1967 and the other has been right a year later 35 out of 36 times).

In looking at the history of these indicators, it is clear that the market tends to perform far better than normal two weeks after the signal is given as well as one, two, three, four, six, and twelve months later. For example, two weeks after the number of stocks above their 50-day moving average has exceeded 90%, the S&P has gained an average of +0.9% (the average of all two week periods is +0.3%). One month after the signal, the S&P is up an average of +3.1% vs. +0.6%. Three months later: +6.1% vs. +1.9%. And four months out, the median gain for the S&P has been +10.0% vs. the average of +2.5% for all four month periods. And one year after the signal, the S&P has returned +16.7% on average vs. +7.7%. Not bad eh?

However, in looking at the median gains for each of the periods following a momentum surge signal, it becomes clear that the rallies tend to stall out somewhere between the fifth and sixth months. Here are the numbers: Four months after the buy signal the median gain has been +10.0%. But six months after the buy signal, the median gain is +9.8%. This means that stocks have tended to move sideways somewhere during months five and six after the signal.

Now for the fun part. The buy signal I'm talking about here (when after first hitting 75%, the percentage of stocks above their 50-day moving average exceeds 90%) last occurred on January 4, 2013. And don't look now fans, but we are now into month number five of the signal.

So, if history is to either repeat or rhyme, this indicator suggests that the bulls' current run for the roses just might be due for a break. But then again, there still seems to be a fair amount of money sloshing around the financial system looking for a home these days. Oh and everyone, everywhere is calling for a pullback - so we'll just have to wait and see.

Looking for a disciplined approach to managing stock market risk on a daily basis? Check Out My "Daily Decision" System. Forget the fast money and the latest, greatest option trade. What investors need is a strategy to keep them "in" the stock market during bull markets and on the sidelines (or short) during bear markets.

Turning to This Morning...

Although Goldman Sachs has seen fit to increase their year-end projections for the S&P 500 to 1,750, things are fairly quiet in the early going today. There will be a lot of stories to watch today with some Fedspeak, the vote on Jamie Dimon's role at JPM, and Apple's testimony on Capitol Hill relating to the company's tax policies. However, with European markets down and little data to guide traders, it could be a quiet day. But then again, we should keep in mind that Tuesday's have been quite positive this year.

Pre-Game Indicators

Here are the Pre-Market indicators we review each morning before the opening bell...

Major Foreign Markets:
- Shanghai: +0.22%
- Hong Kong: -0.54%
- Japan: +0.13%
- France: -0.49%
- Germany: -0.39%
- Italy: -0.88%
- Spain: -1.01%
- London: +0.05%

Crude Oil Futures: -$0.64 to $96.07

Gold: -$7.10 to $1377.00

Dollar: lower against the yen, higher vs. euro and pound

10-Year Bond Yield: Currently trading at 1.957%

Stock Futures Ahead of Open in U.S. (relative to fair value):
- S&P 500: -1.14
- Dow Jones Industrial Average: +11
- NASDAQ Composite: -1.67

Thought For The Day...

"The true measure of a person is how they treat someone who can do him absolutely no good." - Samuel Johnson

Positions in stocks mentioned: none

Follow Me on Twitter: @StateDave
---
The opinions and forecasts expressed herein are those of Mr. David Moenning and may not actually come to pass. Mr. Moenning's opinions and viewpoints regarding the future of the markets should not be construed as recommendations. The analysis and information in this report and on our website is for informational purposes only. No part of the material presented in this report or on our websites is intended as an investment recommendation or investment advice. Neither the information nor any opinion expressed nor any Portfolio constitutes a solicitation to purchase or sell securities or any investment program. The opinions and forecasts expressed are those of the editors of StateoftheMarkets.com and may not actually come to pass. The opinions and viewpoints regarding the future of the markets should not be construed as recommendations of any specific security nor specific investment advice. One should always consult an investment professional before making any investment.
Any investment decisions must in all cases be made by the reader or by his or her investment adviser. Do NOT ever purchase any security without doing sufficient research. There is no guarantee that the investment objectives outlined will actually come to pass. All opinions expressed herein are subject to change without notice. Neither the editor, employees, nor any of their affiliates shall have any liability for any loss sustained by anyone who has relied on the information provided.
The analysis provided is based on both technical and fundamental research and is provided "as is" without warranty of any kind, either expressed or implied. Although the information contained is derived from sources which are believed to be reliable, they cannot be guaranteed.
The information contained in this report is provided by Ridge Publishing Co. Inc. (Ridge). One of the principals of Ridge, Mr. David Moenning, is also President and majority shareholder of Heritage Capital Management, Inc. (NASDAQ:HCM) a Chicago-based money management firm. HCM is registered as an investment adviser. HCM also serves as a sub-advisor to other investment advisory firms. Ridge is a publisher and has not registered as an investment adviser. Neither HCM nor Ridge is registered as a broker-dealer.
Employees and affiliates of HCM and Ridge may at times have positions in the securities referred to and may make purchases or sales of these securities while publications are in circulation. Editors will indicate whether they or HCM has a position in stocks or other securities mentioned in any publication. The disclosures will be accurate as of the time of publication and may change thereafter without notice.
Investments in equities carry an inherent element of risk including the potential for significant loss of principal. Past performance is not an indication of future results.