We noted a number of M&A transactions and capital raises announced the first half of 2014 within the Content Delivery Network ("CDN") sector in the United States. Most notably, NTT Communications acquired three companies with expertise in CDN, including Raging Wire, Arkadin and Virtela. In addition, several companies announced venture capital raises including Aryaka ($10m), Instart Logic ($26m) and Kaltura ($47m). We therefore believe there will be an improving M&A market for CDN companies looking to expand via mergers and acquisitions, or exit, in 2014 and 2015.
Publicly Traded Content Delivery Networks (Selected) - Valuation Table
(click to enlarge)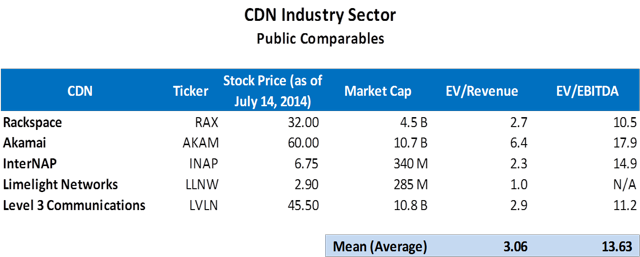 Click to enlarge
Stock Prices are as of July 14, 2014
M&A Transactions Announced (Selected), as of July 2014
(click to enlarge)

Click to enlarge
We believe there will be several types of potential strategic buyers of CDN companies over the next 12-24 months. Telecommunications companies (NTT, Vodafone, Verizon, ATT, ChinaCom) are the largest source of potential buyers followed by Cloud Services and Hosting companies, other CDN's and Hardware/Network vendors (Cisco, IBM, HP).
(click to enlarge)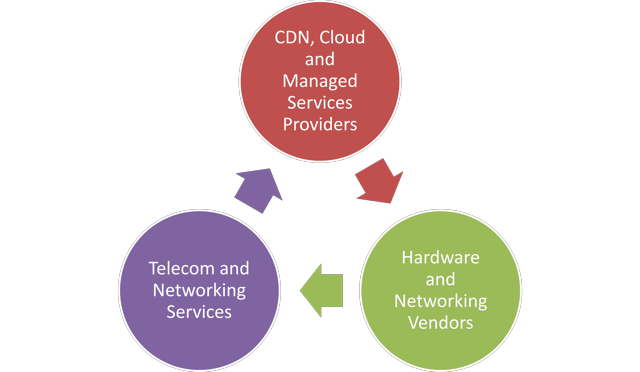 Click to enlarge
One of the main reasons of the growth in CDNs is swift expansion of Internet-based services such as online video, streaming media, online music, online games, and transfer of rich media files over Internet is expected to increase the strain on Internet infrastructures and also the demand for better Quality of Service (QoS). CDNs have emerged as an ideal solution to meet all these problems and to meet the demand of delivering better quality content to users. The global CDN market is driving on the growth of high implementation rate of CDN solutions in the U.S., Europe ("EU"), and Asia Pacific ("APAC") regions.
The Content Delivery Networks market is expected to grow from $3.71 billion in 2014 to $12.16 billion by 2019, at a Compound Annual Growth Rate ("CAGR") of 26.8%. The Asia Pacific region is growing rapidly with a CAGR of 38.2%, from 2014 to 2019.
Source: Markets and Markets, March 2014
Disclosure: The author has no positions in any stocks mentioned, and no plans to initiate any positions within the next 72 hours.