Bullish News

US Dollar --> The DXY has been strengthening (particularly against the Euro and the Pound).  Continued sovereign debt problems will only ensure that this trend continues, no matter how much it doesn't make sense considering our high debt levels.  But it is still considered the currency of choice in times of risk aversion, that is for sure.  
Equities (Technicals/Financials/Transports) --> Stocks continue to rise lead by the most unusual leader, the financials.  the streaks are amazing and makes it perhaps the most impressive part of this whole rally.
The Consumer:  Consumer Credit increased, as did retail sales.  Is the Consumer coming back?
Bearish News
China bad noises are starting to be more frequent.
Leading indicators are either weakening or pointing down (ECRI, Conference Board)
High debt levels continue and the deleveraging process is not complete as per the Fund of Flows report.  

Jobless claims remain frustratingly elevated.  By this metric, we are still seeing job losses.
While Transports are making new highs, we are seeing cautious commentary on the recovery by FedEx.  I think that's pretty important.
General Thoughts
It's official
, Angela Merckel's political life is now on the line.  The idea of savers and financially prudent citizens of Germany bailing out a profligate sovereign entity (NO the EU is not a political union) seems ludicrous even to an outsider.  The German electorate must be furious.  Moral hazard continues and investors feel almost assured that this will be the solution for every other country that's next inline (UK, Spain, Portugal, Austria, Eastern Europe), until it isn't.   
Tying in with the Bearish news above, the news coming out of China is very concerning in my view.   Inflation seems to be heating up and may force officials to raise rates. If they choose not to, inflation will accelarate, affecting food and energy prices which are important to the rural population.  However, raising them will bring about additional headwinds for the export sector as well as increase the possibility of popping a potential bubble (shades of US.  Which will officials choose?
Technical Observations (All charts courtesy of Freestockcharts.com -- Fantastic site)
Internals of the rally are mixed, but with a bullish tilt.  The transports and the financials (BKX only, not XLF) broke through their highs as did numerous other indicies like the NASDAQ and the Russell 3000.  We would only need the dow to break through to confirm that the rally is alive and well under the Dow Theory (is that a bearish pennant I see?).  However, the recent rally has been marked by low volume and high complacency and signals red flags.  

(Dow; Daily)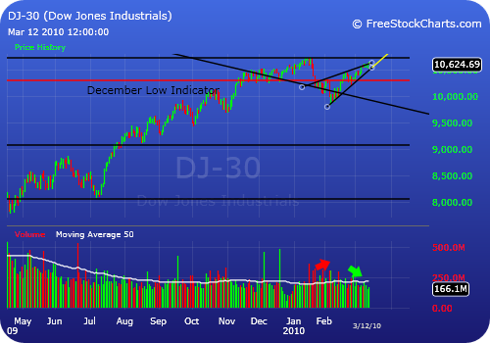 On the global recovery front, AUD/USD, a measure of risk taking (and strength in China) in my view, is at the top end of its trading range which it hasn't been able to break out of.  EWA is looking toppish. 
(EWA Daily)
Although it's not very clear from the chart.  It does serve to signify that performance in gold has been closely correlated with TIPS, expectations of inflation.  Is deflation starting to win out now that the stimulus is being withdrawn?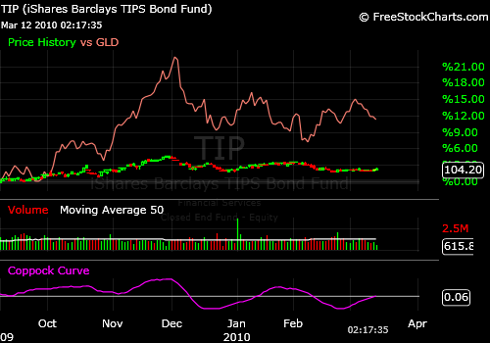 Have a great weekend  
Disclosure:
Short Emerging Markets