Oil Equipment Supplier Flies Under the Radar
by Vikash Jain, 28 Mar 2014
We recently bought McCoy Global Corp (MCCRF/US, MCB/TSX) in our equity portfolio. McCoy is an Edmonton company that started life a century ago as a blacksmith shop, then switched to building specialized oil drilling equipment in the mid-1970's and today is a leading global supplier of mission critical parts like the hydraulic power tong shown here.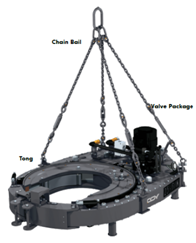 There are so many reasons to like McCoy:
It is a Canadian manufacturer. We don't have enough of these in this country, as I once lamented in the National Post. And the stuff it builds is some pretty cool machinery that you can take a pipe wrench to.
It has a long history of steadily growing revenue and earnings though there has been some recent weakness but that should be temporary as I explain below.
It is conservatively run with a balance sheet in a net cash position.
It pays a sustainable dividend that's grown over time but retains enough money to fund future growth.
It is a top supplier to North American oil drillers and has been growing its US business as shale oil production booms. Its US revenue is up 25% over three years more than offsetting an 18% drop in its Canadian revenue.
Its products are essential best-in-class equipment that oil drillers pay a premium for, as proven by a long-time gross margin of about 23% and a return on capital of 15%.
It is a global supplier, with factories or key offices in Alberta, BC, Texas, Louisiana, Scotland and Singapore.
Too small for the big investors it is overlooked by analysts and investors.
McCoy management has a clear plan to grow its business through new organic sales and some judicious acquisitions.
Finally McCoy is on sale.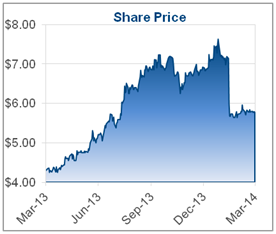 Its share price fell 20% in mid-February from about C$7.20 to about C$5.80 after it pre-announced that Q4/13 earnings would be below expectations. However this "miss" was due to short-term operational hiccups: They recently deployed new software that will eventually optimize factory production but not without some initial pain including the delayed delivery of a large power tong. They have also spent money to add staff to their global offices to better service local clients.
Rather than focus on a poor quarter, we give more credence to McCoy's many decades of solid performance. For us, the dip was a great buying opportunity in a quality name.
| | |
| --- | --- |
| MCCOY CORP | MCB CN |
| Recent Price | $5.80 |
| Market Cap | $160 MM |
| Price 52-Week Low/Hi | $4.18 / $7.71 |
| Annual Dividend / Yield | $0.20 / 3.4% |
| Dividend Payout Ratio | 40.6% |
| Insider Holding | 3.7% |
|   |   |
| Consensus EPS Growth | 31.5% |
| Forward P/E | 13.2x |
| Forward EV/EBITDA | 7.0x |
| ROE | 15.5% |
| Net Debt/EBITDA | -0.77 |
Disclosure: I am long MCCRF.
Additional disclosure: We are long the Canadian-listed shares (MCB/TSX).