Pair Trade: Long RAS, Short BEE
Fundamental Commentary
RAIT Financial Trust
(NYSE:
RAS
) is a self-managed real estate investment trust (REIT). The company manages a portfolio of real estate related assets, provides a comprehensive set of debt financing options to the real estate industry and invests in real estate related assets. 
RAS' real-estate investment breakdown (as of Q1 '10):
| | | |
| --- | --- | --- |
|   | As of March 31, 2010 | As of December 31, 2009 |
| Multi-family | 545,493,000 | 508,942,000 |
| Office  | 216,925,000 | 190,874,000 |
| Retail | 36,406,000 | 40,584,000 |
|   | 821,032,000 | 762,608,000 |
As you can see, RAS is heavily invested in multi-family apartment buildings - an area that is classified as commercial, but heavily relies on the ability of families to pay their rent. 
I noticed on the Yahoo! Finance message boards that a member by the name of "andynsheri" claims to have conducted a survey with some of the properties RAIT owns.
Emerald Bay
337 units, Occupancy rate 93% (Rising), Crime rate - minimal, located close to Nellis BLVD,  built 1989
Had some negative remarks on the web regarding past management
RAS take over in 2009 seems to have improved the property
Low rent
Regency Meadows
120 units, Occupancy rate 88%, N. Las Vegas, built 1980
The front office man had a foreign accent and was rude.
Low rent
Tierra Bella at Lone Mountain
98 units, Occupancy rate 86.7%, nice area of town, low crime, built 2003
Lost 5 tenants this month, some buying homes instead of renting
Above average rent
It's difficult not to be pleased about the high occupancy rates - something that should hopefully indicate that families are, for the most part, able to stay afloat on their rent payments.
Debt Reduction
RAS has announced three debt-for-equity swaps with current bondholders in an effort to reduce debt. Although this has taken its toll on the stock in the short term, it is definitely a step in the right direction to help shore up the company's balance sheet.
The debt is also being recalled at a reduced rate. For example, on 4-Jun-10, a $2.5 convertible senior note (6.875% coupon) was exchanged for (1) 700,000 RAIT common shares (par $0.01) and (2) a cash payment of $175,000. That's almost 50% off. Each exchange agreement has also had similar terms to this one.
RAS indicated in its Q1 conference call that it intended to reduce its leverage while developing new financing sources, and it has done just that. 
Fitch also downgraded RAS' CDOs, likely in response to how bondholders were settling for a large discount.
FBR Capital responded with a downgrade as well. However, it should be known that FBR Capital owns around 1% of RAS outstanding shares.
The company has reported consecutive quarters of net income. Their earnings report in August could be the third, and may signal the return of a common stock dividend.
Strategic Hotels & Resorts Inc 
(NYSE:
BEE
) is a self-managed real estate investment trust (REIT) that engages in the ownership and asset management of upper upscale and luxury hotels. 
BEE's geographic distribution of the Company's portfolio (as of Q1 '10'):
| | | |
| --- | --- | --- |
|   | As of March 31, 2010 | As of December 31, 2009 |
| Southern California | 20.1 | 20.2 |
| Northern California | 19.3 | 19.3 |
| Chicago, IL | 18.0 | 17.7 |
| Scottsdale, AZ | 12.8 | 12.8 |
| Washington D.C. | 6.0 | 6.0 |
| Miami, FL | 5.4 | 5.4 |
| United States | 81.6 | 81.4 |
| Mexico | 7.4 | 7.3 |
| Prague, Czech Republic | 5.9 | 6.0 |
| London, England | 4.7 | 4.9 |
| Paris, France | 0.4 | 0.4 |
| Total | 100.0% | 100.0% |
BEE is big in California, which is besieged with tumultuous financial conditions, so it may be some time before 40% of BEE's portfolio produces healthy returns once again.
In Q1, BEE reported a net loss of $0.15 driven by the following:
NA Total RevPAR decreased 4.3%, driven by 1.6% increase in occupancy and a 6.9% decrease in average daily rate
EU Total RevPAR increased 14.5%, driven by a 3.0% increase in occupancy and a 9.0% increase in average daily rate
The fact that EU RevPAR increased significantly was promising, though remember this report was months before the European Union issues surfaced. It remains to be seen how issues with the euro will impact BEE. Also, it is important to remember that Europe accounts for only around 10% of BEE's portfolio. The decrease in NA RevPAR is not something that looks favorable upon investors.
Debt Reduction

BEE has also been actively taking steps to reduce its debt. In March, the company refinanced existing  mortgages of $220 million and $123.8 million with a new mortgage maturing in June of 2017 at a fixed rate of 6.09%.
BEE will announce earnings on August 5th. Any report of a net income would likely come as a surprise to investors and send the stock much higher.
Statistical Commentary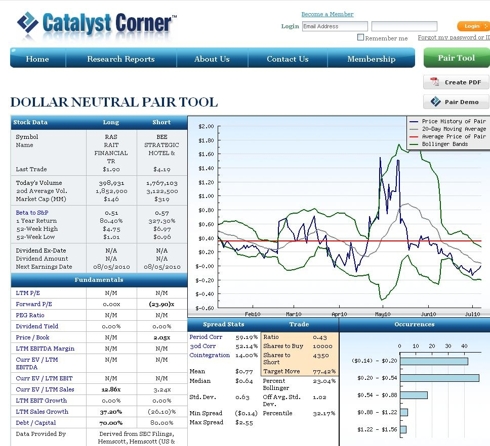 This pair is trading in the 32.17% percentile, which puts it 1.02 standard deviations from the mean.
The pair has had a steady decline since mid-may, around when RAS received its downgrade by Fitch and FBR Capital. However, a few weeks before, when RAS reported Q1 earnings (with a positive surprise), it sent the pair flying. With RAS reporting soon again, the pair could repeat itself and shoot to a value of around $1.20-$1.50 again.
Our Pair Trading Tool puts the target move at 77.42%.
If you believe in the principle of mean convergence, it is reasonable to expect that this pair will return to a level more in-line with the mean.

Good luck! If you'd like to see the full version of this pair, visit our Pair Tool (completely free) and gives a really nice statistical, fundamental, and graphical output.

Happy trading,
Phil
phil@catalystcorner.com

The graphical representation of the this pair was generated from the Pair Trading Tool at Catalyst Corner. Both the Pair Tool and site membership are completely FREE.

Catalyst Corner is a financial website that provides FREE in-depth researchs on comapnies with significant milestones or "catalysts" coming up in the near-term. 

Disclaimer: The information disseminated by Catalyst Corner("Catalyst", "us", or "we") is for informational purposes only, and is neither a solicitation to buy nor an offer to sell securities. We do not undertake or purport to render any investment advice or recommendations for the buying and selling of securities.
Disclosure:
No positions