Pair Trade: Long BHP, Short BBL
About a month ago, I wrote about this pair from the opposite perspective -
Long BBL, Short BHP
. That pairs seems to have done really well since then, converging to the mean and then some.
It now looks like the trend is ripe for another reversal, but in the opposite direction. This is why I'm looking at Long BHP, Short BBL.
For those of you unfamiliar with BHP/BBL:
- BHP Billion is a diversified natural resources companies that engage in exploration, production, development, and marketing of oil and gas properties. 

- BBL is the ADR for two shares of BLT.L (the UK-based half of the Dual Listed Company, denominated in Pence)

- BHP is the ADR for two shares of BHP.AX (the Australian-based half of the Dual Listed Company, denominated in Australian dollars)

The Dual Listed Company has the same board, employees, and property throughout. It is as if they are the same company. 

Dividends are declared in USD and shareholders of both equities receive the same dividend with respect to their trading currencies. The ADRs get twice the declared dividend (USD) per share.
Let's look at the graph: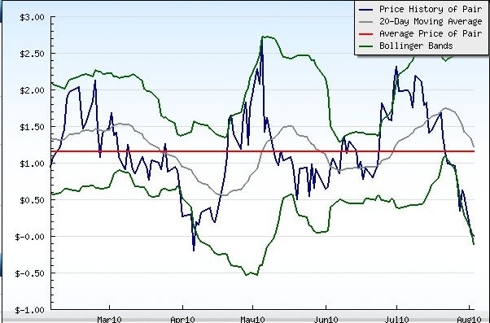 Click to enlarge
| | |
| --- | --- |
| Period Correlation: | 99.54% |
| Cointegration: | 99.72% |
| Off Avg. Standard Deviation | 2.03 |
| Percentile: | 33.45% |


Keep in mind the ratio (to keep the pair dollar-neutral):

~1.16 shares of BHP = 1 share of BBL (8/4/10)

The link to the full analysis of the pair: http://catalystcorner.com/index.php?m=pair_tool&p=graph&t1=bhp&t2=bbl&datefrom=02/04/2010&dateto=08/04/2010&capital_employed=10000



If you believe in the principle of mean convergence, it is reasonable to expect that this pair will return to a level more in-line with the mean.



Good luck! If you'd like to see the full version of this pair, visit our Pair Tool (completely free) and get a really nice statistical, fundamental, and graphical output.

Happy trading,
Phil
phil@catalystcorner.com

The graphical representation of the this pair was generated from the Pair Trading Tool at Catalyst Corner. Both the Pair Tool and site membership are completely FREE.

Catalyst Corner is a financial website that provides FREE in-depth researchs on comapnies with significant milestones or "catalysts" coming up in the near-term. 

Disclaimer: The information disseminated by Catalyst Corner ("Catalyst", "us", or "we") is for informational purposes only, and is neither a solicitation to buy nor an offer to sell securities. We do not undertake or purport to render any investment advice or recommendations for the buying and selling of securities.

 
Disclosure:
No positions