What is a semiconductor?
It is a solid-state substance that is halfway between a conductor and an insulator.

When charged, the substance becomes conductive; when the charge is eliminated, it loses its conductive status. By combining conductive material, semiconductor material, and insulators in a pre-determined pattern, the movement of electricity can be precisely controlled.

A transistor is the basic element used in building semiconductor devices.

Acts as a on/off switch which opens and closes when electrically activated.

Semiconductor devices contain a transistor array, which is etched onto a rectangular piece of silicon called a die.

The die is encased in a plastic or ceramic package, and tiny wires called wire bonding are used to connect the input/output gates on the chip to the leads on the outside of the package.

Semi's come in two broad categories:

Discrete which have only one transistor
Integrated Circuits (ICs) which have multiple transistors (sometimes in millions)

Types

5 Main (Broad) Product Types

Analog

Devices designed to process, convert, and create analog real world signals

System Processors (a type of logic chip)

Devices designed to perform intensive computer processing and system control.
Includes microprocessors (CPUs or MPUs) which comprise the largest share of market revenues.

Digital Logic

Devices designed to perform specialized digital processing within a system.

Memory

Devices designed to store electrical data, either temporarily or permanently

Discretes & Optoelectronics

Semi devices that consist of a single transistor in a package
Applications

I am going to use a standard smart-phone to illustrate the different applications of the chips.

Please note this is a very narrow view of the range of potential applications for each chip. It is just meant to give you a GENERAL idea of chip applications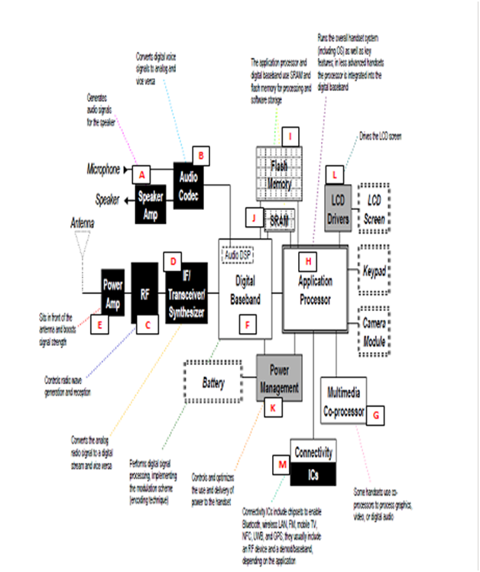 Only Semiconductor chips are labeled. I will describe the application of each trip segmented by the types of chips (Analog, System Processors, Digital Logic, Memory, and Hybrids)
Analog Chips (remember they drive or convert analog to digital and vice versa)
Digital Logic (remember they performed specialized processing within a system)
Digital Baseband (NYSE:F)

Performs digital signal processing

Multimedia Processor (NYSE:G)

Process graphics, video, or digital audio
System Processors (remember they perform intensive processing and system control)
Application Processor (NYSE:H)

Runs the overall handset system include the software
Memory (remember store electrical data, either temporarily or permanently)
Flash Memory (NAND) (NYSE:I)

Primary memory used to store phone numbers, software, and other user data.

SRAM (J)

Supports the application processor and digital baseband as they use some volatile memory for processing functions.
Hybrids (contain characteristics of both analog and digital chips)
Power Management (NYSE:K)

Controls the use and delivery of power to the handset

LCD Drivers (NYSE:L)

Generates the image on the LCD screen

Connectivity ICs (NYSE:M)

These ICs or chipsets are used in advanced phones to implement multimedia and connectivity functions.

These features will usually be implemented with a chipset that ncludes digital processors plus an analog front end

Includes Bluetooth, Wireless LAN, FM, mobile TV, Near Field Communicators, etc.
Manufacturing Strategies
Integrated Design & Manufacturing (IDMs)

e.g. Samsung
IDMs generally enjoy high margins in the boom part of the cycle as their fixed costs do not change, but suffer low margins in the trough of the cycle as capacity goes unused.

This effect should not be underestimated, as fixed costs (including depreciation and fixed material and labor costs) can run as high as 80% of semiconductor manufacturing costs.

Fabless (Only Design)

e.g. Qualcomm
The benefits of a fabless model include a lack of fixed costs, which generally translates into lower capital investment requirements, more consistent margins and better earnings predictability.

Fabless companies have the opportunity to gain share vs. IDMs in the downturn (since wafer costs for them will decline while unit costs for IDMs rise with declining output) and will generally lose share at the peak of the cycle (because of the opposite effect).

This effect can be neutralized if all direct competitors are fabless.

Manufacturers (Only Manuf.)

e.g. TSMC
The bottleneck in the supply chain is Manufacturers as such they have been capturing more of the value in the chain.

Revenue growth trends tell the story well: foundry revenue growth has outpaced semiconductor industry growth in four of the last seven years, and over that period has risen by 117% vs. the industry's 79%.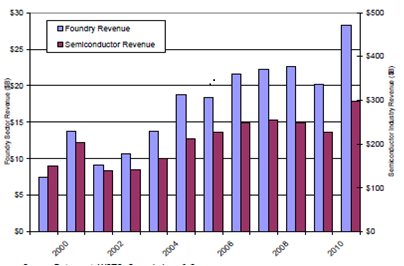 Company will only choose to manufacture itself if:

Industry Basics
Demand

driven by demand for electronics

Largest consumer of semi's are computing/data processing, communications, and consumer electronics.

Industry use to live & die by the PC cycle but now with the surge in mobile tech. demand should be less volatile

Supply

Driven primarily by wafer fab capacity (at least historically)

Characteristics include long construction and equipment installation cycles

Leads to shortages/overages

Wafer capacity moves very slowly in either direction and cap. ex can be volatile

Capacity utilization is key measure of supply

Economics
Moore's Law

States that the number of transistors on a chip doubles about every 2 years because they get smaller (increases transistor density on chip).

Smaller Transistor Means:

Faster Devices

Electrons move quicker
Cheaper Devices

More transistors per square inch

Lower Power Consumption

Larger wafer (during manufacturing process) means:

More die (chips) per wafer
Example

300 mm (12 inch) wafer yields more than twice the die per wafer of a 200 MM equivalent

Measured in diameter

50% increase in diameter(as above) yields more the 2.25x increase in usable wafer area

Remember that area of a circle is determined πr2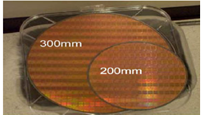 Fundamentals

Units

slightly less volatile than sales

ASPs

Volatile and add to the boom and exacerbate during the downturn
Individual Device average prices

Microprocessors are the most expensive by a wide margin.

Capital Spending

Important industry metric

Rough target is 25% of revenues

Gross margins generally in range of 40% & Op. Margins at ~15%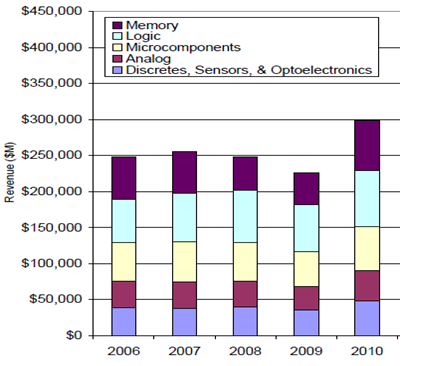 References
Semiconductor Primer, Wachovia Capital Markets, LLC 2008
Semiconductor: Technology and Market Primer 7.0, Oppenheimer 2011
http://www.investopedia.com/features/industryhandbook/semiconductor.asp#axzz2CjTIhtvD
Disclosure: I have no positions in any stocks mentioned, and no plans to initiate any positions within the next 72 hours.