The overall market may be sinking, but Fannie Mae (FNMA.ob) common stock appears to be unlocked from weeks of stagnant trading. Already up over 5% this morning, the stock appears to be moving the opposite direction of the overall market. The Dow has collapsed over 200 points this morning.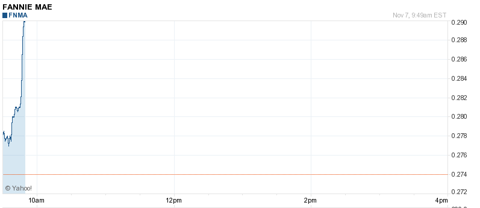 With Obama's relection he is now free to move forward with a plan for housing, which may include an AIG-style restructuring, similar to the one suggested by Jim Millstein, former Treasury official and architect of the AIG bailout.
AIG stock has recently stumbled, but the Treasury is already at a break-even point and expected to sell their remaining stake by the end of the year. This should create an opportunity to move on with ending the GSE bailout.
Disclosure: I am long OTCQB:FNMA.
Additional disclosure: Long Fannie Preferred stocks.