Employment Reports
The unemployment claims report, Challenger job cuts report, and ADP employment reports were released this morning. The reports show modest employment growth.
At 7:30 am, outplacement firm Challenger Gray & Christmas reported that planned layoffs fell to a 13-month low for June totally 37,551, which was a 39% drop from May. In the prior month, planned layoffs rose 53% to 61,887. Total cuts during the 2nd Quarter fell slightly to 140,041, in comparison to cuts of 143,094 during the 1st Quarter of 2012. In a year-over-year comparison, only 240 jobs in the construction industry were reported to be cut, while 1,037 cuts were reported in the same time period of the prior year.
At 8:15 am, ADP reported 176,000 new jobs were added to the economy in June. Also, May results were revised slightly upwards to 136,000. Analysts expected 105,000 new jobs to be added for June. Construction and Financial Services showed strong gains of 8,000 and 11,000 jobs respectively.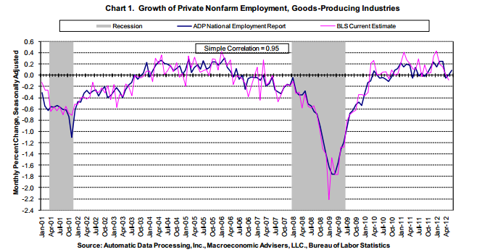 At 8:30 am, the Department of Labor reported that initialunemployment claims for the week ended June 30th were 374,000. Analysts expected 385,000 initial claims.
Housing Becoming Bright Spot
A bright spot in the economy recently has been housing. On Monday July 2nd, the Commerce Department released a report showing that residential construction increased 3% to $261.3 billion and helped lead a gain in overall construction activity that soundly beat analyst expectations.
Last Friday June 29th, KB Home (NYSE:KBH) reported 2nd Quarter sales jumped 12%. The company also reported that year-over-year, the average selling price of new homes increased and that orders were up 18%.
Lennar Co (NYSE:LEN) released earnings June 27th. The company reported a 40% increase in orders and a 61% increase in their home building backlog. The average home sales price and margins also improved.
Other economic reports show home prices improving, volume of existinghome sales increasing, and the volume of new home sales increasing. Additionally, the government has successfully sold 2,500 foreclosure properties to investors.
Bassett Furniture
Bassett Furniture Industries Inc. (NASDAQ:BSET) released 2nd Q 2012 earnings figures this evening. The company earned $0.71 per diluted share on revenue of $67.45 million.
Since January, the Chairman of the Board, Paul Fulton Jr., has increased his ownership in the company by 25% to 43,924 shares. Other executives have also made purchases within the past year. The company is trading close to its 3-year high $10.92, which it achieved in April 2012.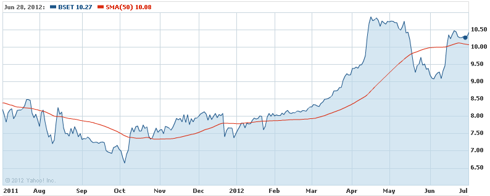 The strong earnings figures are likely related to a pickup in the housing market. Figures released monday show that residential construction has increased 3% from April to May. This supports other recent housing data that is showing strength, despite a depressed level of home prices.
The reasons for the improvement in housing are most likely related to tighter supplies of home inventories, stronger demand from home buyers, and record low interest rates. The combination of factors is pushing home prices higher and stimulating demand for new construction. Consumers that refinance right now can get rates lower than 4%.
Bassett is based out of Bassett Virginia, a rural area just north of the North Carolina state line. The company was just added to the Russell 2000 index and trades for total market cap of $117 million. Larger competitors include Ethan Allen Interiors Inc. (NYSE:ETH) and Haverty Furniture Companies Inc. (NYSE:HVT).
Disclosure: I have no positions in any stocks mentioned, and no plans to initiate any positions within the next 72 hours.