The action on Friday for NQ Mobile (NYSE:NQ) is something that many investors, myself included, have never seen before and are still puzzled about. Take a look at this chart to see what I mean. The stock traded flat or slightly up until the final hour of the trading day, when it fell nearly 20% in the blink of an eye. At this point, the New York Stock Exchange halted trading of the stock due to extreme volatility. Then, when trading resumed, it recovered some of its losses, only to fall again to an intraday loss of 15%. Finally, it came back up to end the day at a loss of over 8%. I have never seen volatility like this in the span of a few minutes.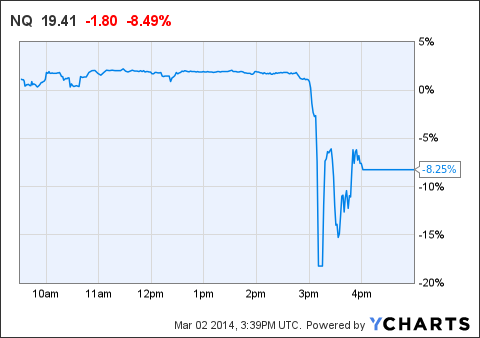 So, what could have happened? The first suspect was Muddy Waters, a notorious research firm that shorts Chinese companies accused of fraud, such as NQ. In fact, MW has a history with NQ and has accused it of fraud many times in the past. NQ is so heavily shorted (short float of 45.9%) and the stock has been an amazing performer, more than doubling in the last year.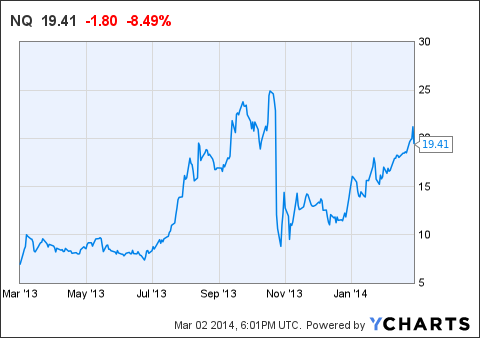 Because of this, the shorts (of which there are obviously a lot) have been losing a lot of money. Thus, it follows that they may have orchestrated another short to temporarily bring the price down and cover ASAP. This explains the bump in price immediately after the drop. While no one knows quite what happened, we can be sure the SEC will investigate. It is quite likely that what we saw Friday is illegal and there will be prosecution.
This bizarre action truly amazed me as I watched the price drop, and I have never seen anything like it.
Disclosure: I have no positions in any stocks mentioned, and no plans to initiate any positions within the next 72 hours.