Fuel cell stocks such as Plug Power (NASDAQ:PLUG), FuelCell (NASDAQ:FCEL), and Ballard Power (NASDAQ:BLDP) plummeted in the second half of today's trading session. All of the stocks dropped in the double-digit percentages, with Plug declining nearly 50%.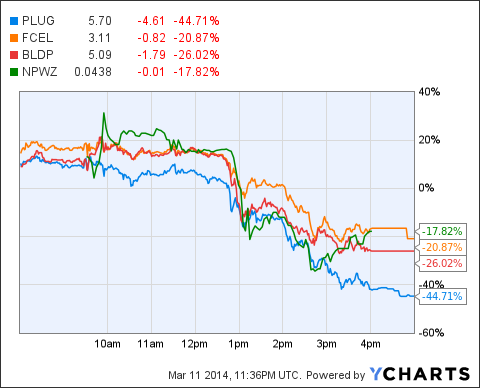 This drop follows a tremendous YTD rally in these stocks until today. Plug had well over quadrupled, Ballard had almost quadrupled, and FuelCell had nearly tripled.
This was a clear bubble in my opinion. The valuations were ridiculous, which Atlas Shrugged pointed out for Plug. However, the drop still leaves most of the irrational exuberance-caused gains intact. Thus, I think the burst is not even over yet, and the stocks have more downside.
I really like what happened in these stocks today; it is a prime example of how the market should work. The pigs that were holding these stocks got slaughtered today, and are now just holding the bag.