Aaron's, Inc. (NYSE:AAN) is a specialty retailer engaged in the business of leasing and selling consumer electronics, computers, residential furniture, appliances and household accessories throughout the United States and Canada. The Company's major operating divisions are the Sales & Lease Ownership division (established as a monthly payment concept), the HomeSmart division (established as a weekly payment concept) and the Woodhaven Furniture Industries division, which manufactures upholstered furniture and bedding predominantly for use by Company-operated and franchised stores. The Company's Sales & Lease Ownership division includes the Company's RIMCO stores, which lease automobile wheels, tires and rims under sales and lease ownership agreements.
AARON's revenues have increased from $1.876 billion in 2010 to $2.223 billion in 2012, representing a compound annual growth rate of 8.9%. Total revenues from operations for the three months ended March 31, 2013 were $595.1 million, an increase of $9.1 million, or 1.6%, over the comparable period in 2012.
As you can see the table below there is a gradual recovery in the new home sales which i believe will fuel the growth of AAN as people would need all the consumer durable goods and furniture etc. As the consumer are coming from the hangover of the worst period after depression, they will be more careful in spending on the big ticket items like durables, and AARON INC provides the perfect model of Rent to Own which is easy on the pockets and makes the product available to customers who otherwise would be reluctant to spend at one go at Sears or Walmart.
New Home Sales
 

Current Month

Apr 2013

Previous Month

Mar 2013

Last Year

Apr 2012

Change

Month Over Month

Change

Year Over Year

Total

454,000

444,000

352,000

2.3%

29.0%

Northeast

30,000

36,000

29,000

-16.7%

3.4%

Midwest

59,000

62,000

50,000

-4.8%

18.0%

South

242,000

235,000

176,000

3.0%

37.5%

West

123,000

111,000

97,000

10.8%

26.8%
Source:http://www.mortgagenewsdaily.com/
AAN trades currently at ~13.98x P/E which is in the value range compared to S&P P/E of 18.4 (Source: WSJ.com). As you can see the chart below AAN stock has been hovering between $25 -32 range.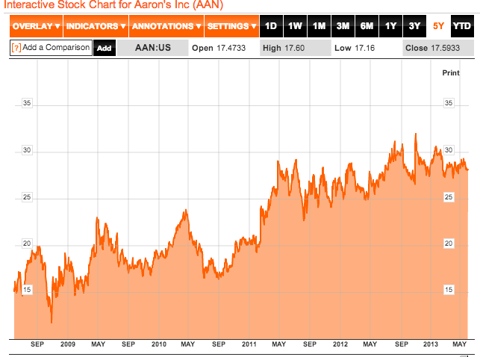 Source: Bloomberg.com
In company operated stores same store customer traffic was up 4.1% from the first quarter 2012 which is a huge positive. The company also plans to open 5-6% new stores this year which translates into roughly 120 new stores. Apart from growth AAN also has a strong balance sheet. Its cash and cash equivalent as on March 31st 2013 is 210.00 Million and long term debt is 141.50 million which is easily covered by the cash on hand.
It has largely underperformed compared to S&P500 in 2012 and YTD 2013. EV/EBITDA is 2.2x which is very low for a growth company. I give significance to the EBITDA multiple because it is independent of the capital structure. EV/EBITDA multiple takes in to account the both debt and equity of the company. EBITDA is largely considered a proxy for cash flow. Enterprise value is Equity+Debt+preferred shares+minority Interest - cash. EV/EBITDA of 2.2x means that EBITDA can cover the enterprise value in approx 2.2 years.
The recovery of housing market, compounded by strong balance sheet and low valuation has set the stage for strong growth rate in the company and more than likely AAN will beat its yearly estimates.
Disclosure: I have no positions in any stocks mentioned, and no plans to initiate any positions within the next 72 hours.
Additional disclosure: Description from annual report.