At the market open on Thursday February 28th, the promoter group commonly known as "Victory Mark" (which owns the websites Preferred Penny Stocks, Select Penny Stocks and Penny Stock Heroes) announced their latest promotion Red Giant Entertainment (OTCPK:REDG). Prior to being covered by Victory Mark, REDG had barely traded at all. But upon Victory Mark's announcement that REDG was their latest pick, the stock opened at 0.075 and hit a high of nearly 0.15, with a volume of 78,976,741 shares traded for the day. Refer to the intraday chart of REDG for February 28th below: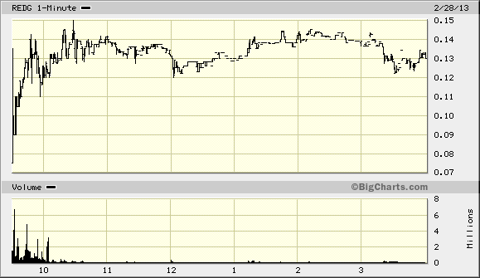 What does REDG do?
It is not generally important what area of business a heavily promoted stock claims to operate in; usually the only thing that matters is what promoter group is behind the stock and what their track record is. Victory Mark is a powerful promoter and this fact is more relevant than the actual business operations (or lack thereof) of REDG. On their website REDG says "it is our goal for Red Giant Entertainment to become the largest comic book publisher in the world", and that "Red Giant is the largest publisher of exclusive comic book format material on the internet." REDG earns income from advertising revenue, publishing revenue and creative services related to its comic book and film projects.
REDG earnings and fundamentals
REDG is not a stock to invest in for the long term. In their latest 10Q (currently unaudited) they had total assets of $95,923 on November 30th, 2012 (including only $2,441 in cash), and sales of $105,937 for the three months ended November 30th, 2012 (net income before taxes was $38,143). With these small numbers, it makes no sense for REDG to have a market cap of tens of millions of dollars (at the time of writing its market cap is over $50,000,000). It is actually unusual for Victory Mark promoted stocks to have any revenue whatsoever - most of them are pure shell companies for the sole purpose of selling stock. It would seem that REDG is not completely worthless, but it is certainly still ludicrously overvalued.
How will REDG behave in future?
I do not recommend trading REDG if you lack experience trading stocks of this nature, as they are highly volatile, and getting orders filled can often be difficult. From here on, I expect that REDG will be a day traders stock that only smart traders will profit from. We could easily see REDG spike much higher, in which case there will be opportunities to profit either by buying breakouts to new all-time highs, or shorting (assuming shares become available) once the stock begins to run out of momentum. While risky, there will also be opportunities to buy for a bounce if the stock drops a large amount very quickly.
As with all Victory Mark promotions, we know that REDG will definitely collapse monumentally at some point; the only question is when. The vast majority of losses from Victory Mark promotions in the past have been from naïve investors who held for the long term, and saw their investments collapse. Refer to the following charts of the past 4 Victory Mark promotions:
VuMee Inc (OTCPK:VUME) - announced by Victory Mark on 9th January 2013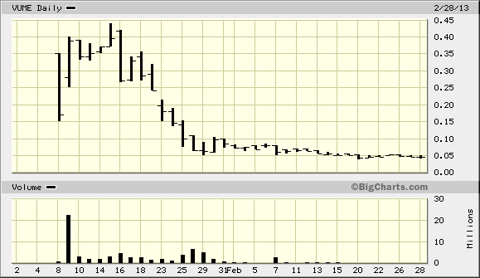 Pub Crawl Holdings (PBCW.OB) (now PBCWE) - announced by Victory Mark on December 3rd 2012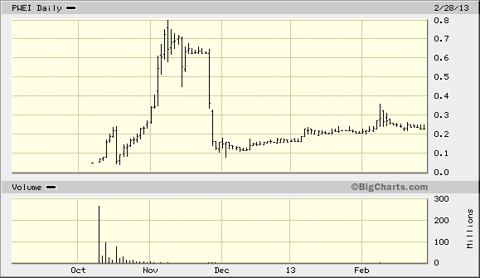 Solo International (OTCPK:SLIO) - announced by Victory Mark on 14th November 2012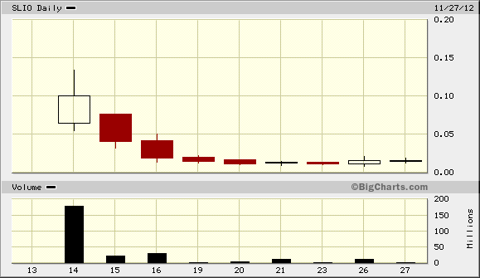 Pacwest Industries (OTC:PWEID) - announced by Victory Mark on 14th November 2012
Readers should refer to PromoBuyer for a more detailed history of Victory Mark promotions. Quite clearly, there is not a lot of consistency in how Victory Mark stocks have performed. Some (such as PWEID) have performed very well, eventually doubling or tripling in price over the course of many days. Others (such as SLIO) have been complete disasters, lasting less than one day before crashing. It should be obvious looking at these charts that there is a high amount of risk and volatility in Victory Mark stocks and REDG will be no different. At this stage it is impossible to accurately predict how REDG will perform in the coming days. It could become a great success, or it could collapse completely without ever making new highs. Either way, I most likely will not be trading REDG at any time, and will only be watching from the sidelines.
Disclosure: I have no positions in any stocks mentioned, and no plans to initiate any positions within the next 72 hours.