This instablog post is also published on the kaChing blog.

We are ceaselessly amazed at the resilience of the mutual fund industry. Rarely in the history of American business has an industry prospered while delivering such poor customer results.
According to DALBAR, Inc., for the twenty year period ending 12/31/2008, the average equity investor in mutual funds earned just 1.9% annually—lower than both inflation and S&P 500 Index returns over the same period.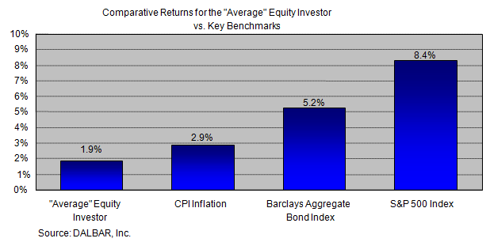 Click to enlarge


How can this be? Well, fees and costs estimated to exceed 3% per year for the average equity fund are one reason, but a far greater reason is investor behavior. Investors consistently "chase" returns, greatly aided and abetted by the marketing practices of major mutual fund companies. Simply, mutual funds are sold, rather than bought.  In other words, an array of economically motivated "middlemen"—primarily  financial advisors—direct individuals toward products, rather than individuals finding products themselves.  This certainly explains why the fund classes with the highest sales fees usually have the most assets.  As a broker or financial planner, it's a lot easier to sell something that's done well recently, rather than poorly.
A clear illustration of this phenomenon rests in the example of Legg Mason Capital Management's Bill Miller.  Mr. Miller, who earned Morningstar's "Domestic Stock Fund Manager of the Year" for 1998 and was selected as "Fund Manager of the Decade" by Morningstar.com, outperformed the S&P 500 index each year from 1991 through 2005. Assets mushroomed as Mr. Miller's reputation spread.

In 2008, though, the Trust generated a 55.5% loss while the S&P 500 "only" declined 37%. During that year, Mr. Miller's investors lost more in twelve months than they had earned over the previous decade! One had to go back to 1997 to find a buy and hold investor who still had profits following the 2008 plunge. Since most of the money invested in the Trust came in during the years between 1998 and 2007, the average investor in Mr. Miller's award-winning fund had sharply negative returns over a period of time (1997-2008) when the S&P 500 compounded at 5% per year.
Certainly, some mutual funds have manifested clear stewardship on behalf of investors.  Dodge & Cox, for example, has periodically closed funds to new investors when too much came too soon.  Overall, though, we have little faith the mutual fund industry or its incentive-laden sales practices will change. This is why we chose to embrace complete transparency and allow investors to "buy" our strategy through kaChing.  We believe the transparency embedded in the kaChing model offers superior value to investors. We encourage small investors to utilize this transparency in order to analyze and understand our investment process and philosophy. Then, we advise those directing capital to us to consider scaling back after we look brilliant (good/great relative performance) and to allocate back to us when we look foolish (poor/bad relative performance). To succeed as an investor requires much patience and discipline; but at its core, buying low and selling high doesn't have to be that hard.

Disclosure

This information was prepared using sources that Fairview Capital Investment Management, LLC (the "Firm") believes are reliable, but the Firm does not guarantee its accuracy.  It reflects subjective judgments, assumptions, and the Firm's opinion on the date made and may change without notice.  The Firm undertakes no obligation to update this information. 

This material is for your information only and should not be used or construed as investment, legal, or tax advice, or as an offer to sell, solicitation of an offer to buy any security, or offer of investment advisory services.  In preparing this material, the Firm has not taken into account the investment objectives, financial situation, or particular needs of any individual investor.  Securities transactions are risky, including the risk that they will lose money, and are not suitable for all investors.  Before making an investment decision, you should consider whether this information is appropriate in your circumstances and seek outside advice from a qualified securities professional to evaluate it.  

None of this information may be copied in any form, by any means, or redistributed, published, circulated or commercially exploited in any manner without the Firm's prior written consent.

Disclosure:
No positions