Cisco shares are up 11.6% today after quarterly earnings.
CEO John Chambers has been there since 1995 -- in tech industry terms that's like leading a company for a century. In that time he has navigated CSCO through some incredibly difficult environments and made it into one of the biggest companies in the world.
But solid leadership and blockbuster quarterly results aren't why he's my favorite CEO -- it's because his company has a great view of the global economy and he isn't afraid to share it. He also has a track record for honesty on the economy, rather than talking his book.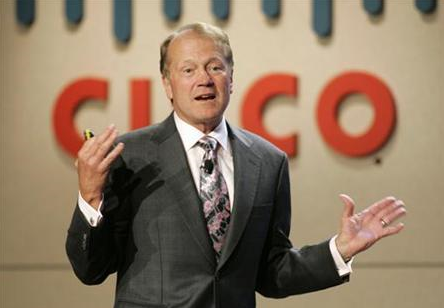 Here is what Chambers said after earnings:
"I like the trends in the United States" and he expects a "continued slow, steady recovery"
"Barring a surprise, the U.S. economy is going to continue to recover at this pace"
Demand was weak in southern Europe and China
Business in Northern Europe is starting to "bottom out"
China should remain sluggish for several more quarters
Q3 orders from the Americas grew 7% y/y, orders from Asia up 1%, Europe, Middle East and Africa little changed
Short version: Strong dollar, possibly stronger Canadian dollar, weak euro, weak Australian dollar.
Disclosure: I have no positions in any stocks mentioned, and no plans to initiate any positions within the next 72 hours.