The last time Japanese stocks were hit with a tsunami of selling and a meltdown like today, it was because the island was literally hit by a tsunami and had a nuclear meltdown.
It's too early to draw conclusions about the drop in the Nikkei but waking up to this chart is a shock for the US stock market bulls.
(click to enlarge)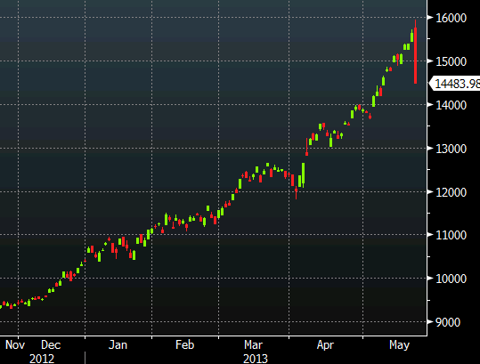 Click to enlarge
When I went to bed the index was up 1.6% and I was thinking to myself 'this thing is an unstoppable machine'. Seeing the drop (which was 9.15% high-to-low) is a reminder that the risks are always two sided.
The question is: Will the people who missed the 80% rally in Japanese stocks buy the dip and keep the bull market going?
If this were a 3-4% decline, I would say 'yes', without hesitation.
But a 7.3% drop is frightening. Only 10 times in the 50 year history of the Nikkei has it fallen more than 7%. The magnitude of the decline is enough to change the psychology of the market.

The first thing to watch is if it will spread and continue. So far the answer is: kinda. Nikkei futures are down 1.6%, European stocks are down more than 2% but S&P 500 futures are down only 0.9%. I would be surprised if US stocks don't fall significantly more than that but also be on guard against a reversal (higher) later in the day.
There really isn't a good reason for the decline. People are pointing to Bernanke and the China HSBC PMI -- c'mon. When there is no visible reason for a decline, people worry more; it feels like there is something you don't know. It's difficult to buy in that situation and much easier to clear out.
I mapped out a strategy for trading the eventual correction/turn in the Nikkei two weeks ago.
When a market 'goes parabolic' there is no telling when it will stop. But like shares of Apple, it will end eventually. When it does, that will be the turning point for the yen. If investors dump Japanese shares and go overseas, yen crosses will take flight once again. If they scramble back into bonds, it shows that the game hasn't changed and the yen crosses could be DOA.
What we have so far is jumbled. Japanese bonds sold off hard early in the day and then turned around to close higher. Treasuries sold hard yesterday but are rebounding. I'll be keeping a close eye on bonds today because bonds almost always tell the story first, and best.
Disclosure: I have no positions in any stocks mentioned, and no plans to initiate any positions within the next 72 hours.